Let's pretend these pictures weren't taken in 95 degree weather after we'd been outside for 45 minutes, mmkay? I'm loving the pop of floral in this breezy kimono from Pink Blush Maternity. I think it will be perfect post baby, too!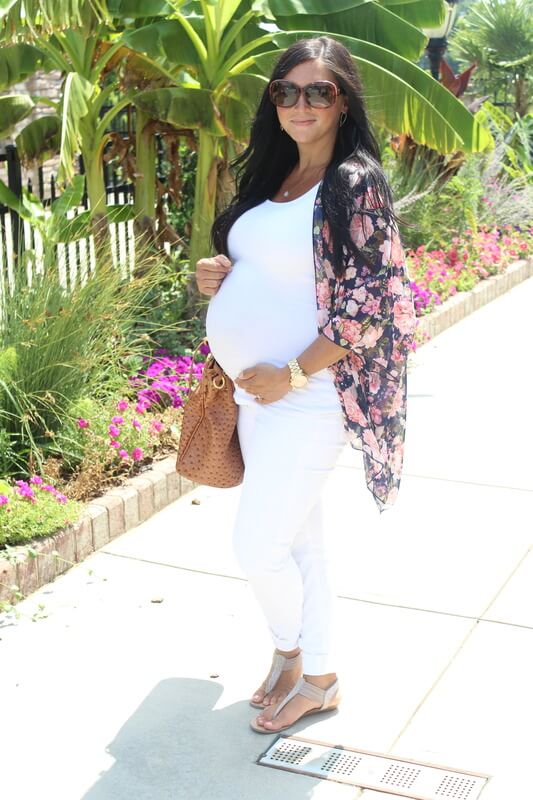 Jeans: J Crew | Tank: Old Navy | Kimono: Pink Blush Maternity | Bag: JustFab | Watch: Michael Kors | Necklace: Kristine Lilly | Earrings: Kendra Scott | Sandals: Rack Room Shoes | Sunnies: Prada | Bracelet: Loren Hope
Shop the look:

How Far Along: 33 weeks
Size of baby: 19″ and 4.5 lbs
Total Weight Gain: 24 lbs. Less than either of the boys!
Maternity Clothes: Still mixing.
Gender: Baby boy
Movement: Yep!
Sleep: Decent this week, but that's because I've had the bed to myself, I think!
What I miss: This week I'm feeling good!
Cravings: Fruit
Symptoms: Still having contractions, but so grateful that I'm not having to do any type of bed rest like I had to with both my previous pregnancies.
What I'm looking forward to: We're getting a king sized bed in a couple weeks! I think it's going to change my life. Haha.


I've gotten tons done this week, including washing all the baby clothes and moving a lot of stuff around to make room for little man. My family is coming next weekend, so I'm getting ready to host 11 extra people in the house!