Welcome to another week of January Whole30! Doing this along with Heather at My Life Well Loved, Jessica at Happily Hughes, and Lindsey at Life Lutzurious has made it so much easier to stay motivated! Make sure you join our Whole30 Facebook Group HERE and tag us in all your Whole30 posts on social media!
Today is all for the parents. One question I get a lot, is " do your kids do Whole30 with you?". The answer is…kinda? I want to instill a love for healthy food into them, so when we do a round of Whole30, they eat a lot of what we do. I also understand that their nutritional needs are a bit different than ours and I have to be careful that they are getting enough of what they need. For breakfast, they either eat the big batch breakfasts I've prepped, plain eggs or Kodiak Cake pancakes. Lunches are on their own at school, so while I pack in a lot of fruit and veggies, they will do a sandwich or roll-up. The part that I focus most on, is dinner. I have no interest in making 2 separate meals, so they're going to eat what we eat! Read on to see how I make it work!
5 Tips for Completing Whole30 With Kids
Deconstruct – A lot of kids don't like their food mixed up. My boys eat 90% of what we eat, but most of it is deconstructed. My Spaghetti Squash Taco Boats are delicious, but the boys prefer theirs as regular tacos. Buffalo Chicken Casserole is a favorite, but I make the boys a small dish with no sauce. Basically before sauces are added to anything, keep a small amount off to the side for the kids. This sometimes means an extra dish, but not an extra meal.
Make Carbs – I like to keep a big batch of brown rice or pasta ready in the refrigerator. If we're eating a meal without carbs, I can heat them up a serving to go alongside their meal.
Prep Fruit and Veggies – I do a lot of prep work for meals, but like to keep healthy snacks ready to go, too. I chop up fruit and veggies and keep them in a serving dish (like this one) in the refrigerator. When the boys come home from school hungry, or can't wait to eat dinner, I set it out and let them munch. You might be surprised what your kids will eat if you just put it out for them!
Let them help – No one appreciates a meal as much as the person who made it. I love getting my boys in the kitchen with me, as it often makes them really willing to try something. And typically if they just try it, they like it! Letting the kids meal plan is also a great way to get them involved and loving the food. I'm also hoping that they learn a lot in the kitchen and can be husbands who cook. 🙂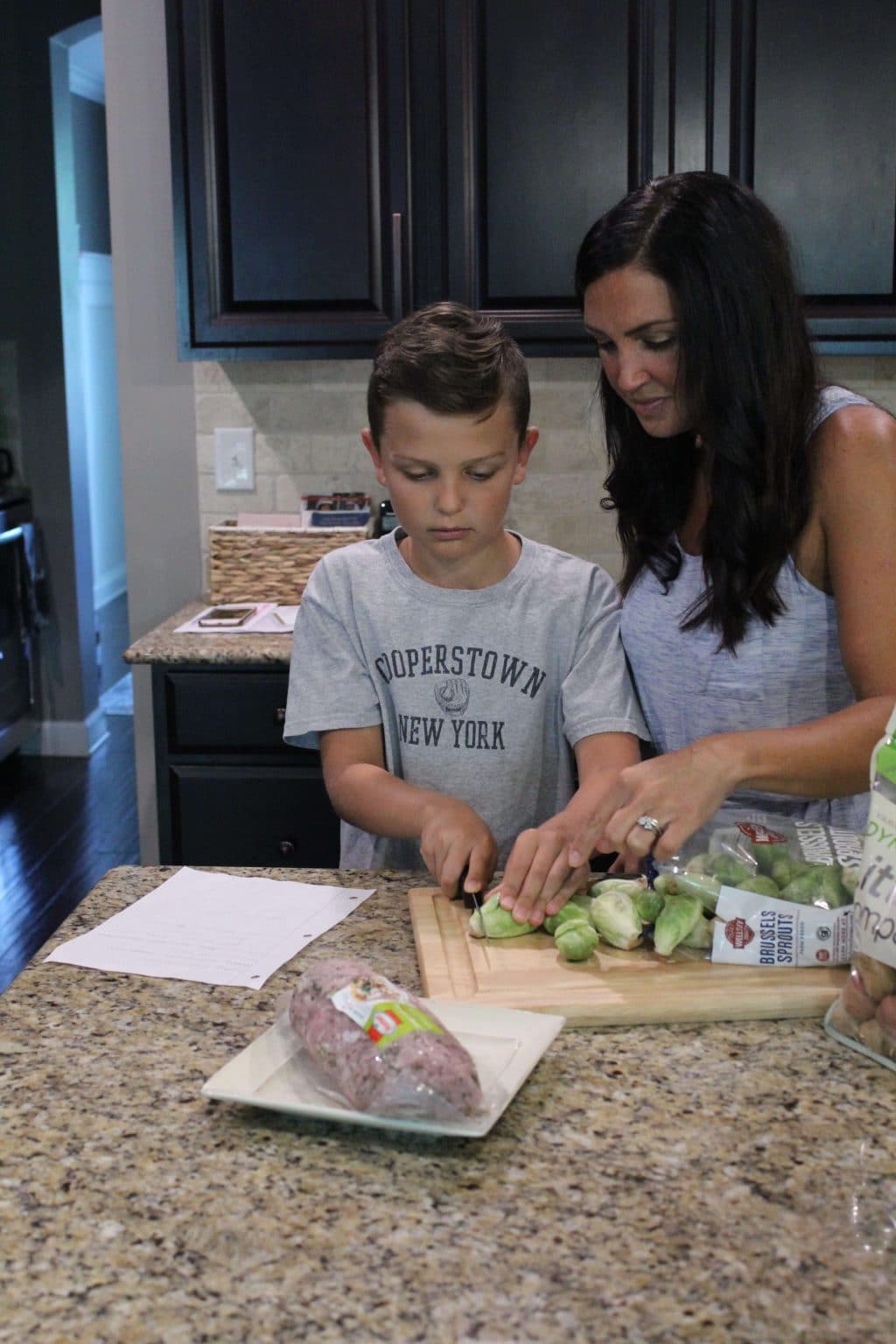 Make Fun Meals – When I meal plan, I make sure to space out the "fun meals". My kids love taco night, burgers (we're OBSESSED with this Whole30 lettuce wrap burger!) and grilled chicken. Spacing those out in between meals that might not be their favorite, really helps them enjoy dinner more.
I hope these tips for completing Whole30 with kids helps you take the plunge, if you've been on the fence! It really is something that can change the way your entire family sees food and healthy eating!