Summer is coming! We've been out on the lake a couple days this week, I've worn shorts a couple times and I can't get over how much I love the heat. I may be singing a different tune with we get to 100 and 90% humidity, but for now, I'll take a tan and virgin mojito, stat.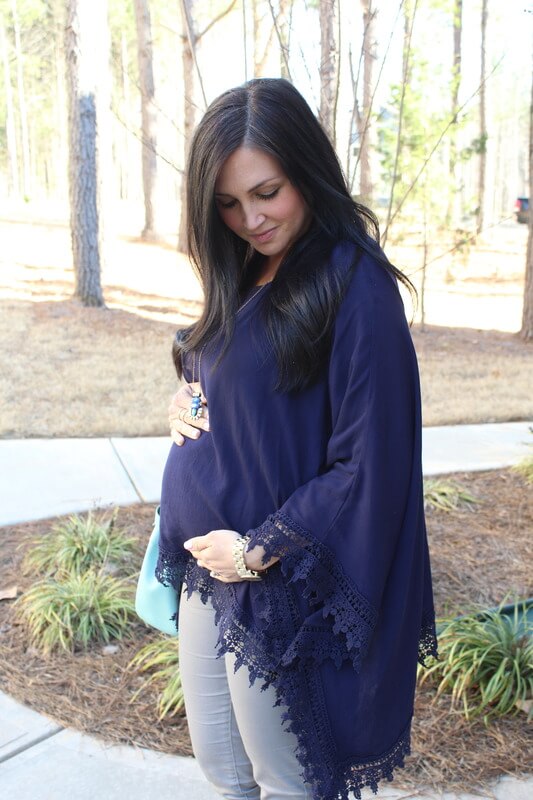 I got a few new things from Pink Blush Maternity and my mercy. Maternity clothes are just so much more comfy at this point! It's so nice to have things long enough in the front. If you're pregnant, you should definately check out Pink Blush. They have all the style of pieces you see in your favorite boutiques, but in maternity!
Here's a little bumpdate!
Size of baby: 5.6″ (about a sweet potato) supposed to be 6.7oz, but baby is weighing in at 8oz already!
Total Weight Gain: 10lbs
Maternity Clothes: A mix of maternity and regular.
Gender: Another little BOY!
Movement: Rarely. I found out at my ultrasound that my placenta is anterior, so probably blocking most of the little kicks at this point.
Sleep: Good. Spring break has been amazing to get to sleep in!
What I miss: Nothing! My non-alcoholic beer on the boat this week hit the spot!
Cravings: Hummus and veggies, still. And yes, I consumed 2 family sized tubs of the recalled Sabra hummus. UGH.
Symptoms: Feeling pretty good now!
What I'm looking forward to:
Baby!