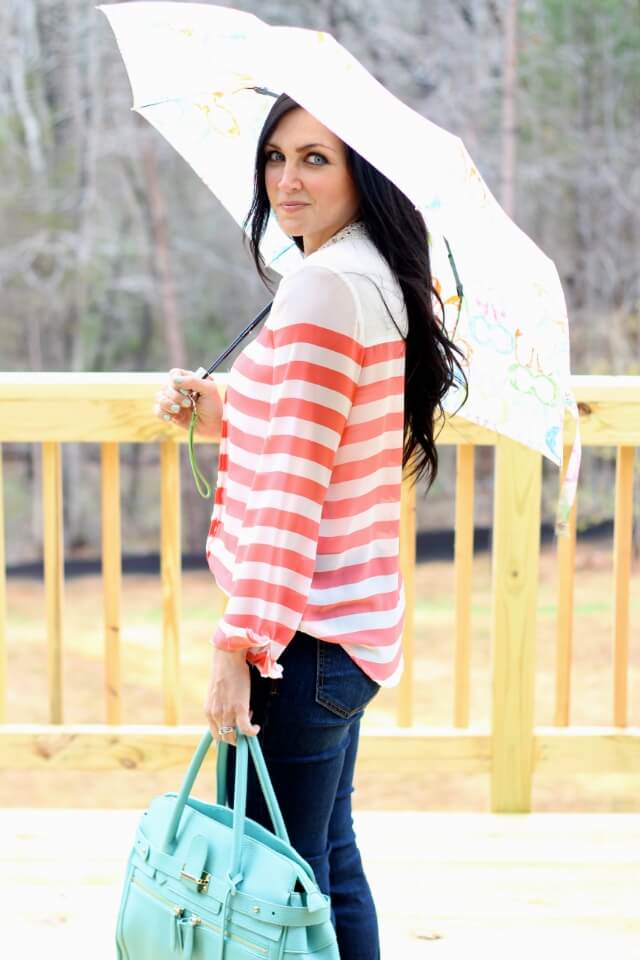 Jeans | Top: Kohl's last season, similar | Bag: Legacy

c/o

| Booties: Kohl's last season, almost identical here | Umbrella: Coach Outlet | Necklace | Bracelet | Nails
I do realize that my last fashion post was these exact colors. But it's spring now, so you just may see these colors much more! These pictures were actually taken 2 days ago, when it was 40 and rainy out. I do love using my umbrella, which I snagged at the Coach outlet for $20, but I'm so looking forward to a warmed up and sunny weekend!
Truth about moms trying to take pictures of their outfits: you will almost always have a child (or 2) in your pics. Which I really love. I mean the excitement on his face from sneaking in the shot? It's perfect!
Also, I never realize just how bad I'm in need of a root touch up until I upload pictures and see them, large on the computer screen. I thought I should try to get some kind of editing program to cover it up in a time such as this, but then I realized that I'm wearing nothing over $40. I think I'll just stick to real life and boxed color over here.