2 weeks ago, The Hubs and I went to Charleston, SC for a fun work event. It was so nice to have an adults only trip and to also have some of our good friends there with us. We had such a good time and ate the most delicious food, that I wanted to share all the details of our trip!
Charleston South Carolina Weekend Travel Guide
THURSDAY
We flew into Charleston on Thursday afternoon and grabbed an uber to downtown. We checked into the beautiful Charleston Place Hotel just in time to change quickly before dinner. Since this was a work trip, the night kicked off with a dinner in the hotel courtyard. The food was buffet style and delicious, complete with a seafood bar and amazing bananas foster. Made me want to eat at a restaurant in the hotel next time for sure.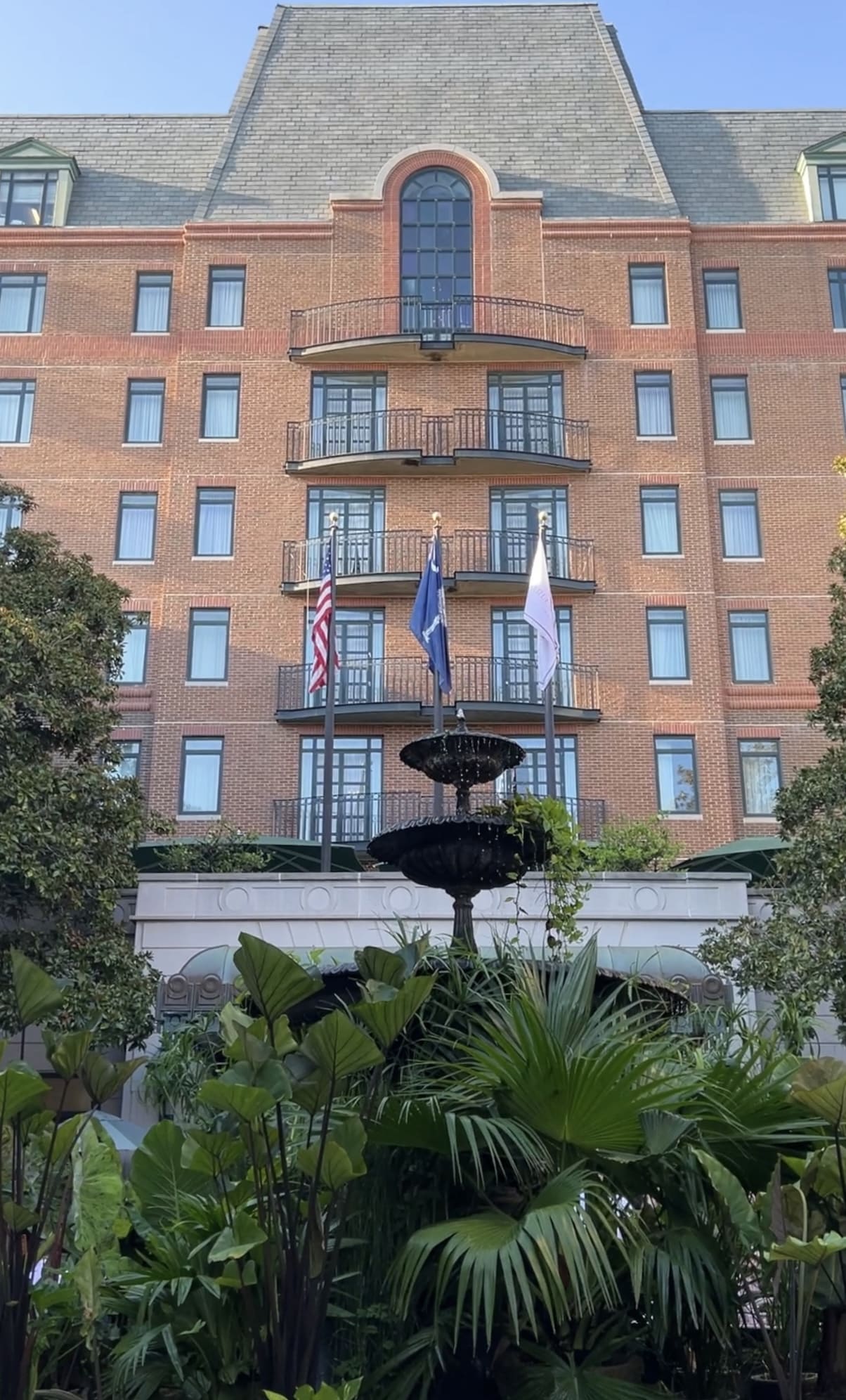 Post dinner, we started out with our group on a ghost tour. I hate scary stuff and it really wasn't my thing, so we opted to bail and grab a drink in the hotel lobby before hitting the town. We ended up at Henry's rooftop, which was a great vibe with lots of different levels to enjoy the view from.
FRIDAY
We got up Friday morning and decided to go on a bike tour. Our hotel had lots of bikes you can take out for free anytime you want and we had a blast riding. We rode down to the battery, by Rainbow Row, by Patricia from Southern Charm's house and for food! We ate brunch at Another Broken Egg Cafe. It isn't a local Charleston place, but it was there when we decided we couldn't bike on empty stomachs anymore. The food was incredible and I would eat there again in a heartbeat!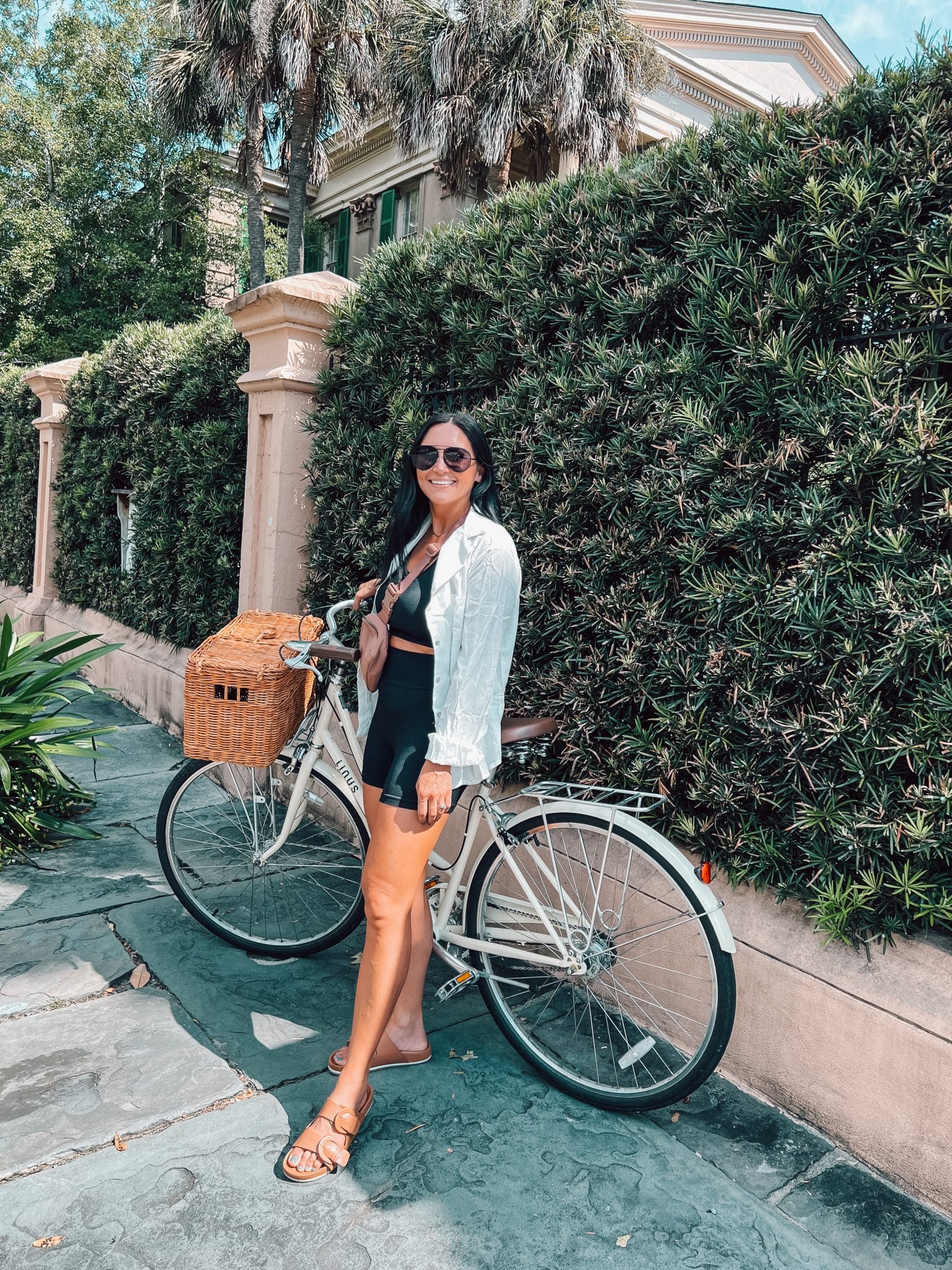 After a quick change, we went to meet friends at Magnolia's for lunch. We had just finished breakfast a mere 2 hours prior, but Charleston is a foodie scene and I was determined to enjoy as much as I could. We went with a salad and a couple apps and the fried green tomatoes were up there with the best thing I ate all weekend. HIGHLY recommend!
After being completely stuffed, we decided to walk through the Charleston City Market. With 3.5 blocks and 300+ vendors, it is a great place to find plenty of amazing, local items.
We spent a bit of time at the pool with a bunch of The Hubs coworkers for a couple hours in the afternoon. That night, we met up with all 40 of us to walk to dinner at Hall's Chophouse. There was a bit of confusion since we thought it was the main Hall's restaurant, but it was their offsite Signature Event Center. The food was the same and was incredible. I would absolutely return to their main restaurant!
The after party was at Bourbon n' Bubbles, which had amazing espresso martinis. I really wanted to go there since Leva from Southern Charm owns it and it lived up to the hype in my mind. It's a beautiful spot! We hit another rooftop that was just fine after that. The Citrus Club was highly recommended to me, but we weren't able to get in there with timing and some private events they had. I was told they have great cocktails and views!
SATURDAY
We had to start Saturday with food, right?! We went to Frannie & The Fox in the Emeline Hotel for a late breakfast. Their menu is small, but tasty, and their ambiance is a perfect retro chic. We ate outside and it was a great spot to enjoy their ricotta and mascarpone toast.
We grabbed our bikes again to check out Sewing Down South; Craig Conover's store. I apologize for all the Southern Charm references, but y'all know I like my reality TV!
We caught a bit of a game on the rooftop of Uptown Social. They have a couple frozen drink options and I didn't mind a frose break during our bike ride!
Back to the hotel again for some sunshine we went! I was soaking up all I could, knowing the Michigan winter is coming, y'all! The hotel rooftop had a great view of King Street and was in a fantastic location.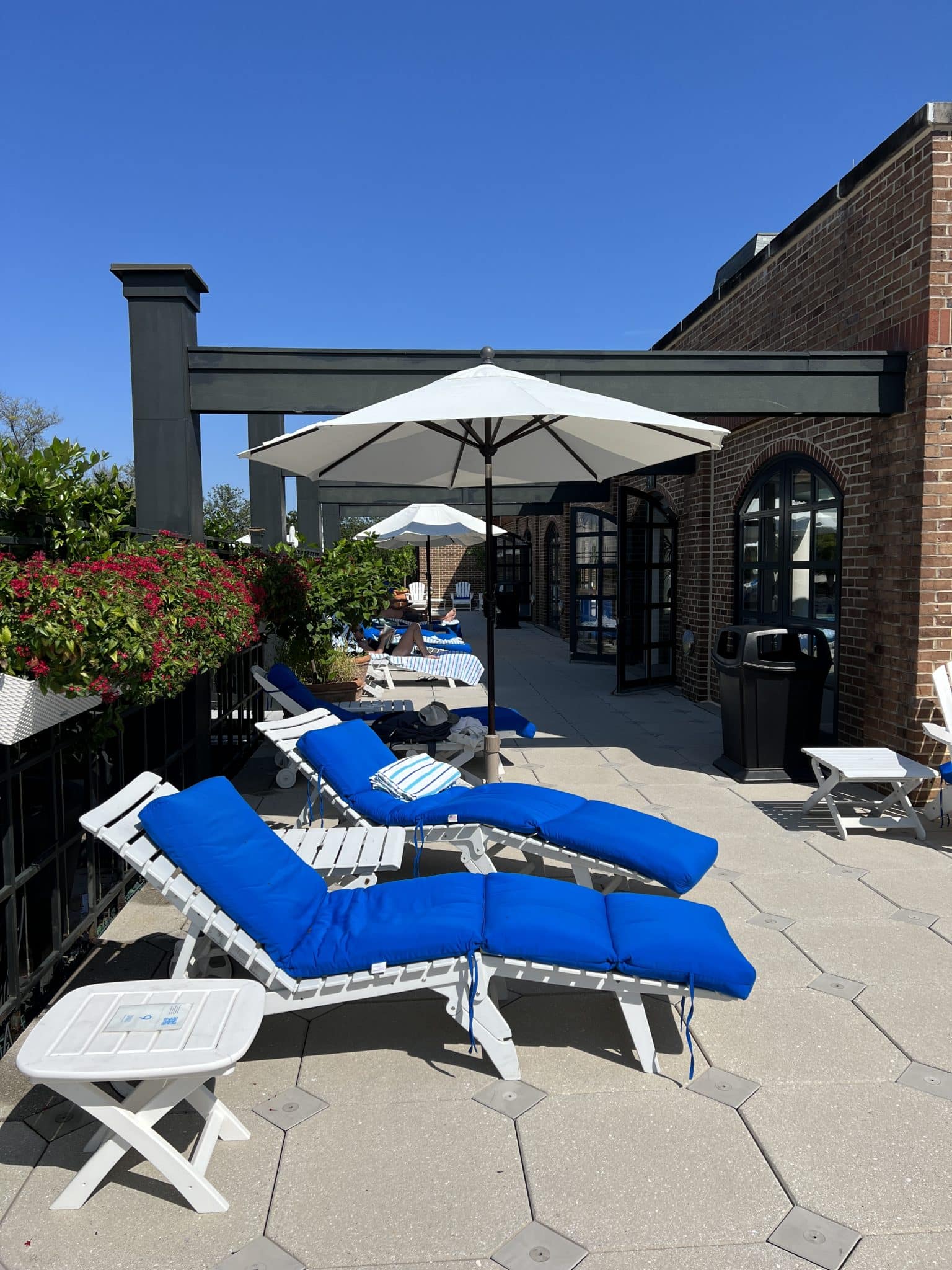 Saturday night was one for the books! I got sorta dressed up with a corset top, jeans and heels I had no business walking on cobblestone in. We had dinner with 2 other couples at Poogan's Porch and it was one of the best filets I've ever had! We had eaten there on one of our previous Charleston trips and decided it was good enough to eat at again. Luckily, we weren't wrong! 
We went a little nuts with table service at Republic after dinner. There were about 30 of us, so it was really fun to be all together! This was a stop on our last Charleston trip and fun again. They have indoor and outdoor spaces, so there's something for everyone.
SUNDAY
Sunday morning we were pooped. 3 straight days of eating, drinking and late nights had done us in! We went off for some early morning spa appointments. The Hubs had a massage and I had a facial. It was glorious and I wish I did them more!
Our last meal in Charleston was at Husk. We went for breakfast and it was good, although not my favorite. One of my friends told me it was overrated and I'm going to have to agree a bit. I did love the atmosphere and the fried chicken, too. 🙂

After that, we took off to get a rental car and drive up to our beach house in Ocean Isle Beach! We did so much work while we were there and that is coming up so soon!