No, I am not pregnant. Not yet. Not for a while. My sister on the other hand is. You might remember her trip out to see me a couple months ago to get over her dismay of her 3rd boy. She was so upset and pointed out every pink dress that she was going to get if it was a girl. I felt so bad for her.
Since I am visiting in GA now, I got to go to her ultrasound yesterday. The ultrasound tech asked if she knew what she was having and she said kindof sadly "yeah, a boy. My third boy." Granted she had gotten used to the idea and started calling the baby Owen. Well, then I saw what I thought was no man parts and then the tech said, "I am pretty sure it is a girl". I thought Casey was going to fly off the table. She ended up getting a better shot that showed it is definitely a girl, so shopping we went! Casey's hubby didn't believe her when she called him but later in the day, he sent her a picture of a pink I love my daddy shirt he had bought. Haha. She is going to be rotten.
Etsy is getting hit up hard this morning. I found this at
sweetiepietutu
. How adorable?
Be still my beating heart at this Pumpkin and Spice Children's Crochet Flower Headband from
Nissafoss1
.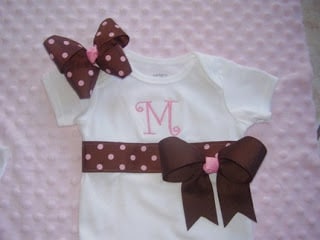 Last but not least, this adorable shirt from MrsPriss
Little Lovelies.
She also has a great
blog
you should check out.
I am a teenie, tiny bit jealous that I don't have a girl to dress up. I will have to just spoil my little niece rotten until I have a one of my own. I am so excited!! I know alot of you bloggers sell stuff on etsy, so if you have some girlie goodness, let me know!