I know it's the new year and everyone is trying to eat healthier, but I can't go until next Christmas without posting these. They're so good and perfect for so many events and holidays all year long. These are from my first batch this Christmas season.
And these are the ones I made for a New Years party.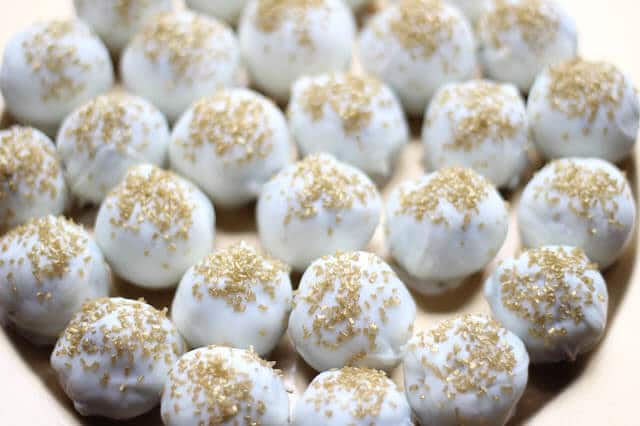 Recipe:


1 package (30) Oreos
1 8oz package Cream Cheese, softened
8-12 oz Candiquick, Almond Bark or Candy Melts
Sprinkles


Crush Oreos using a food processor, then add in cream cheese until blended. (You can also put Oreos in a ziplock bag and roll with a rolling pin until crushed. Then transfer to a bowl and mix with cream cheese using a handheld mixer.)
Scoop 1 Tbsp of mixture out and roll into a ball. Place on parchment paper lined cookie sheet. Repeat until all the mixture is used and chill for at least 30 minutes.


When you're ready to dip, melt preferred chocolate over a double boiler, or in the microwave according to package directions. Stir until smooth. Taking a few balls out of the refrigerator at a time, dip into chocolate. I drop the ball in, cover with a scoop of chocolate, then scoop up with a fork. Shake off the excess chocolate by tapping the hand that's holding the fork, then scraping the underside of the fork on the edge of the bowl. Use a toothpick to gently slide the ball off the fork and onto parchment paper. I usually tap, scrape, tap, scrape, then slide off the fork. Quickly put desired sprinkles on, before the chocolate sets.


Tips:
– I highly recommend Candiquick as your chocolate. It just shakes off better and leaves a thinner, smoother coat. The candy melts are a close second and come in tons of colors!
– Kids are great sprinklers! Then you don't have to put everything down and can move a little quicker.
– If I'm dipping into white chocolate, I keep a paper towel nearby to wipe any crumbs that come off onto the fork. If the crumbs get into the white chocolate, it gets messy quickly.
– Don't fret if they look ugly. Sprinkles cover a multitude of sins! I also like to keep some balls without sprinkles, then use the Wilton mini squeeze bottles to drizzle a coordinating color over the top.
– They're really cute served in mini muffin papers.


The possibilities are endless with these. You can do color themes with different chocolates and sprinkles for a Birthday party or holidays. I plan to make them for Valentine's Day for the kids to bring to school. They make really impressive desserts! If you can stick to eating one and sharing the rest, you can fill your sweet tooth without overdoing it. That is IF you can stop at 1! Hehe.