It's not often that I rock the preppy look. This shirt happens to be about 6-7 years old and is the hubs absolute favorite on me. He was super obsessed with all things Tommy Hilfiger and Ralph Lauren when we first met and filled my wardrobe to match his.
A Saturday with the boys. As if I don't have enough men in my life, I wear more on my shirt.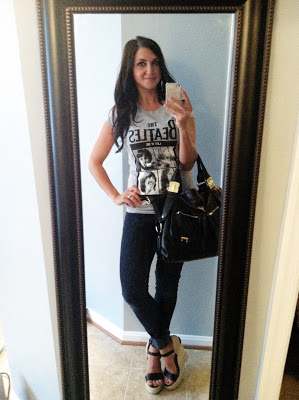 Baseball momming it up with Daddy's hat. I think I got away with wearing it without him even knowing it was missing.
This was the morning we left for our first house hunting trip to Charlotte. I do not recommend maxi skirts when there is a good chance you'll be in public bathrooms and rain.
These shorts. I have several pieces of clothing that are just like wearable heaven. When I saw these shorts posted on Instagram, I knew I needed them badly. I've worn them to death and back. And they were $5. No really. You go buy some.
I don't know what to do with myself here without my trusty #whatmollywore mirror, but I'm finding ways to improvise. Follow along on Instagram!