Anyone who wants to send me dark chocolate or tulips can go right ahead, although I am not boo-hoo sad. Not singing the blues, emotional eating, or going through countless boxes of tissues. I'm sad, as in pathetic sad, over my Christmas list. I have been Christmas shopping, (I like to plan ahead) and I am actually about halfway through. Pat on my own back. I am good for everyone but me. Like you, I'm sure, I get the "what do you want for Christmas" questions from the family. I usually say nothing, which is a complete lie. I can just never remember what I want. I mean, I always remember that I wanted a million dollar check, but I forget all the reasonable things.
To prevent this, I have decided to start making my list now. My birthday is also in November, so I can pick things from my list for that, too.
On to the sadness, my list. It's looserish. Here is all I can come up with:
Trifle bowl
This is #1. I really, really want it, even though I'm not sure how much I will actually use it.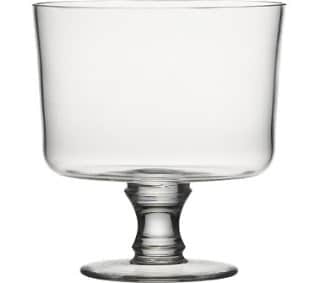 Maybe this one from
Crate and Barrel
.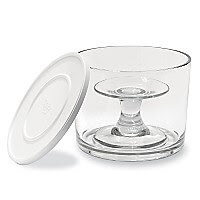 Or this one from The Pampered Chef. How cool is that with a removable stem and lid?
And we have one item left. Yep, my list has 2 items. The second:
Creamshave

It's really bad when you see something you want to try, and think, this would be a perfect stocking stuffer for me. I'll add it to my list. See? I'm sad.