About a month ago, we took our first trip, as a family of four, to Disney World.
We have been a few times just as adults and a couple times with one child, but having a child (or more) for each adult requires some additional prep work. Here are my best tips to help you plan and take your next trip to the Happiest Place on Earth!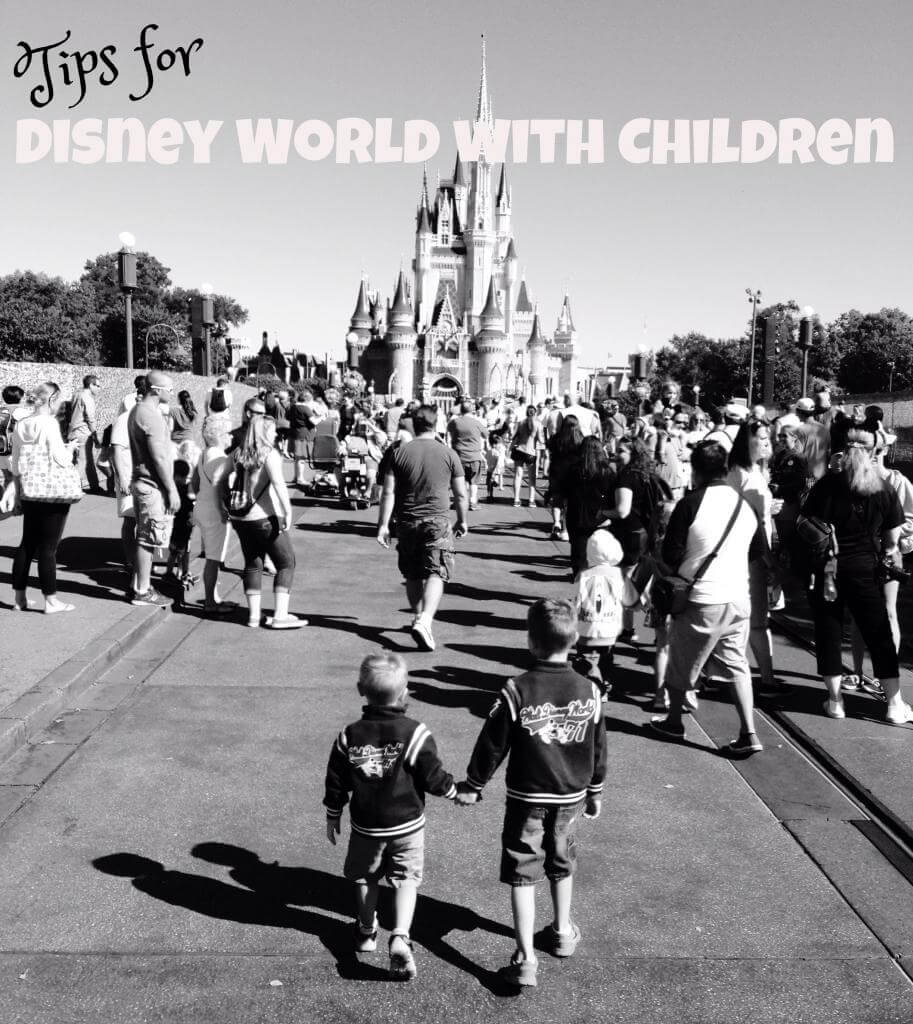 Planning


Time of year: If at all possible to NOT go in the summer, do it! We took Cooper out of school for our late September/October trip and I don't regret it. It was plenty hot, so I can't imagine if we had been there a month or 2 earlier. The best time I've been, was the first week of December. Warm enough for the pool, cool enough for a cardigan in the evenings and low crowds. Bonus is they are already decorated for Christmas then! But, the Disney Dining Plan has been offered for free in the fall for the past few years, making that our time of choice. It saved our family about $1000 off our total price of our last trip.


Where to stay: First off, I recommend staying on property. There's a little more magic in the form of hidden Mickeys, towel characters and poolside Disney themed activities. There are also bigger perks, though. FastPass availability, free parking, extra magic hours, dining plan and magic bands are all reasons that you'll want to stay within the gates.

All the hotels in Disney are nice and clean. You don't need to worry about that. There are large resorts that have a lot of bus stops, making your time to the park longer. I love Caribbean Beach resort, because it literally feels like you're on the islands, but it is large. We drove ourselves most of the time we were there because of that. It was totally fine to do that, though, and I think it works well with kids. There are resorts that are very close to what may be your favorite park. The Contemporary, Grand Floridian and Polynesian are all in the Magic Kingdom's backyard, with easy monorail access. They are also some of the priciest. I couldn't justify the cost for not being in the room much at all. The value resorts tend to be the most crowded and therefore take longer to get to and from the parks. We have stayed there a couple times, once pre-kids, which made it not bad. They are very kid friendly, though and are often less than $100/night.


Overall? I say go with a moderate resort. You get a little more space, a mini refrigerator and less crowds. Port Orleans is the smallest of the moderate resorts, therefore the easiest to get around. Another perk, is if you're getting the dining plan for free in the fall, you'll get the regular one with the moderate, verses the quick plan with a value resort.


Tickets: Get the tickets that have the Hopper option. Sometimes the park hours will change from the time you book to the time you visit. They may add in shows, parades or fireworks. That ride you wanted to do so badly in that one park may be closed temporarily. It's nice to have the option to hop over to another park if that happens. It also makes it really nice to book dinner reservations. We went into Epcot for several of our meals, even on days we didn't spend time in that park.


Dining Plan: I know this is a big "should I do it or not" thing, but I say it's a yes. Why? It's easy and convenient. You get 1 counter service meal and one table service for each night of your stay. Most people use the counter service (includes entree, drink and dessert for lunch, and the table service (entree, drink and dessert) for dinner. We bring granola bars and yogurts to keep in the room for breakfast. As we ate on our last trip, I tallied up what our totals would have been if we were paying ourselves and it was way over the price of the dining plan for both lunch and dinner. Granted, we didn't need dessert at each meal, but we were on vacation and would have gotten it a few times, at least. Since Callan was under 3 at our last trip, he didn't get a ticket or meal plan. There was plenty of food at lunch to share with him, then we ordered him his own dinner. I'm usually only a water drinker at meals, so I used my beverage at dinner for a cappuccino or coffee with dessert.


Restaurant reservations: I make these before FastPass reservations, since restaurants will determine what parks you go to on what day. Make a note of park times and extra magic hours before you start booking, so you can decide what will be your first choices. Start with your most important restaurant and go down the list. Some will only be available 1 or 2 days of your trip. Be Our Guest literally had one reservation during our whole trip, so I took that one and built the rest around it.


You tend to get a bit more for your money at some of the resorts. For instance, the steak on the menu at a couple of the resorts was filet mignon, where the parks were sirloin. This is an awesome website that gives you all the menus and overall ratings of restaurants to help you decide where to go. If you're on the dining plan, you'll want to pay attention which restaurants require 1 table service meal and which ones require you use 2. Some of my favorite that are 1 Table Service are:

Be Our Guest – Magic Kingdom
The Wave – Contemporary Resort
Kona Cafe – Polynesian Resort
Teppan Edo – Japan, World Showcase, Epcot

If you're wanting to use 2 table service credits or aren't on the meal plan and don't mind shucking out a little more, these are amazing:

Le Cellier – Canada, World Showcase, Epcot
Narcoossees – Grand Floridian Resort


Snacks: You will also get a snack per person each day on the dining plan. I recommend you don't use these for a bottle of water, or little bag of chips. There is some good stuff to spend it on! Funnel cakes, big Mickey pretzels, Dole whip and now, Starbucks! Yeah, any drink on the menu is snack compatible! We had several snacks leftover, since we weren't that hungry between meals every day. On the last day, we used them on the individually wrapped character sugar cookies and other candies from Main Street Bakery in in Magic Kingdom to bring home. That bakery also has some baked goods you could get for breakfast, if you wanted to spend your snack credit on that.


FastPass: This has changed quite a bit from how it used to be. You no longer have to rush over to a ride to get a FastPass. If you're staying on Disney property, you can book your FastPasses 60 days prior to your arrival. This is awesome for busy rides like The 7 Dwarfs Mine Train and meeting Frozen Characters. You can book 3 at a time, all within the same park. Once you use that day's passes, you can go to one of several kiosks in the park and get another one. We made a list of everyone's top rides in each park, then when we were 60 days out from our arrival, made the reservations according to our schedule of parks to visit. During our trip at the end of September into early October, the longest we waited on a line was 40 minutes. And that was to see Buzz and Woody!


Here are the rides that you will definitely want to get a FastPass for:


Magic Kingdom:
7 Dwarfs Mine Train
Splash Mountain
Peter Pan
Big Thunder Mountain
Space Mountain
Animal Kindgom:
Expedition Everest
Kilimanjaro Safari
Kali River Rapids


Epcot:
Soarin'


Hollywood Studios:
Toy Story Mania
Rock N Roller Coaster


Tip: If you're traveling with kids that cannot ride and both adults want to, they will let you switch and only stand in line once. Just tell the attendant that you need a rider switch pass. Also, some rides, like Expedition Everest and Rock N Roller Coaster have a single rider line. It's a separate line that they will take people from to fill empty spaces. If you're going to be riding alone with the rider switch anyway, I say do this! The hubs and I rode single rider on Expedition Everest 4 times in about 20 minutes on our last trip.


Download the app: The My Disney Experience App gives you all the information about wait times, character spots, how far a ride is from your current location and more. It also keeps track of all your meal and FastPass reservations so that you can see everything in one spot.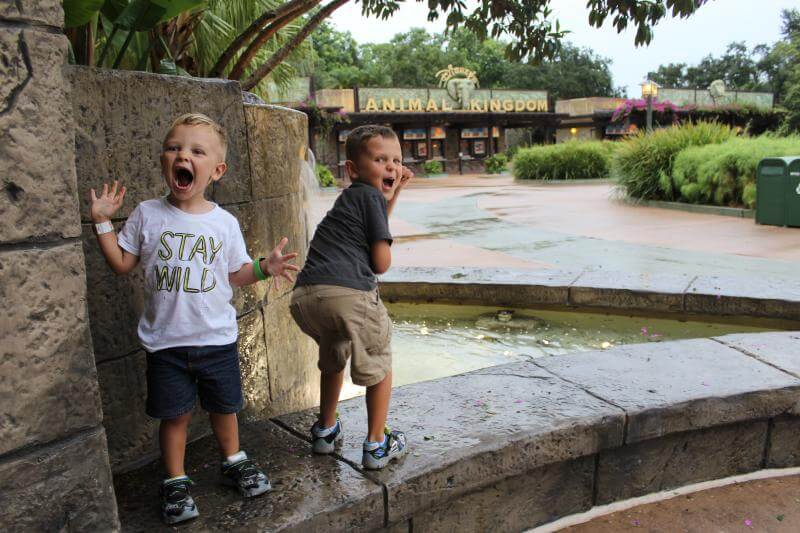 On Your Trip


Stroller:
We brought a stroller, but they are also available to rent in the parks. I loved having it to keep our bag, ponchos and water bottles. While Callan sat in it most of the time, Cooper needed some breaks here and there, too.


Pack a day bag. You'll still need just as many snacks, diapers, wipes, change of clothes, etc…as you do on a normal outing, plus more! Bring a bag you can put under your stroller along with a smaller one with your id, phone, money that you can pull out when you go on rides. Don't forget to throw those ponchos under the stroller every day, too. You never know when a Florida downpour will occur and you'll want to be prepared. I put one over my stroller every time we parked it to go on a ride and was very grateful to have a dry stroller a few times!


Don't rush: There will be plenty of time to see everything. It's easy for us adults, especially if you've been to Disney before, to move quickly. Your kids, on the other hand, will want to look at everything! We decided, before even leaving on the trip, that we weren't going to rush them and that made it much more enjoyable for everyone. There were some exceptions, like trying to get to our dinner or FastPass reservation, but we took it easy for the most part.


Break afternoons or break days: We went back to our hotel in the afternoon a couple of days for a break. Callan ended up falling asleep in the stroller several of the other days, which kept us in the park. By the end of those days, he was happy and the rest of us were exhausted! The breaks were really nice and I'm not complaining about pool time! I have also heard of people doing the parks a couple days, then taking an entire day break, which sounds like something I may want to try next time.


Electronics for meals. There is so much to see and do at Disney, but there is a time and place for everything. We packed our iPad and phone in our bag so that the kids could use them at dinners and even occasionally in lines. They were a lifesaver! Without using them all day, they were excited to see them and they kept them busy while waiting on meals.


Bring water. If you're driving in, I highly recommend you bring your own water. We went through 2 cases while we were there. I would fill the refrigerator in our room at night and throw lots of them under the stroller when we left in the morning. They do have water bottles for sale in the parks and you can get them as snacks on the meal plan, but I liked using our snacks for the $5 ice cream!


Light up the night. We made plans to only keep the boys up 2 nights passed their bedtime. We knew they would be miserable if they weren't getting enough sleep. For the nights we were out, the light up shoes that I desperately tried to sway them from wanting were actually awesome. I could see them when the ran in front of us and it was a great peace of mind. You can also bring glow sticks, necklaces, bracelets, etc for your kids. They will be selling them there, just for a whole lot more than the dollar spot at Target.


Give kids a budget. We gave our boys a set amount that they could spend on our trip. We didn't let them buy anything the first few days, because we wanted to make sure they took a look at everything. We went to lots of different shops in the parks and let them choose how to spend their money. They really treasure their purchases!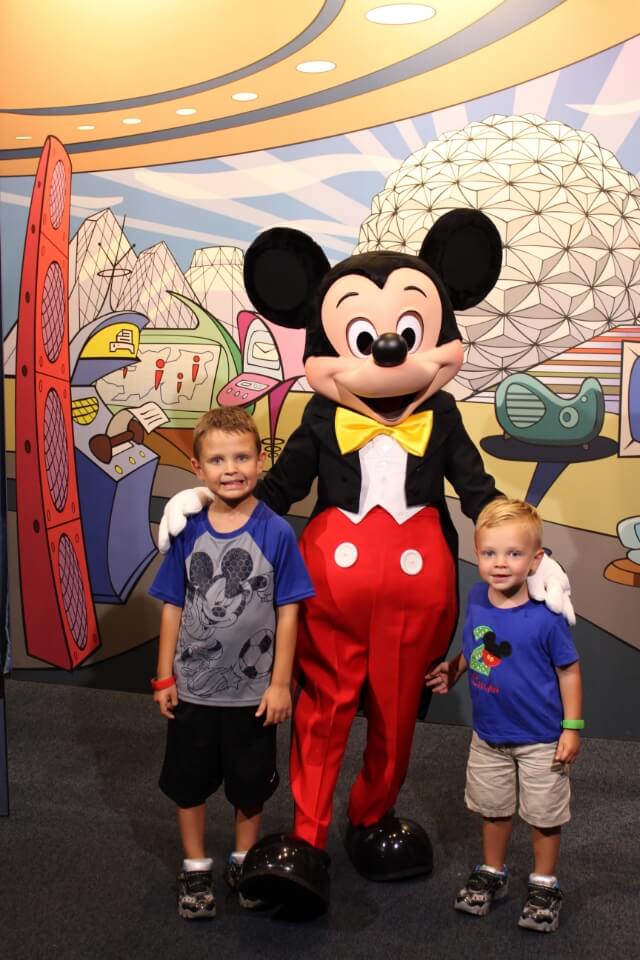 There are going to be challenging times, as there are on any vacation. Or any day with kids, for that matter! But, I'm sure you will be heading home, ready to book your next vacation, just like we did! Hope these tips help you make the most of your vacation!