Happy Monday! I'm feeling super excited today because we leave on Friday for the beach! I can't wait to sleep in and hang all day with my boys. Also, ready to escape all the winter germs and hopefully come home to warm and sunny spring weather!
I got several Spring things at Target that I wanted to share with you! If you follow me over on Instagram, I'm joining in with some other bloggers to do a different store try-ons each day this week and have a $250 giveaway! Make sure you're following me on Instagram and you can watch this try on live in stories!
Spring at Target
I love love this dress! It has pockets, cuffed sleeves and flattering lines. It feels more like sweatshirt material and comes in 3 colors. I like this rose color for Spring.
If there ever has been a perfect lounge set, this is it! I love the color and the pieces are both lined in super soft fleece. This would be awesome for traveling or cozy days at home, or even errand running.
If you want to try out the tie dye trend, this under $10 tee is a great way to do it! You can be comfy and casual, while being stylish in this cute tee.
I got this tank to wear, tucked in with flowy shorts. But I missed the flowy shorts in my order! I think it would also be really cute with high waisted denim and I love the higher neckline. It comes in tons of colors and is cheaper when you buy 2 or more!
I refresh basics like white tees every year. Nothing like a crispy white shirt! This one is comfortable, comes in lots of colors and is cheaper when you buy 2 or more. It's a great basic for wearing alone, or layering.
These are AWESOME denim shorts. They have some stretch to them, are mid rise (they say high, but I definitely call them mid rise) and have a 4″ inseam. I'm not normally one to wear that long of an inseam because my legs are so short, but I really love the fit and coverage of them. They are under $20, so a total steal!
This top is actually on clearance now, but is in stock in all sizes. I think it's a wonderful spring transition piece that can be paired with jeans or shorts.
This lightweight sweater just screamed beach trip to me! I got the size small to make sure it was an oversized fit, but could have done the XS. I really like how the sleeves puff at the wrists.
These thong sandals are super affordable and adorable. I actually bought them last year and they are back in stock this year! They have held up extremely well and are under $15. They also come in 2 other colors.
While this bathing suit confirms for me that I'm not a high waisted bikini person, I do love this suit. The top is really great if you have a larger bust size, because it is super adjustable. This suit absolutely gives a designer look and feel and is really good quality. I think I just need about 4 more inches in my torso to pull off this high of a bottom!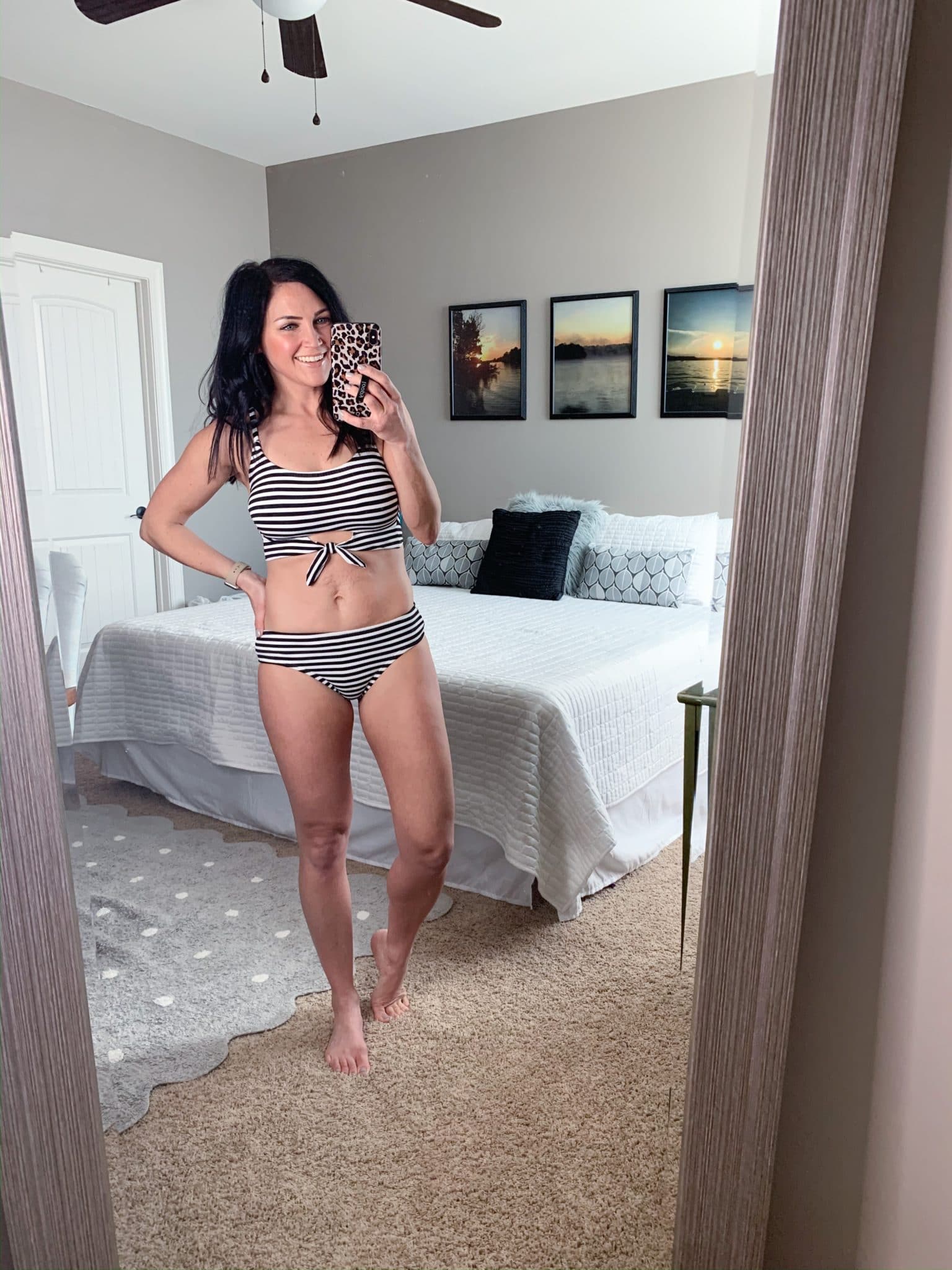 Another bikini with the D/DD top and Target totally hits is out of the park with these. If you're a larger chest and haven't tried these, go now! This one is very supportive as well, with adjustable straps and ties. The bottoms are a tiny bit cheeky, while still providing good coverage. This one is absolutely going to the beach with me!
Hope you enjoyed these Target finds! Happy March!