Has this week been a total dragger for anyone but me?! I'm so ready for a couple days of the hubs being home!
The weather here this week is crazy. 60 today, 80 by Sunday. But I am loving the little bits of fall clothes I am pulling out…like BOOTS!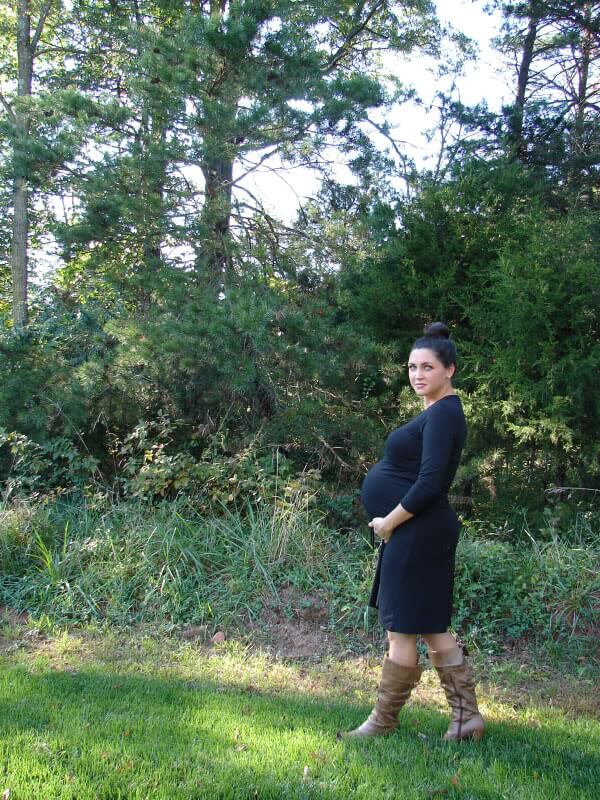 I am simply massive at this point and felt the best this week in this fitted black dress. Super comfy, too.
Can't decide if I love this high bun trend or not. I knew I would need to wear the looser version and not that tight Kourtney Kardashian kind. It would make me look like a pin head. Still not sure if I dig it, but hey, I tried. Besides, it shows way too many grays.
How far along: 35 weeks down, 4 to go!
Size of baby: Average baby: 6lbs 20in. I'm certain this bruiser is bigger than that.
Total Weight Gain: 32 lbs. That's right, no gain this week!

(Even though I ate an entire box of pumpkin donuts)
Maternity Clothes: Still a mixture
Gender: Sweet baby boy…who's name will start with a "C". That's all you're getting!
Movement: Just tons. And the hiccups are so strong that it shakes me when I'm sitting down.
Sleep: Really good. We told Cooper he has to stay in his room until the sun comes up and he seemed to have no problem with it, thank goodness.
What I miss: Having clothes to wear. I have like no winter clothes that fit, but I REFUSE to buy anymore maternity clothes for only 4 more weeks!
Cravings: I'm back to my salad cravings. Smothered in caesar dressing, of course.
Symptoms: Heartburn like whoa…again. It went away for awhile, but its back with a vengeance.
What I'm looking forward to: I'm just so ready for this little man to get here. I'm at the point where everything is ready, we're just waiting for him!
Outfit Deets:
Dress – Gift from my SIL (Maternity)
Boots – Madden Girl from Macy's
Scarf – Street vendor in NYC last year
Happy Weekend, Y'all!