The heat is getting real around here, y'all. I'm not one to normally wear my hair up or back (which I really need to work on) but once it starts sticking to your head from sweat and humidity, it's time to do something. I tried the double inside out braid I've seen a lot of people wearing and I think I dig it! I think #1) it looks better on blondes or people with multiple shades of color in their hair and #2) it looks better on people who have thicker hair. I can't get mine to be all big and dramatic like some braids I've seen. Who knows, maybe with some work!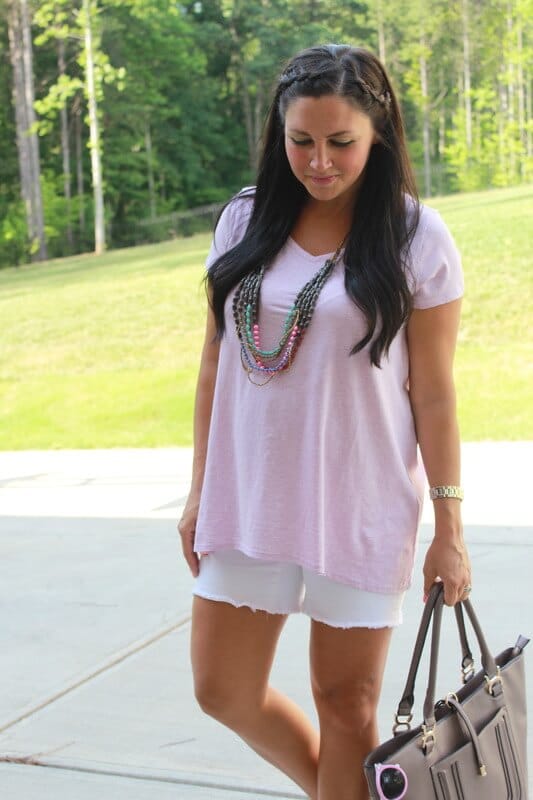 Tee
℅
| Shorts | Shoes
℅
| Necklace
℅
| Bag | Nails
I think I would consider this outfit my momiform. I've been living in J. Jills slub knits and slouchy tees. They are so comfy! And these shorts. If you're pregnant, buy them. They're maternity, but the side elastic kind and they are just the most comfortable things. Oh and they're on sale right now! They also come in a skinny jean version (25% off those with code SHOPSALE) that I don't have, but may by the end of this pregnancy.
This necklace is from 31 Bits. It's an amazing new to me company that has all sorts of pretty jewelry, made in Uganda. The Ugandan women that make these pieces, out of bits of paper, are able to make a living and support their families. Such a worthy cause!
In other news, I'm 27 weeks pregnant! Y'all. I will be full term in 10 weeks. 10! That's 10 weekends to get stuff done. Like finish the nursery! Ahhhhh! I only have 12 weekends max and that makes me all sorts of giddy!
Size of baby: 15″, the size of a head of cauliflower, and about 2 lbs.
Total Weight Gain: 16lbs
Maternity Clothes: A mix of maternity and regular
Gender: Boy!
Movement: Still a lot.
Sleep: Pretty good. My BumpNest pillow is my absolute life saver.
What I miss: Nothing! But I've already started to think about how I'm going to actually miss being pregnant!
Cravings: Popsicles and grapefruit seltzer.
Symptoms:
Short of breath, but I guess that happens when your 5'2″ torso is holding a 6'3″ man's baby.
What I'm looking forward to: The last day of school for Coop tomorrow and our beach trip next week!
Are your kids out of school already? I feel like we're the last in the country!