A lady at playgroup last week told me that she only ever sees me in gray and purple anymore. Well, they ARE the HOT colors of the season, purple is my color (
according to my daddy
), and I am loving both my gray and plum leggings right now. Nonetheless, I am mixing it up.
Boots, how I love you.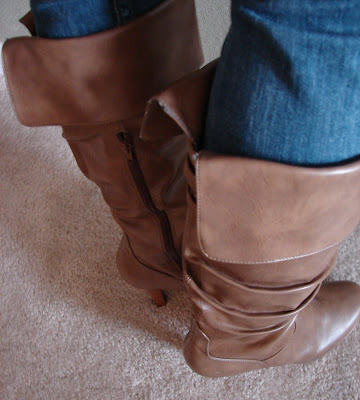 I could just stare at you all day.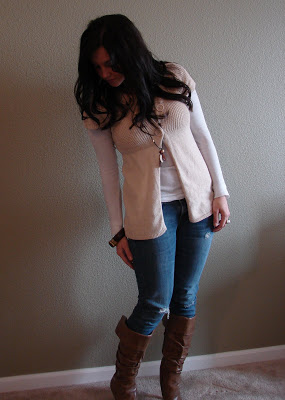 You make me a happy girl.

Yay, me! No grey or purple in this outfit!
Deets:
Jeans – Levi's
T-shirt – Forever 21
Khaki Sweater – Target
Brown and gold Bangle – Thrifted
Boots – Macy's. Want the story? Mmkay, if you insist.
I searched all over last weekend with my parents for new brown boots with no luck. I was again at the mall on Wednesday and noticed the gigantic crowds and "One Day Sale" signs at Macy's.
(Seriously, people, they ALWAYS have one day sales.)
I went in anyway, and almost instantly spotted these beauties from across the store. I used the stroller as an assault weapon and busted my way through the crowds. When I got over, I realized they were 50% off, so I had to act fast. I dove right into the pile of women on the floor to get my size. Got them I did. Those prim and proper ladies didn't know what hit 'um.
Then there were the lines. Bleh…they went around the whole freakin store! While I was waiting, I saw pretty much everyone had a $10 off coupon, which I DIDN'T have, so I totally should have been able to cut to the front. Oh, well. I'm a happy boot wearin' gal, and I still got a great deal. Did I mention that you can unfold that flap and they are OTK's?? Oh, yeah.
Oh, and I'm wearing those boots tonight when I go with some friends to Carlos Santana's new Mexican Restaurant, Maria Maria. Yummay!
Fashion Friday brought to you by Summer!