We had the best trip to New York City over the holidays! I know that taking the kids to New York can seem like a completely overwhelming task, but it doesn't have to be! Our winter family trip to New York City was amazing. We've actually taken our kids multiple times and it ranks up there with their favorite vacations ever.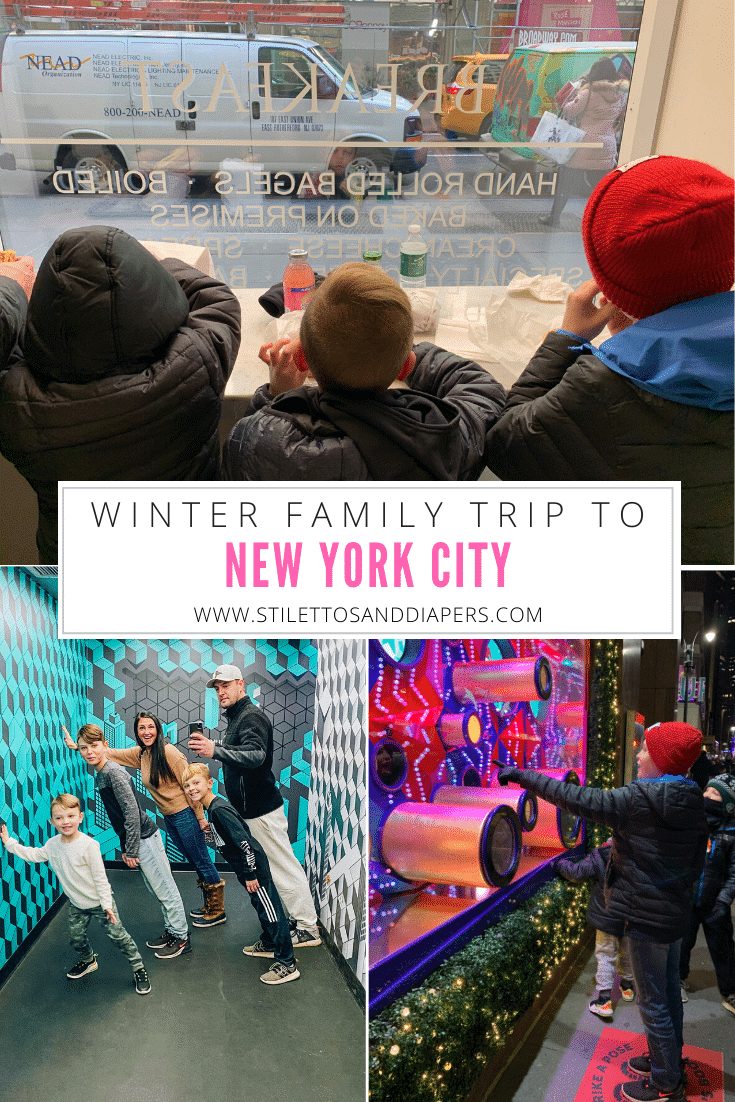 Pick Good Timing
We've been in the spring and summer before. There are pros like baseball and nice weather! But this holiday trip was just perfect. We arrived on January 1st. People were either leaving the city or sleeping off the previous nights festivities, no one was working and it was the most quiet I've ever seen the city! We found some free street parking to get a look at the Statue of Liberty down at Battery Park, then drove to find the same on the upper east side. We walked around for a while, covering a lot of ground! We saw Central Park, 5th Ave with the decorated windows and tons of Christmas festivities still up. You can hit many of our favorite tourist spots parking somewhere near 60/70th and Park Ave and walking.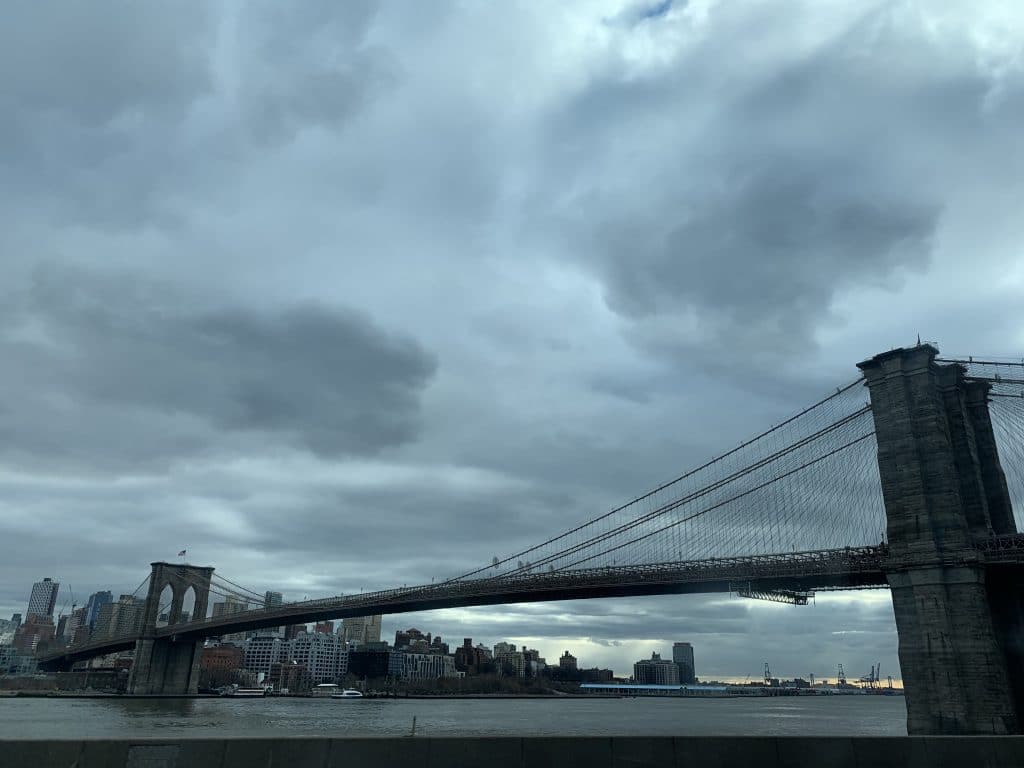 Map Your Route
Once we checked into our hotel, we don't drive anymore. While the Subway can be really intimidating to navigate, all you need is a plan. And the kids love it! We decide exactly where we want to get on and off, then I screenshot the Subway map for easy reference. We just went a couple stops on the orange up to Rockefeller center, so we could see the iconic tree! That was the most crowded part of the whole city. Walking from there to Times Square isn't far and it's so fun to see Times Square at night! We also went passed Bryant Park, which has a great ice skating rink, as well as a cute shopping village. Since we took the Subway up, everyone had a bit of energy to walk back down. We walked down 6th so we could go by the Macy's Christmas windows, which are by far my favorite!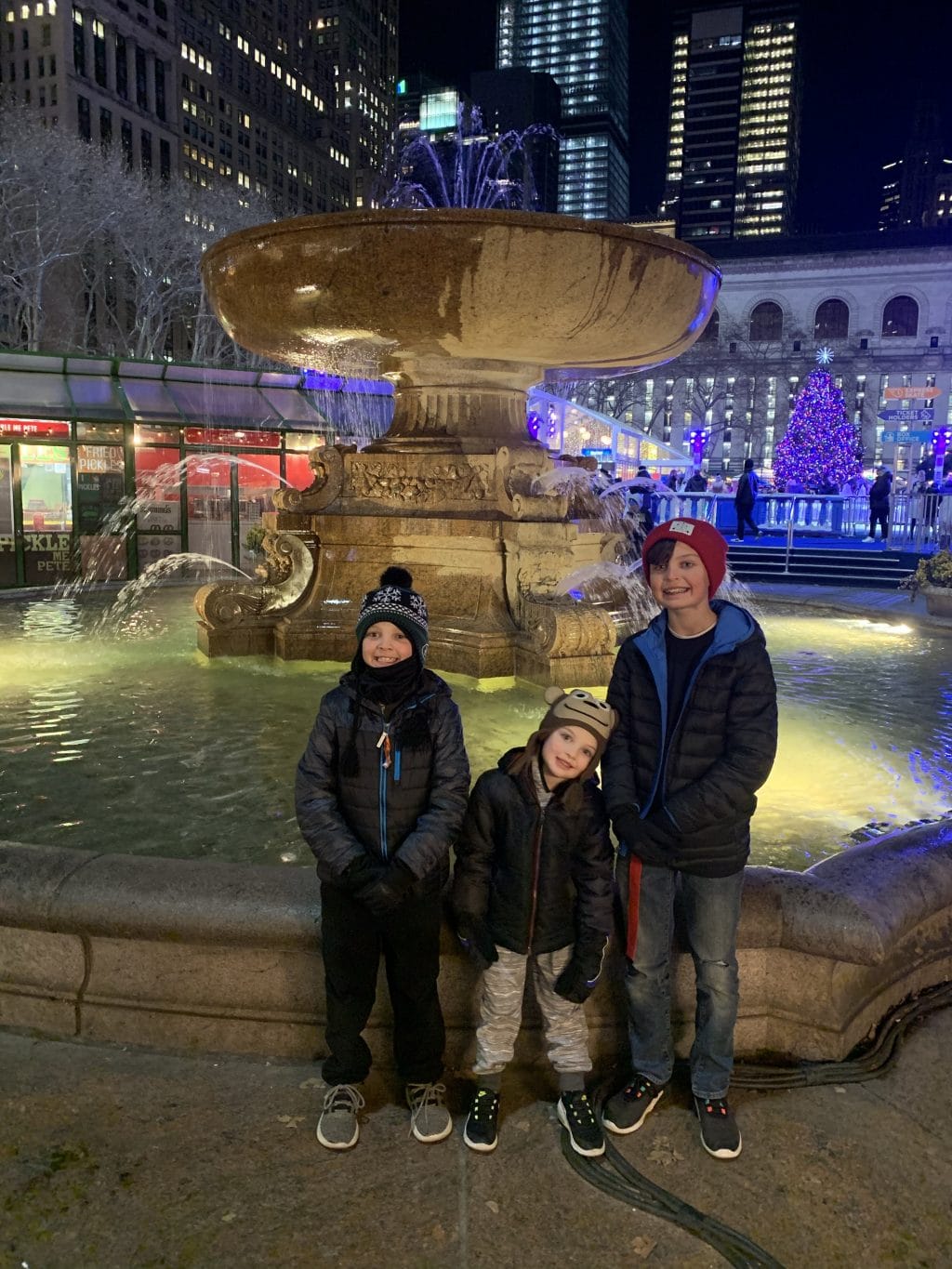 Eat
We're kinda creatures of habit and always go to John's Times Square. They serve delicious, brick oven cooked pizza in a 19th century church building. It's absolutely gorgeous!
Another go-to is Ess-A-Bagel. They have classic breakfast foods on their incredible bagels and a whole slew of cream cheese flavors. My favorite is the Ess-A-BLTA. Bacon, lettuce, tomato and avocado!
New Adventures
The most amazing thing about NYC is that you can go 1,000 times and always have something new to see and do. This trip, we did a couple new things that are totally noteworthy.
High Line
The High Line is a public park on the west side, built on a freight rail. It's been around since 2009, but they've been adding to it since then. The most recent addition is Hudson Yards. It includes shopping and dining (we grabbed coffee and took a bathroom break here) and "The Vessel" (seen behind us in the first pic!). Complete with 80 landings for you to get the most epic views of the city. You can get free tickets to climb The Vessel so you don't have to wait! The High Line is best if you just walk and explore. There are playground areas, lookouts, gardens and seasonal vendors.
Museum of Illusions
This is one we had no idea about, but the boys told us they wanted to go. It is a great choice for colder winter days! The Museum of Illusions is on the smaller side and we did have to wait in line for about 15 minutes. Once inside, you go room to room, letting your eyes play tricks on you. They have several picture spots with explanations of where to stand for the best photo in these cool rooms.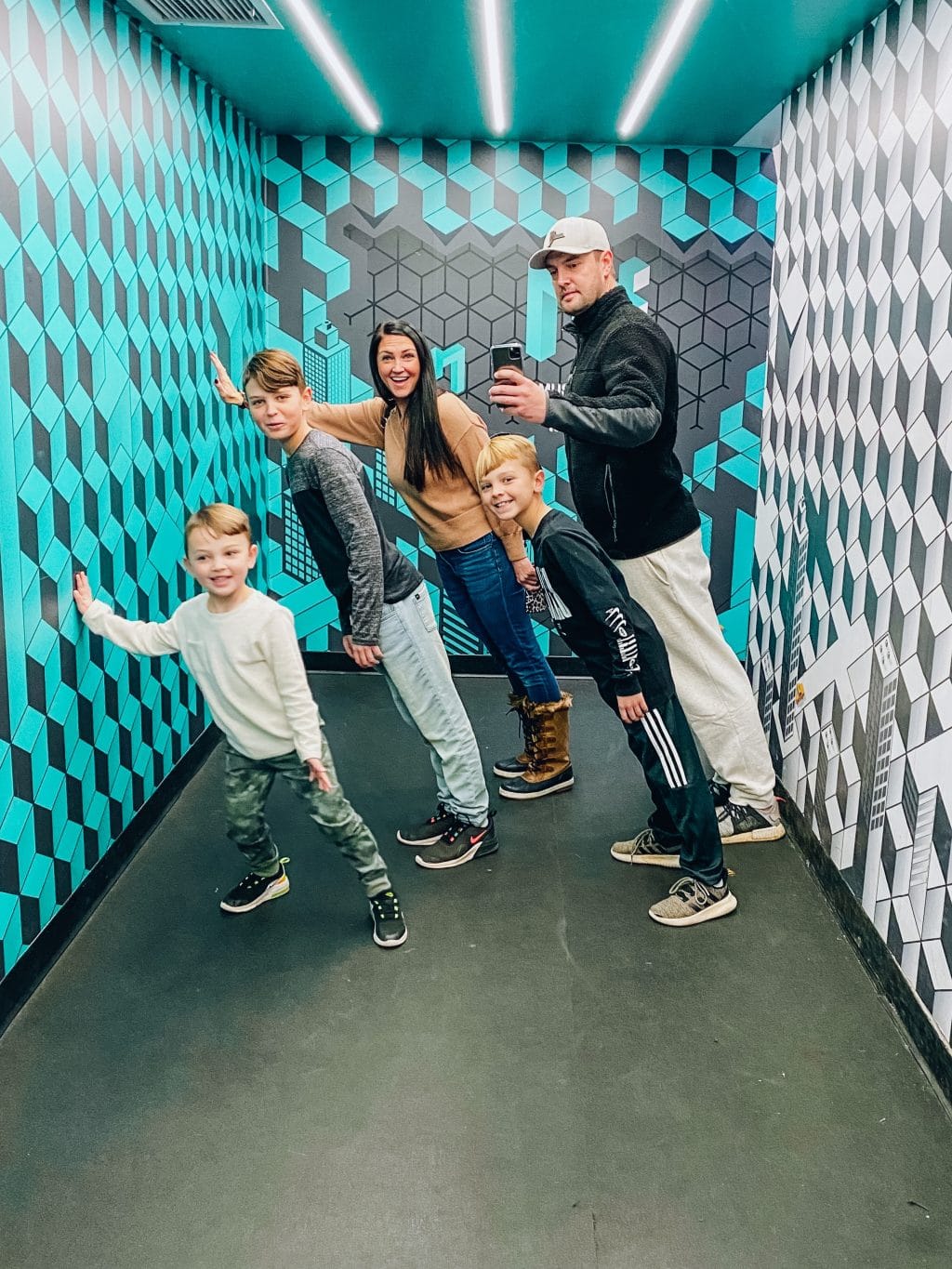 The museum is the only activity that we paid for. There is so many options for free activities in New York City. While the hotels and food do cost more than lots of places, it's offset by so many free activities. If you have any questions about taking your family to NYC, let me know!