Happy Nordstrom Anniversary Sale day! I know most of you are sick and tired of hearing about this sale. I mean, I basically am, too. I didn't wake up in the middle of the night or go to wild shopping, because I just didn't want to be another crazy bandwagon blogger. It's a good sale. They have fantastic pieces for fall. But it wasn't worth losing sleep or driving to my local Nordstrom to fight over the last sweater in my size. I just got up this morning, scrolled through and chose my favorites. I think I did get all of these sweaters I picked…whoops. One thing I wanted was already sold out in my size, so if you're a cardholder, grab what you want now! If you aren't a cardholder, the sale opens up on the 20th and there are usually some good restocks before then. I will update this post next Friday for y'all! The nice thing about Nordstrom, is the free shipping and free returns. Like something? Buy it. No pressure, no loss!
The pieces I picked are really what I like and what goes along with my lifestyle. Cozy, errand running, school drop off and general #momlife. Here are my Nordstrom Anniversary Sale favorites!
Sweaters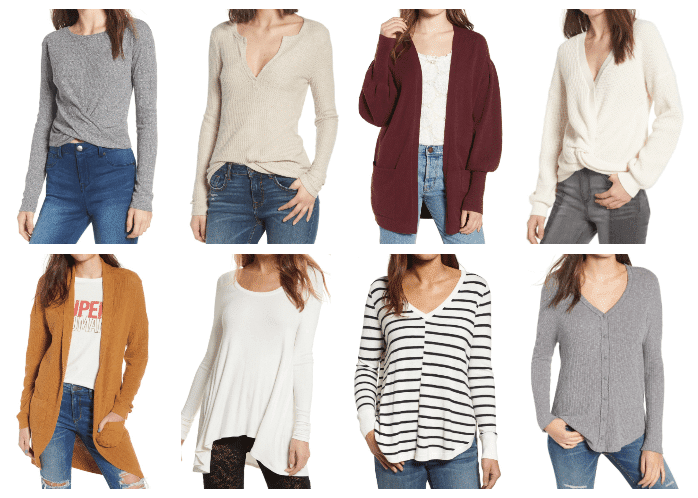 Twist Front Tee – I love that this is just a touch cropped, but not too revealing. It also comes in a coral kinda color.
Thermal Henley Top – I'm all about the cozy, so this one was for sure in my cart. Looks like loungewear that's acceptable to wear out.
Balloon Sleeve Cardigan – This was a hot piece last year, too! It comes in 6 colors and is absolutely adorable.
Twist Front Sweater – Another basic sweater with a twist. Literally. And right at $30
Cocoon Cardigan – I missed this one last year so I was so excited to snag one today! It's $32 and comes in 6 colors.
Free People Tee – I grabbed a black one of these, for throwing on with leggings or denim on a cool fall day.
High Low Striped Sweater – This cozy top comes in 3 colors, white, black and navy.
Ribbed Cardigan – I really debated between this one or the oatmeal color. I actually can't remember what color I got! But it's so cute and I can't wait to try it.
Bottoms
7 For All Mankind Skinny Jeans – I don't have any jeans I love more than my 7s! They're worth the splurge for sure, but these are an amazing price at under $100!
Zella Lived In Leggings – also comes in a cropped version and are quite possibly the comfiest leggings you'll ever wear.
Ripped Ankle Skinny Jeans – I have last years version of these and they're a fantastic jean.
Moto Leggings – These come in 2 colors and are such a cute look! Perfect with a cozy sweater for fall!
Black Skinny Jeans – The STS Blue brand is one that always gets great ratings. I love black distressed denim for fall and winter.
Shoes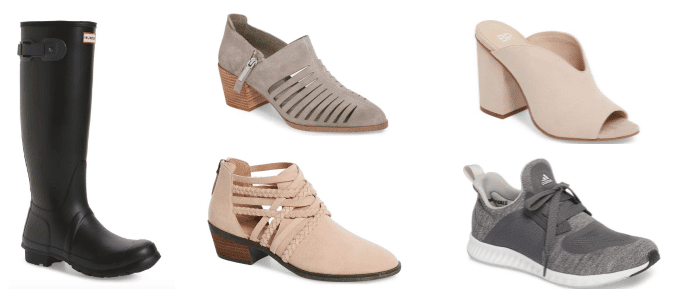 Original Tall Hunter Boot – This is basically unheard of to get Hunters under $100! Better move quickly if you want these!
Suede Bootie – I love the grey color of these and think they're so versatile. They also come in 5 colors.
Open Toe Mule – comes in 4 different colors and is a great transition pair! I ordered the grey suede because I think they'll go with tons.
Braided Bootie – I can't decide what color I love of these more! But the black is a great classic with a twist.
Adidas Training Shoe – These are SO similar to the shoes y'all always ask me about with the bow tie laces. They also come in a pretty pink and are under $65!
Miscellaneous Tops
Nike Logo Tank – This is a classic workout tee, comes in 3 colors and is $25!
Raw Edge Tee – This is a return from the last Nordstrom anniversary sale and I LOVE it. I've had it a full year and it's held up great. It's $12 and comes in 10 colors.
Moto Jacket – This is a new version of last year's really popular moto jacket. I LOVE this new mushroom color!
Bags
Kate Spade Hobo Bag – This is such an elegant bag. If you're in the market for a classic bag grab this one while it's over $100 off.
Spinner Luggage Set – This beauty set has been on my wishlist for awhile now! Time to take the plunge!
Tory Birch Crossbody – Another classic, this bag is $150!
Are you shopping the sale now? If you aren't a cardholder and are looking for specific things, let me know! I'd love to have pieces ready for when the sale opens up!