It's January Amazon Haul day! I have really grown to love the hunt on Amazon for perfect pieces and I think I found some great ones this month! I know really warm weather is a bit off, but here in North Carolina, the shorts will be here before we know it. A couple of the lighter pieces I found can transition well into spring and I showed you how to style them for now and later.
Make sure to watch my Instastories if you want to see the try on in real life. It helps to see the pieces in motion!
Sizing info: I'm 5'2″ and typically wear a S top and 0-2 bottoms. 
I forgot to even include this leopard sweatshirt in the mirror pictures, because I wore it the day it came in the mail! I've seen everyone and their brother in this piece and I was so excited to get my hands on it! It can be worn off the shoulder or on.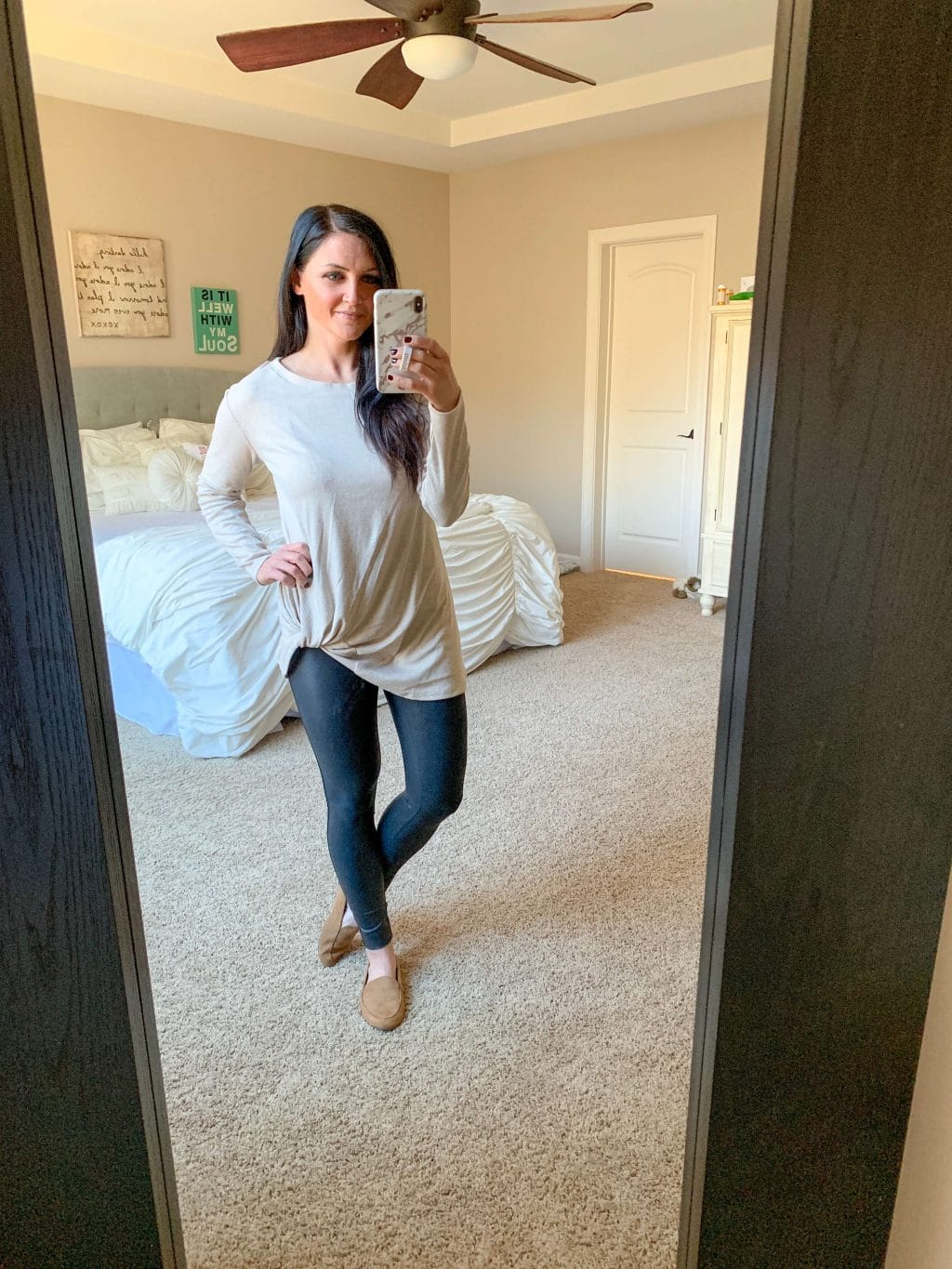 This cute tunic is perfect for leggings! It can be worn off the shoulder or like a regular tee. It is a big oversized and currently comes in 2 colors. (Mine is called apricot, although I would call it oatmeal!)
I love a good nautical color combo, so I was drawn to this top! It's long enough for leggings, but tucks well. It also comes in 4 different colors. 
I got an XS in this tunic and I'm glad I did. It fits great and is very versatile. It has some cling to it, but is long enough to cover your booty with leggings. It comes in 7 colors, including some cute stripes!
This sweatshirt lays so nicely because of the side cutouts. I have worn it twice already since it came in over the weekend and I want to order the striped one as well!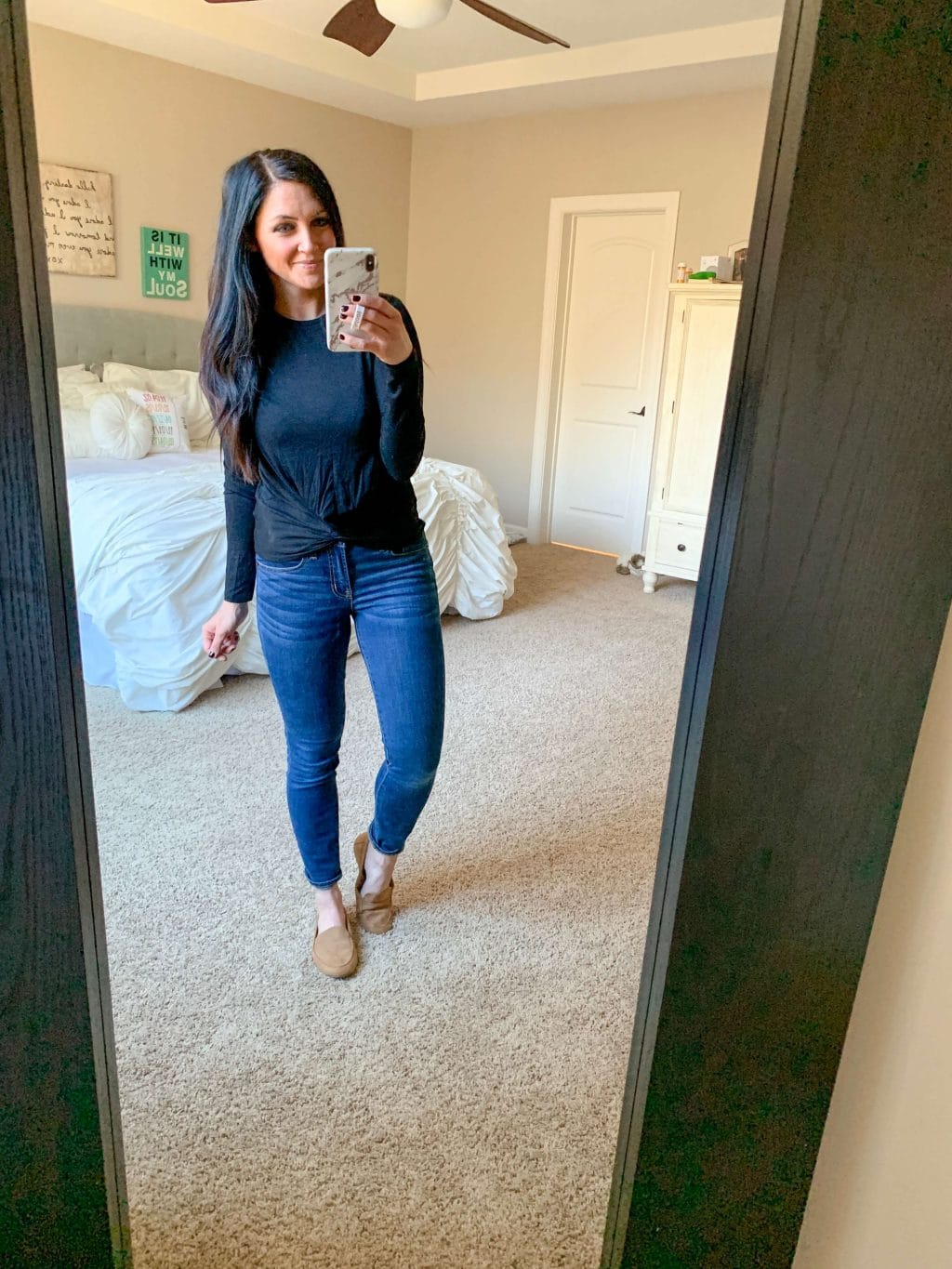 This tee is a cute basic with a fun twist! I love the front and the cropped gives you that tucked look, without having to keep tucking it in. It's the same one I'm wearing in the Instagram picture of Lincoln and I in front of the heart wall earlier this week.
I just thought this tee was too cute to pass up! It's a generous fit, but small is the smallest it comes in. I might do a side knot and wear it to the school Valentine's Day parties this year.
Workout Pieces
This hoodie has the cool hand cover that Lululemon calls "Cuffins". Perfect for a chilly workout as my hands are always cold when I run outside! It comes in 5 colors and while it's true to size, I found the band around the waist to be a bit snug. If you're in between, I would size up. The leggings are 7/8 length, which is perfect for my shorter legs. They come in 9 colors, fit true to size and are also available in plus sizes.
I can't sing the praises of these shorts enough. I usually run in these Lululemon shorts and I feel like these fit very similarly for about half the price! This top is insanely soft inside and very warm. Even if you aren't working out in it, it would be such a cozy piece to lounge in! It comes in 5 colors and plus sizes, too.
Speaking of athletic wear, my absolute favorite sports bra is from Amazon, too. I have it in a medium and wear it on all my long runs. I also just got these cushioned socks in this month and they're great! They come in a 6 pack and they're nearly as padded as my $15/pair running socks!


If you missed my upper body workout from earlier this week, check it out! I also linked lots of my gym equipment and most of it is from Amazon as well!
Thanks for reading along! If you're looking for something specific and want me to do a try on, let me know!
xo, Molly