These pumpkin balls are the result of buying way too many pumpkin scented candles and getting a hardcore craving for fall food the other night. Luckily, I had just stocked up on some pumpkin since it was on the end cap at the store and all. Those tactics totally work on me. 


Anyway, I got to mixing and adding and ended up really loving the end product. It's not overly sweet, but as someone that doesn't eat much sugar, it's really dessert like. You could always add in a little coconut sugar or brown sugar if you like them a bit sweeter. I've been eating these after a workout, for mid-morning snack and at night when I get the munchies. They're basically awesome all day errrday.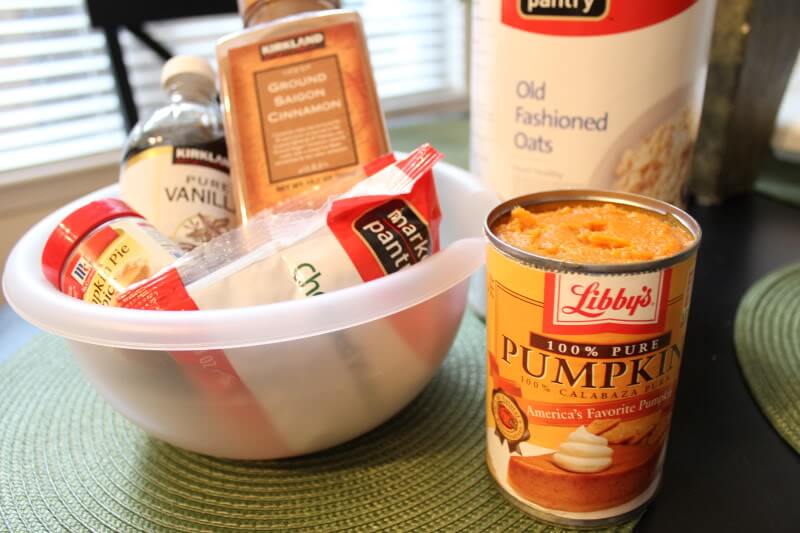 Ingredients:


1 cup pumpkin 
3 cups oats, not cooked
4 Tbsp maple syrup 
1/2 tsp cinnamon 
1/2 tsp pumpkin pie spice 
1 tsp vanilla extract 
1 Tbsp flax seeds 
1 cup walnuts 
1/2 cup grain sweetened chocolate chips. You could use dark chocolate pieces, regular chocolate chips or just skip them altogether. I did half with and half without.
Mix everything together in a large bowl. You kind of want to press and fold to get everything together. Roll into balls about 1″ in diameter. Place on a wax paper or saran lined pan and chill for about 30 minutes. 
Certain little helpers will not wait for them to chill…

And that's it! Store in the refrigerator in an air tight container and snack your little heart out!