We threw a barbecue for the hubs work peeps on Saturday, so Sunday, we took it easy. Naps, pointless TV watching, and chinese take-out. Ahhhh. In the midst of that, I started getting the crafty bug. It only comes in spurts, so I have to jump on it and head to Joanns this afternoon. I have a whole list of things I want to make, I just have to go get some stuff. And don't you worry your little hearts. I am working on something fancy pants for my 100th post giveaway. It is coming soon!
I saw 2 different monkey prints that I really liked at Target last week and got inspired to make some art for Cooper's room. I found a few canvas' in my paint stuff and made this little fellow for him.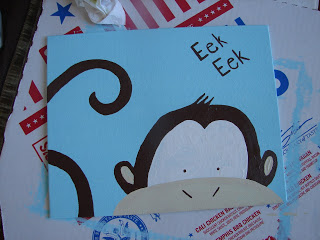 This is with his crib bedding.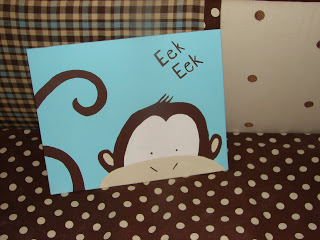 Thats all folks. Hopefully I will have some more fun stuff to show you in the next few days!