WARNING! This post will be lengthy.
Since you made it past my warning, I guess you really want to know about our southern California road trip. Where do I even start…
Monday we left at 7am and drove to Fresno. Laura, (my sis-in-law) Cooper and I dropped the hubs off with one of his work peeps and went shopping. We shopped all day. When Bill was done, we had dinner and went to the hotel. Non-eventful. We did start the P90X 90 day workout program the week before we left and were determined to do it the whole week, even in the hotel rooms. Dumb. I don't suggest 3 people kickboxing in a room with 2 beds and a pack-n-play.
Tuesday we drove to Santa Clarita where we found a brand new Super Wal-mart. It was heavenly. I know I am not supposed to be a fan of the big box stores, but seriously, there is something about the Super Wal-mart that moves me. Once the hubs was done working, we drove to Santa Monica and our hotel was only a few blocks from the beach. Gorgeous!
Wednesday Laura, Cooper and I went to the beach for a couple hours and then to the Third Street Promenade. We shopped some more (of course) and ate at Fatburger. It was yummy! It was also the worst of my diet breaks for the week. Ugg. By this point I was getting tired of eating out 3 meals a day, but still really enjoying not cooking or cleaning up!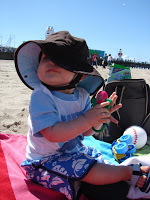 We went walking around Beverly Hills that night and I am certain I saw Cher. Or maybe it was the Octomom?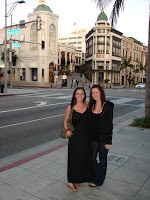 The hubs also got a ticket for this.
Cooper gave us a fit that night for some reason and I ended up falling asleep with him before the workout. Oops. I woke up to a crash and found the hubs had kicked the lamp over during some extreme yoga pose. I couldn't help but laugh at him, but felt bad once I actually did the yoga. Miserable! Is it nowhere near relaxation to me.
Thursday morning we drove down to Anaheim. Right after we dropped the hubs off, we hit a road block. We found out it was the big car accident that took the life of the Angel's pitcher, Nick Adenhart and 2 others. It was overwhelming to see the cars and stretchers with bodies. I got sick to my stomach when we saw people taking pictures and sneaking past the railing just to get a look. We left immediately and I couldn't believe the amounts of people still there when we were back that way in the afternoon. My prayers are with his family.
That day was when Laura announced that she was sick of shopping and didn't want to go into another store. We also couldn't fit anything else in the car. So we went to Chuckie-Cheese. Thats right people. I did really do it for Cooper, and just happened to rock Laura's face off in skee ball and basketball.

Friday! We went to Downtown Disney for the morning and Cooper put on quite a show dancing in his stroller.

We headed for home around 1, but due to massive amounts of traffic, we had to stop at Pinkberry for awhile. Delicious. Thanks, traffic. It did take us an extra 2 1/2 hours to get home, but my oh my, was I glad to get home.
We did have alot of fun. We also did alot of waiting in the parking lot either for Billy to finish work, or for Cooper to wake up. I (no one else) did alot of singing in the car and waving to random people. I changed way too many dirty diapers in the car. We went to Target at least 5 times. I learned that the Kiddopotamus Tiny Diner is essential to eating out and that baby neck pillows are freakin' adorable.