I shared my pill box vitamin routine for our boys in Instagram and had so many questions about what they take that I needed to get all the links in 1 spot! I am not here to give professional medical advice, but I have done a lot of research about immune health. I know how important it is, especially with kids going back to school now, to keep their immune systems as strong as I can. To start, they eat veggies and fruit every day and I have a strong focus on healthy eating in our house. There are plenty of advantages to building the immune system with supplements and here are the things I give the boys on a daily basis.

We used to be inconsistent with these vitamins, but once the pandemic hit and health seems to be such a big factor in staying that way, I knew we needed to step it up. I got each boy a large pill box with the days of the week on it. If you're giving gummies, you need a big one! This 2 pack and this single are good options. I bought mine at the local pharmacy, but if I had to get more, I will get one of those options. You do still have to squish them down a bit, but it will close!
Kids Daily Vitamins for Immune Health
Vitamin C – Couldn't stress this one enough! I get the adult gummies from Costco, but there are other great options like this 2 pack for about the same price I pay, or this single bottle.
Elderberry – this brand in particular is my choice and also contains zinc and vitamin C. I do have a recipe for making this on my own, but to be honest, the boys take the gummies far easier than the liquid!
Vitamin D – Did you know that about 42% of Americans are vitamin D deficient? We get vitamin D mostly from the sun and sunscreen does prevent us from getting all we need. We also get vitamin D from foods, but taking a supplement will help a lot in boosting your immune system. I get either this one on Amazon or this Target brand and give the boys 1 a day.
Probiotics – There are tons of probiotic options, but I feel like this one is the best. It's shelf stable, while still having 5 billion cfu and 14 probiotic strains. These are chewable, but not gummy.
Multi-Vitamin – I also throw in a multi-vitamin for all the little things they aren't getting in the other supplements. The Costco brand of kids chewables is great.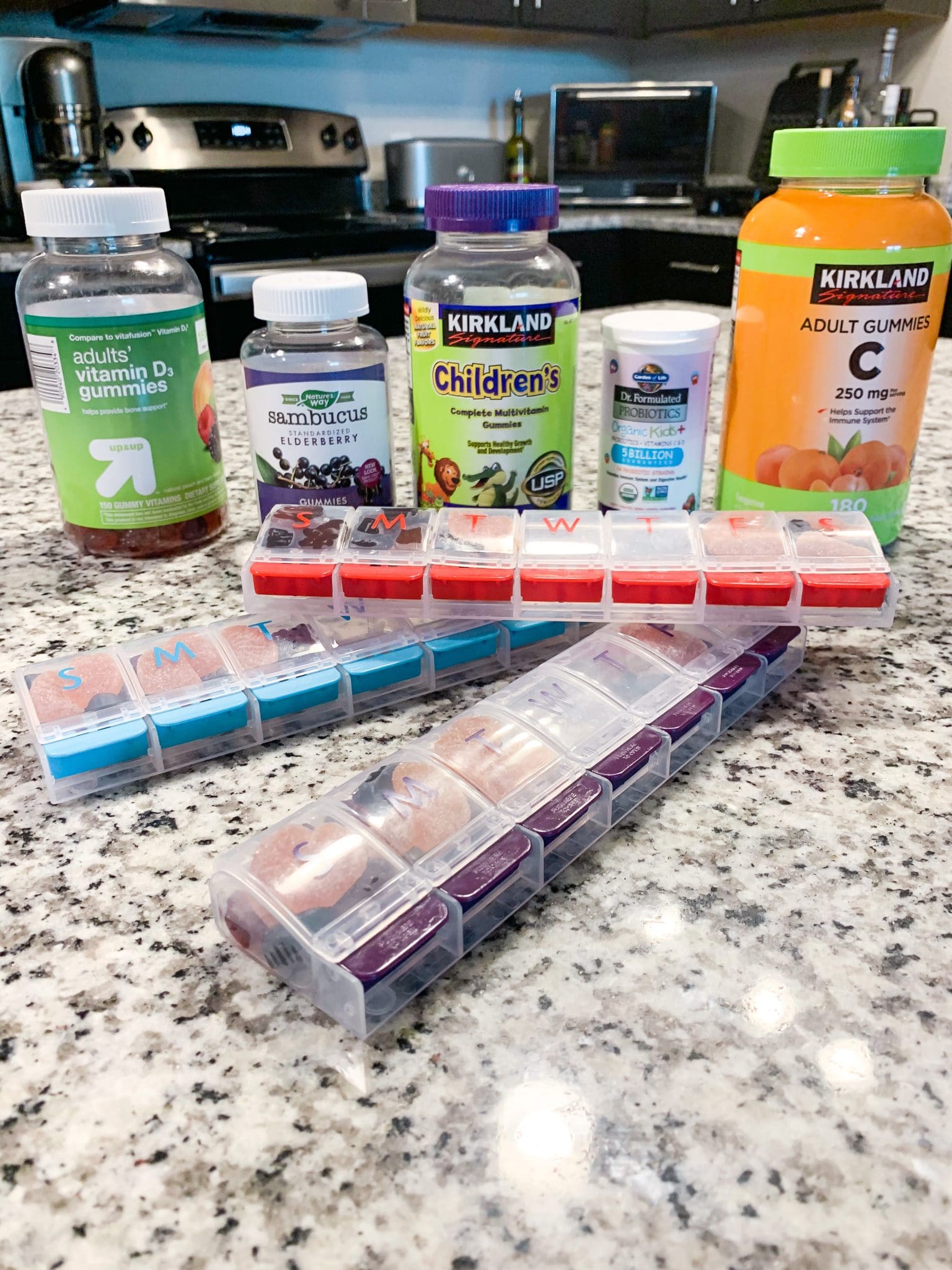 The vitamin containers come out in the morning with the breakfast plates and lunchboxes so we never miss taking them. I feel good that they're kicking off the day on the right foot!