After realizing that a good chunk of our Christmas decorations were washed away by hurricane Sandy, I started looking for some new ones. One night, I found myself folding down almost every corner of the Ballard Design magazine to show the hubs. One of my favorite things, was their Spruce Alphabet Wreaths.


My mind started whirling and I whisked the boys off for a trip to Michaels. In a couple hours, these were hanging on my front door.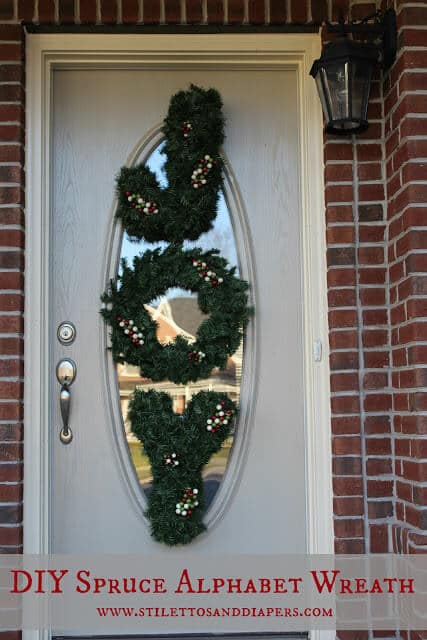 It really was an easy craft. What I used:
1 – 36″ piece of styrofoam
$14.99 at Michaels, used a 60% off 1 item coupon.
1 – Spruce Wreath for the "O"
$3.99 at Michaels
3 – 9′ pieces of wired spruce garland
$2.99 x 3 at Michaels
Small decorations, if desired
The Celebrate It brand was 50% off and I spent less than $3 total on them.
First, measure and draw a line to split the styrofoam in half. This will make 2 18″ pieces.
I freehanded the "J" and the "Y" and then redrew until I was happy with the size and spacing.
Using an exacto knife, cut along your lines.
I used a big kitchen knife for the deeper cutting. Not advised! It was hard. And my knife is dull now. Go with a bigger razor blade or a knife made for cutting styrofoam.
Then, you'll have the "J" and the "Y" ready to wrap.

I stuck the end of the garland into the top of the "Y" to get started. I started the "J" on the bottom since those were the more obviously seen places, and I wanted to make sure they were covered.

Then you just get to wrapping. Don't fuss too much about exposed styrofoam, because you can move the pieces around to cover it. I cut the third piece of garland in half, twisted it right onto the piece already wrapped, and kept going.


This is what mine looked like, wrapped without any decorations. That is how they're sold at Ballard Design.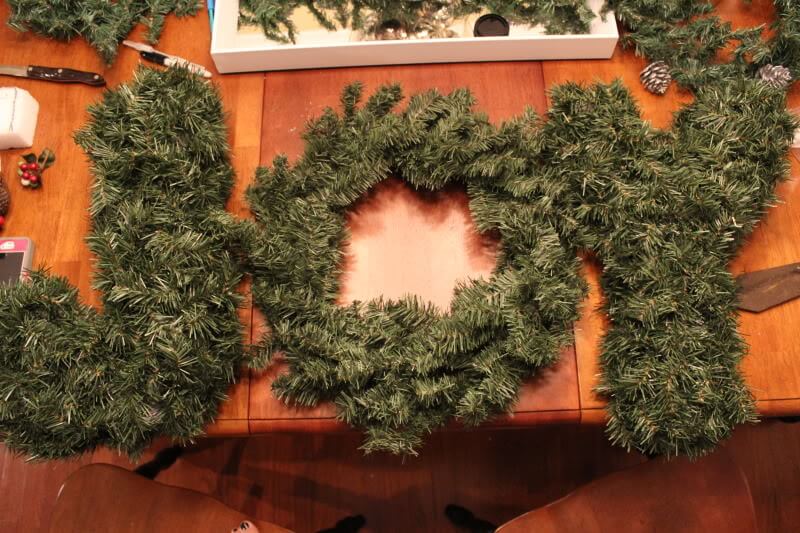 Then I added the little sprigs of color. I bought the pine cones and golden ball mixes in the earlier picture, but I liked them just like this, so I left those off.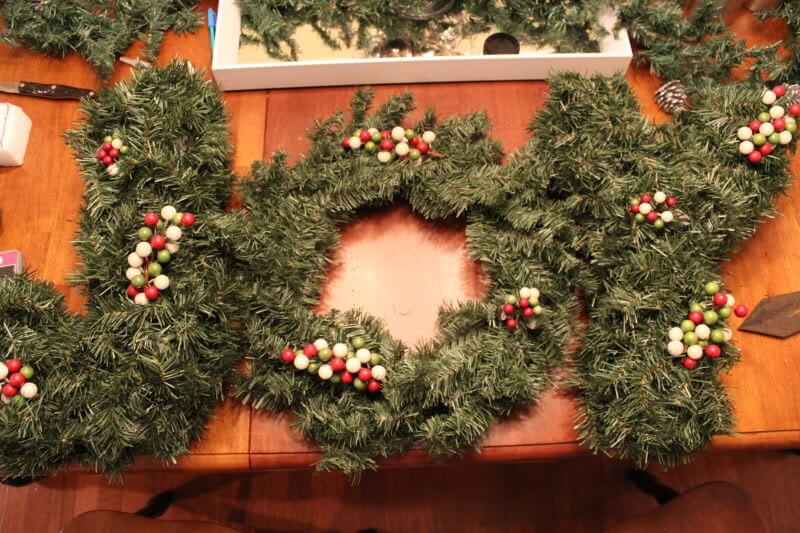 I just used Command strip hooks and hung them on a piece of the garland that I looped in the back.


And there you have it! Mine are a bit fuller, so you could cut the styrofoam a little more narrow to achieve a thinner look.