We're home and settled from our NY trip! We had a blast! I've had several people message me about traveling with kids to the city and I plan to do a post about all my tips. But for now, I'll tell you about our second half of the trip where we headed upstate to my inlaws house for the rest of the week.
We celebrated July 4th with friends and family.
Linc has his first ice cream cone.
We took a day trip out to Cooperstown, which of course, Cooper thinks he owns.
The boys and I had never been there, so it was a ton of fun visiting the cute city and the Baseball Hall of Fame.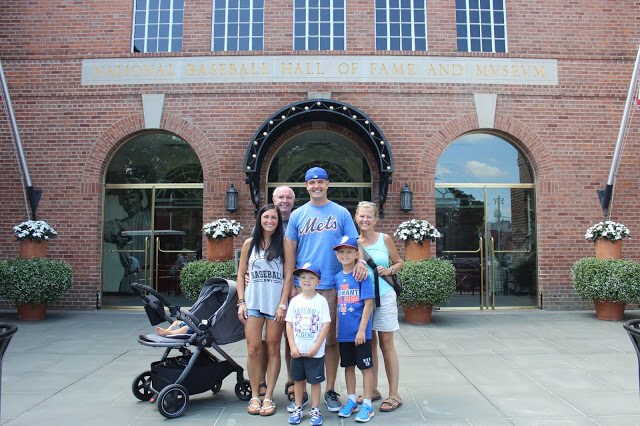 I took an unreasonable amount of pictures while we were there!
And I had to wear my Baseball Boy tank!
My inlaws have a Stewarts (gas station) within walking distance from their house and we made our way there a few times during the trip…
As well as hitting up my favorite ice cream shop that sells cannoli ice cream. It may be the best thing I've ever eaten.
It was a very relaxing part of our trip, with lots of time spent hanging out outside,
And taking walks that were great naps for this guy.
We spent time hanging out with friends, swimming in my sis-in-laws pool and enjoying cool mornings and evenings outside. I love New York in the summertime!
I don't think we realized we booked trips so close together, but we leave for Florida in 12 days! That will be beach time with my family and I can't wait for all of it, with the exception of the drive!