Southeast Toyota Distributors, LLC ("Toyota") provided me with compensation and use of a vehicle for a short period of time.
The opinions I have shared about this vehicle are my own. 

A couple weekends ago, The Hubs and I snuck off on a trip alone. It was the first time in 3 years we'd been anywhere without kids and the first time in 7 we'd been just by ourselves. Don't follow my example…this was far too long! We planned the trip a couple months ago, but had our family's first broken bone happen the day before we left. We felt very guilty still going and leaving our sweet boy with his fresh cast, but we knew our babies were in good hands and we really needed to getaway!
For our trip, we left our cars at home and took this Toyota RAV4 on our adventure! It was a fun car to drive and had tons of techy features that I loved. With a bird's eye view camera and lane departure alert that pulled the car right back in between the lines, it was a perfect road trip car. Not to mention the fact that my phone was connected with all my texts and calls right in the screen, so that we could talk, handsfree, to our big boy back at home while we drove. (It also had plenty of cupholders, which is road trip essential!) 
We ended up leaving later than expected, due to the circumstances, and got to Beach House on Hilton Head Island pretty late. The comfy bed was calling my name! The hotel was so pretty! It's been recently remodeled and is all a soft nautical theme. Our room had a juliet balcony that looked right out over the pool and ocean, which was a gorgeous view. They do also have family rooms with bunk beds for the kids. We already talked about going back and bringing the boys! (Just a side note, we had planned to eat at Frankie Bones for dinner that night, after several recommendations, but it was too late once we got there. Putting it in the hat for the next trip!)
Saturday morning, we woke up and couldn't wait to go biking. I rented 2 bikes from Hilton Head Bike Rental for less than $40 for the whole weekend! They had them locked up at our hotel and had given me the lock code when I booked, so it was super easy. There were bike paths all over the island. We went exploring and also rode all around Coligny Plaza, checking out the shops.
After working up an appetite, we stopped at Plantation Cafe for breakfast. I didn't realize it going in, but apparently it's a popular place! It seemed like a place locals went, with the hostess telling several people she'd see them next week.
We biked back to the hotel for some relaxing fun in the sun. This was one of the things I had been looking forward to the most. Mom's don't get to lay on the beach often! 
Romper | Suit Top | Suit Bottom
I'm used to soft and fluffy sand of the gulf, so this was definitely different feel, but it was so beautiful and not crowded. The sand also was perfect for beach biking!
For lunch we went up to The Shack at Tiki Hut, where you can sit in the shade and eat while listening to the live music. It was so convenient having everything you need right there on the resort! Now, it wouldn't have been nice of me to just eat salads all weekend, because then I wouldn't be able to offer you good food suggestions. So in taking one for the team, I got a burger with pulled pork and pimento cheese and The Hubs ordered the fish tacos. Yes, we're that couple that splits the food so we can eat it all! I want to go back for both things right now!
We had a bit of time to lay by the pool until it was time to freshen up for dinner, which obviously required a photo shoot beforehand.
On Molly: Wrap Dress | Sandals \\ On The Hubs: Tee | Jeans | Sneakers
Dinner was at The Porch, which is also at Beach House Resort. We sat outside under the lights and near the fire pit. It was gorgeous weather and we had a nice breeze off the ocean. We got to chat with the chef, Tim, beforehand and he got me really excited to try the food! I went with a wedge salad and unstuffed flounder, while The Hubs said that his filet was one of the best he's ever had. Y'all. If you've ever eaten with my husband, you will know that this is a massive compliment! I was really impressed with the menu pricing as well. Usually when you go on vacation, you expect to spend a small fortune on food and The Porch was very reasonable! After dinner, we listened to some live music at Tiki Hut, where people were dancing the night away!
So what do you do when you absolutely love the the food at dinner? Go back for breakfast, of course! You can order off the menu or take the option of a breakfast buffet. I saw fried chicken and hollandaise sauce and couldn't be convinced to eat anything else.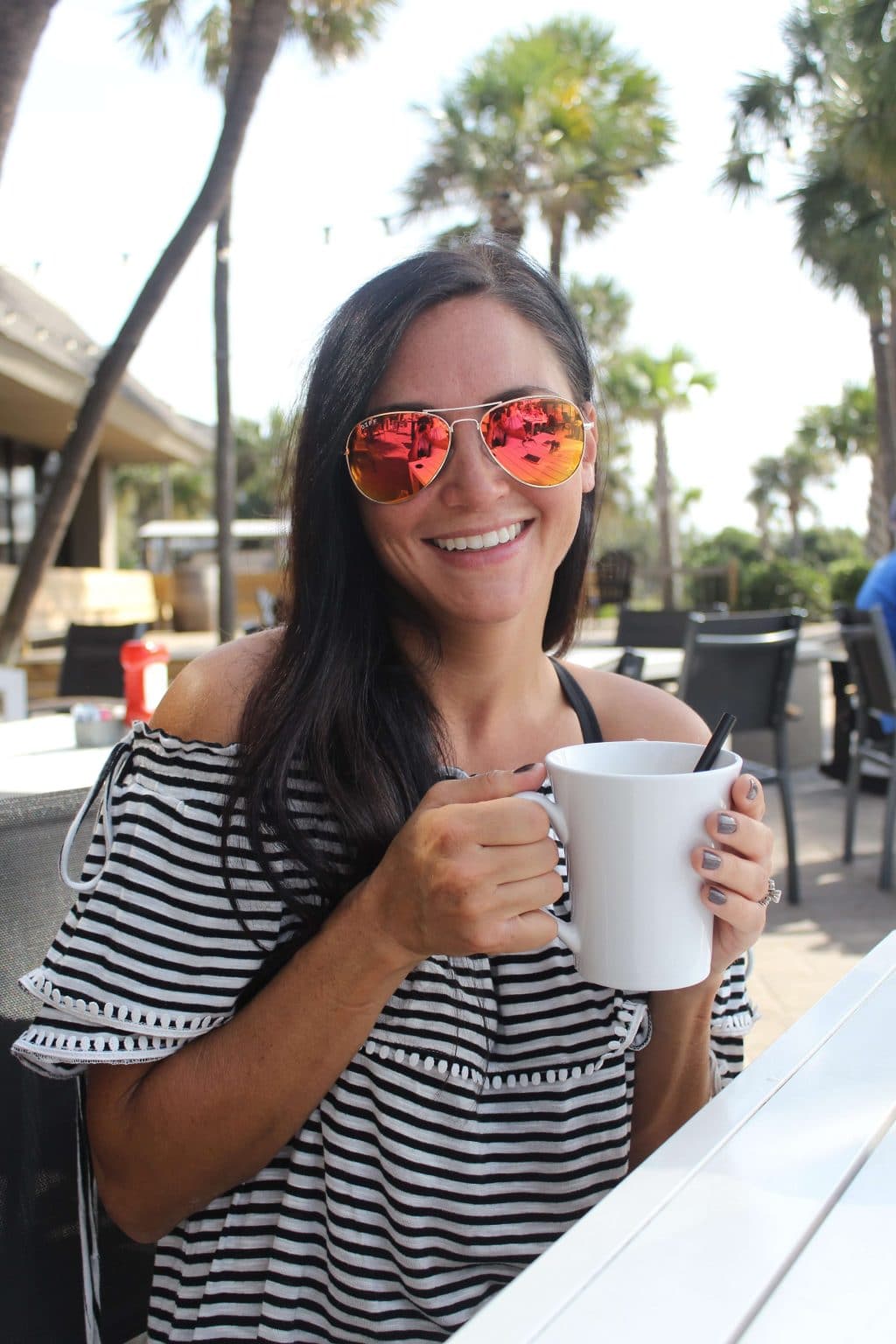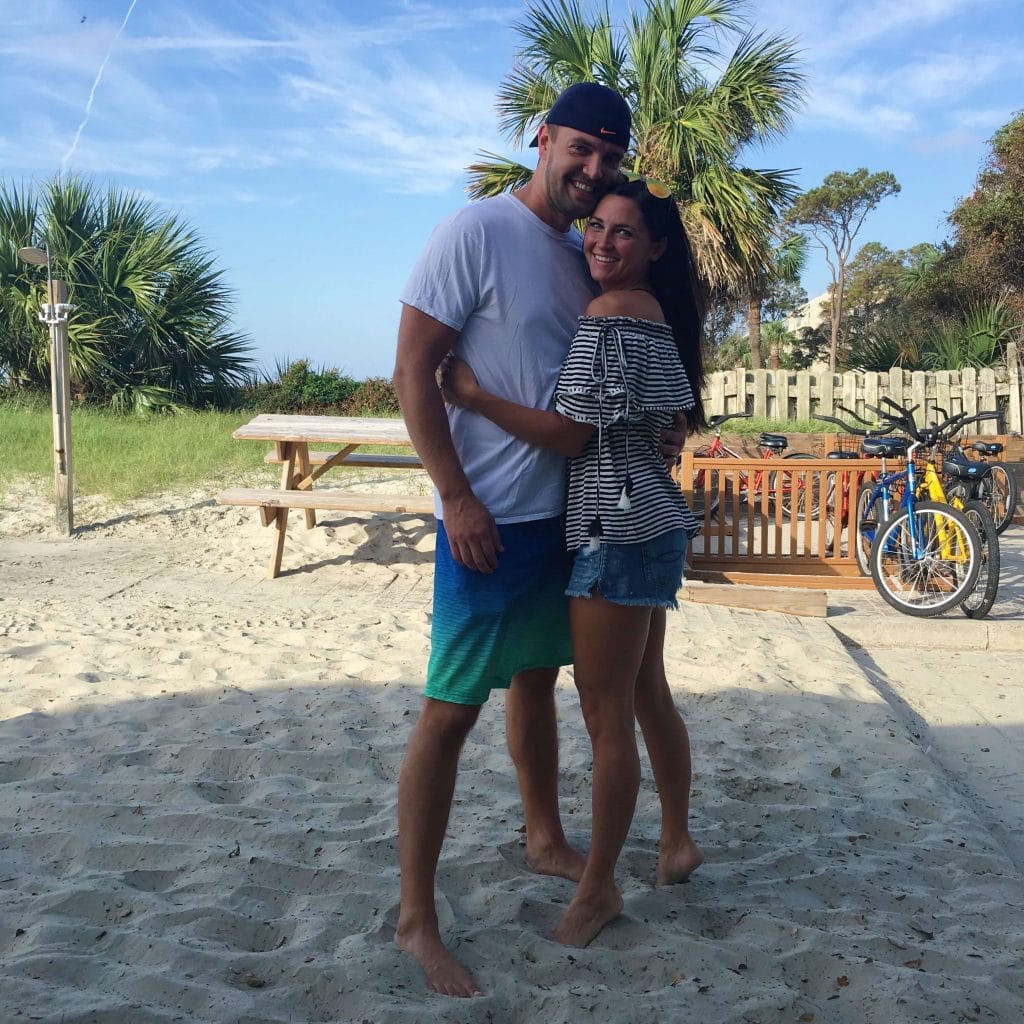 But lord have mercy. After all that eating, we needed some serious activity! We took the bikes out again for a beach ride and it was a good workout!
So much of a workout, that we figured we needed donuts! Have you heard of Duck Donuts? I always see people post about them when they go to the Carolina beaches, so I figured we'd try it out. We could have biked, but we wanted to bring some back to the boys, so we took our RAV4 so we could bring back a whole box!
We headed back Sunday afternoon, making our whole getaway about 36 hours. But it was still an amazing, relaxing trip. Now, if you're a mom and you take a trip, even if it is only 2 days. I promise that time away will leave you a better mom and wife. At least for awhile. Haha. You'll also probably leave looking like you didn't cook, clean or wake up in the middle of the night for a few days. Like so:
Tee | Shorts | Sneakers | Sunglasses
It was so nice to be able to hold hands, chat through dinner, relax on the beach and just remember us. It's so easy to get busy being parents that we forget that we're wives and husbands. We've committed to each other to have more date nights and even try to get away more. It's so important!
If you're planning any upcoming beach trip, think about Beach House Resort! It's great for couples or families and is just very convenient with all the nearby and on property amenities. I now see why people love Hilton Head Island!