Why I'm trying Faster Way To Fat Loss, plus this week's meal plan!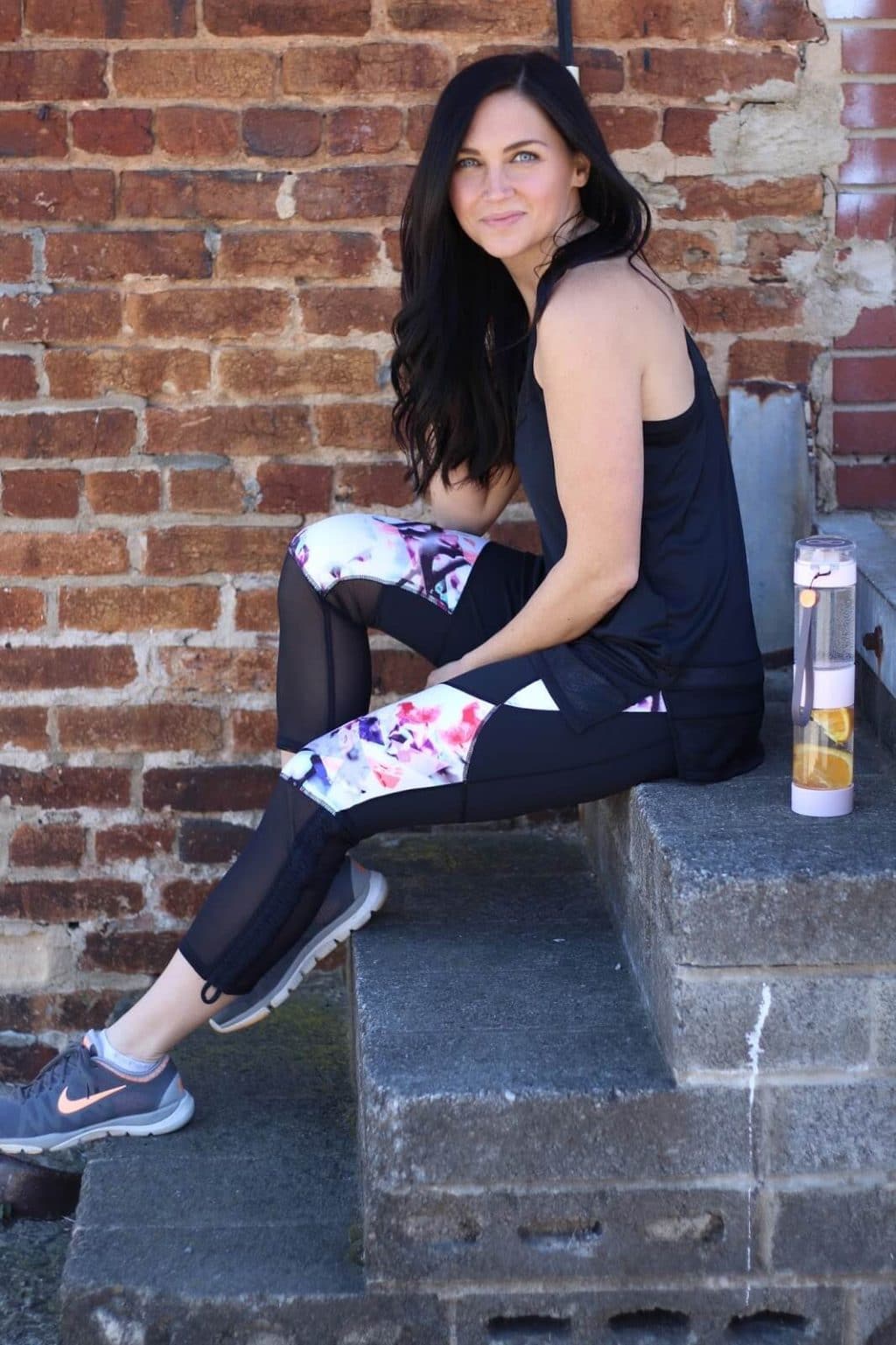 You are probably living under a rock if you haven't heard of Faster Way To Fat Loss (FWTFL). Hehe. Kidding. But not really. Everyone and their brother seem to be doing it right now! I'm always interested in learning more about healthy ways of living, ways to challenge my body and ways to stay in shape! After eating Whole30/Paleo-ish for awhile, I was craving a change. A couple months back, I went with a month of just clean eating (check out my month long clean eating meal plan here) and felt good to change it up. But I also feel like my body is a little stuck on it's way back to it's best self. My longtime blog friend, Ashley Paige, has been documenting her Faster Way To Fat Loss journey and really intrigued me. So about 2 weeks ago, I signed up and have been "trying it out" for a couple of weeks before the actual round starts. I wanted to see if it was something I liked before I shared with you!
I want to share some other bloggers that are doing it now as well, so you can see how it's working on all different gals! Check out Heather at My Life Well Loved,  Lindsey at Life Lutzurious, Jessica at Happily Hughes, Laura at Walking In Memphis In High Heels, Dani at Dani Marie Blog and Sarah at Sew Sarah and we'll be having a great giveaway at the end of the program!
Here are the some things the Faster Way To Fat Loss program focuses on that sold me:
Macro Counting
This is something I've never done before, so I was interested to see a) how difficult it actually was and b) how my body reacted to it. I will be honest, that initially figuring out my macros with my coach, Jordan, I felt overwhelmed. But after we got it all set, I could see everything in one place and I did it for a couple days, it actually isn't hard at all.
Carb Cycling
There is real evidence that carb cycling can help boost your metabolism and help with fat loss. You are basically alternating low and regular carbohydrate days, coupled with specific workout types. Since I've eaten lots of low carb for the last couple of years, the low carb days are actually the easiest for me. I'm actually working hard to get enough carbs on the regular days!
Intermittent Fasting
Something that I thought would be the reason I couldn't do this program, is intermittent fasting. I don't like being hungry! But I've found over these couple of weeks that it really doesn't bother me at all! I go from about 7pm to 11am without eating. I still have my coffee in the morning and find myself drinking much more water.
Long Term Plan
This is a very sustainable program. There isn't anything off limits, you just build your foods into your calorie/macro count for the day. I'm doing it gluten free, as that is recommended to start, but have enjoyed plenty of rice or bean pasta, pizza night, cocktails and even some dessert.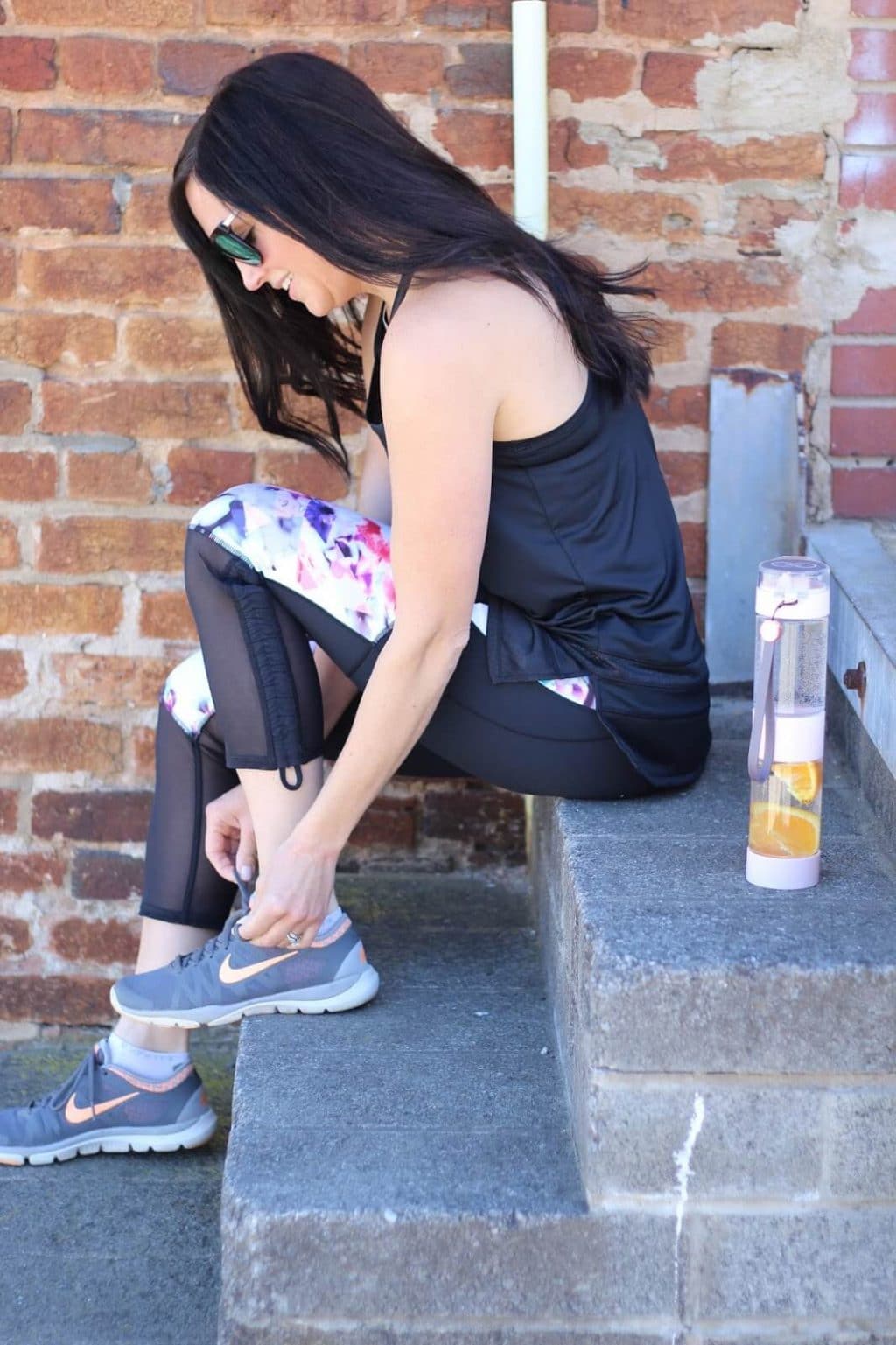 After these couple of weeks, I feel really good. You're not supposed to weigh yourself during the actual program, but I did during this trial and have lost 3lbs. I feel like my stomach is flatter and am SO excited to see what the actual 6 week plan does for me!
If you're interested in joining, check out all the info here! The program is $199 for 6 weeks. That gets you a coach to walk you through it all and Jordan is really amazing! You will get all your workouts, meal ideas and be a part of a Facebook group with everyone supporting each other. Today starts "prep week" where we start tracking, meal planning and basically doing a little practice work before the actual start of the 6 week program, then go time is the 15th! This gets you to the finish line on Memorial Day! (Hey summer bod!) 
Meal Plan
Here is my dinner menu for this week and also a sample of what my dinners on Faster Way To Fat Loss look like:
Monday – Grilled Chicken Salad
Tuesday – Cauliflower Rice Burrito Bowls (but you can add in that cheese and sour cream)
Wednesday – Garlic Butter Tuscan Salmon with roasted potatoes
Thursday – Pasta Primavera (I will use lentil pasta)
Friday – Homemade Pizza (I love the Trader Joe's Cauliflower crust!)
Saturday – Chicken Cordon Blue Casserole, green beans (I use regular chicken breasts)
Sunday – Shepherd's Pie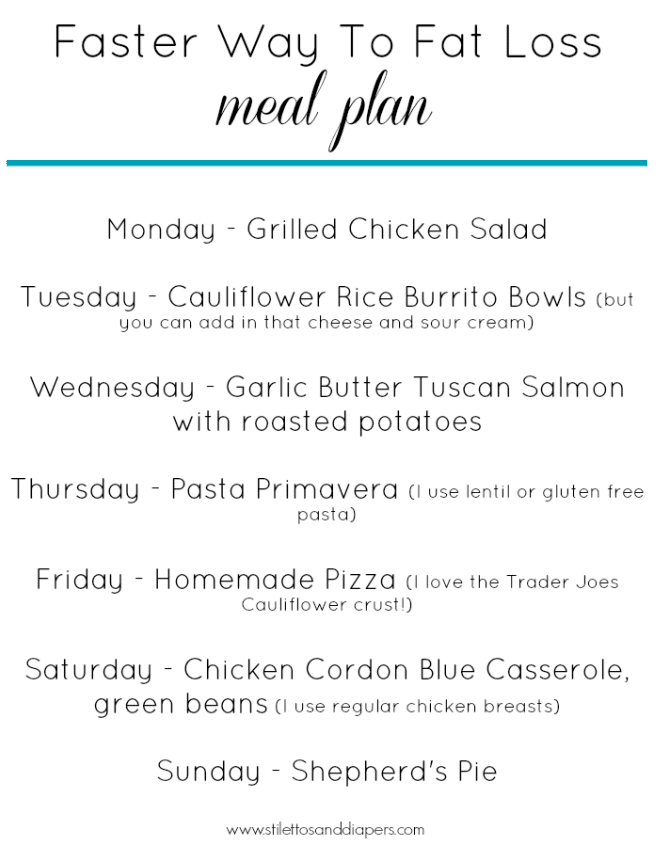 If you have any questions, let me know! If you're interested at all in trying out this program, I'd love for you to join in with me and have Jordan be your coach. Having a group of support is the best way to get through anything, even a new way of eating!