All mom's know that going anywhere requires a good deal of stuff. After a couple outings with baby #3, I'm basically a pack mule on my way out the door. The reality is, kids of all ages need stuff when you leave the house and the majority of it is to keep us moms sane. What I like to do, is keep my car stocked up with essentials so I don't have to be carrying so much every time I leave the house.


Since my inlaws are leaving next week and I have to get back into the swing of errands and school pickup, I know I need to prep my car. I will need a lot of essentials before I start spending 1.5 hours a day in it with a 3 year old and an infant and my main focus is snacks. I guarantee there will be times that we are all starving at once!
Since I'm breastfeeding, I'm requiring a bit more food than normal and snacks are the easiest way of getting in those extra calories I need. I'm trying to eat healthy, though, and not snack on junk! It's been handy coming up with healthier snacks for me, because I have some more suggestions when my boys ask for a snack. Is it just mine, or is every kid STARVING after school?


Here are my Mom Car Essentials that everyone needs right in between the stroller and baseball gear bag:







1. Baby wipes
I don't think I will ever stop carrying wipes. I use them every single day for things other than diaper changes. Sticky fingers, dirty hands, spills; they're great for so many reasons!
2. Diapers
This is a no brainer if you have kids wearing them, but keeping them in the car means you can run out for a quick trip without having to take the whole diaper bag.


3. Change of clothes
This applies to everyone all around. The baby. The newly potty trained 3 year old. Yourself. You never know when an extra t-shirt stashed in your car will come in handy.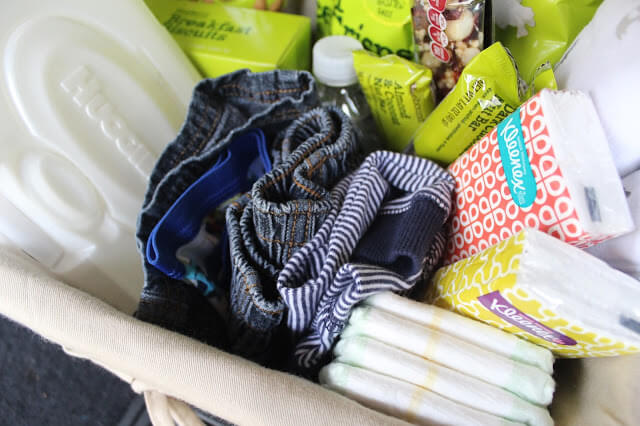 4. Kleenex
The little pocket packs work great for the car and are much better for wiping little noses than the restaurant napkin you have stashed in your glove box.


5. Empty water bottle
If you're a boy mom, then you probably know what this is for. With 3 kids, I am not about to haul everyone into a public bathroom, if I can help it. An empty water bottle makes a perfect toilet for the little men in my life.


6. Blanket
This is mostly because I have an infant, who could blow through the extra outfit at any point. Or need to be hidden from the touchy feel-y people at the grocery store.


7. Trash bag
I just keep an empty grocery bag for emergencies. This could include a poop diaper, a wet outfit, or the spur of the moment car cleaning that may desperately need to happen in the pickup line.


8. Snacks
Quite possibly the most important car essential is food. I stockpiled my car with a bunch of snacks from the Gold Emblem Abound line at CVS. With them all being free from artificial preservatives and flavors, I love that I can go in and grab anything from the brand and trust it's quality. Here are the snacks we are loving to keep in the car:
Sea Salt Baked Rice Crisps
I always like a little salty in the car and these hit the spot without being fried, fattening chips.


Blueberry Breakfast Biscuits
These are hands down my new favorite food. They taste exactly like a blueberry muffin, just in a crunch little cookie type biscuit.

Raw Natural Almonds
I think my biggest source of hangry is when I haven't had enough protein. Nuts are a fantastic, portable protein and raw almonds are my top choice.


Bars
Almond & Cranberry, Peanut Butter & Dark Chocolate and Almond & Coconut are all delicious flavors that pack in some protein and enough calories to hold you or your kids over for awhile.

Heavenly Light Popcorn
This comes in a large bag as well as a perfect car sized, 2.5 servings bag. This one is great to share when baseball practice runs 30 minutes late.


That's a wrap! Have you tried any of the Gold Emblem Abound products? They're so great for the car, after school snacks and even regular pantry items like salsa, peanut butter, oatmeal and more!


Want to win some for yourself? Use the widget below to enter to win an assortment of Gold Emblem Abound products!



a Rafflecopter giveaway

Disclosure: I'm proud to partner with CVS/pharmacy for the Back to School Healthy Essentials campaign. I am being sponsored by CVS/pharmacy for my posts and activities, but all opinions expressed are my own, and all product claims or program details shared should be verified at CVS.com or with the appropriate manufacturers.