Southwestern Eggrolls are a quick, family friendly dinner that pack in lots of complaint-free veggies. The avocado dipping sauce is a crowd pleaser!
This recipe takes me back to the Florida panhandle, circa 2001. I was a teenager with a deep love for Chili's appetizer menu and hanging out with friends after church. The southwestern eggrolls were the thing I always ordered. Lots of my favorite foods, rolled together into a deep fried eggroll, dipped in creamy ranch. Could there be a wrong?
I decided a few years ago that I needed to make those beloved eggrolls, only in a way that wouldn't require a 10 mile run to burn them off. The ingredients are actually full of nutrients and while my baking until crisp method isn't quite the same as the fried goodness, it does the trick. 
I like to plan this meal out after a night I grill chicken. That way, I can make extra and just use leftovers. If you're cooking fresh, you simply sauté the chicken cubes in a little olive oil and when it's done, add in the spinach. From there, everything goes right into the pan to combine.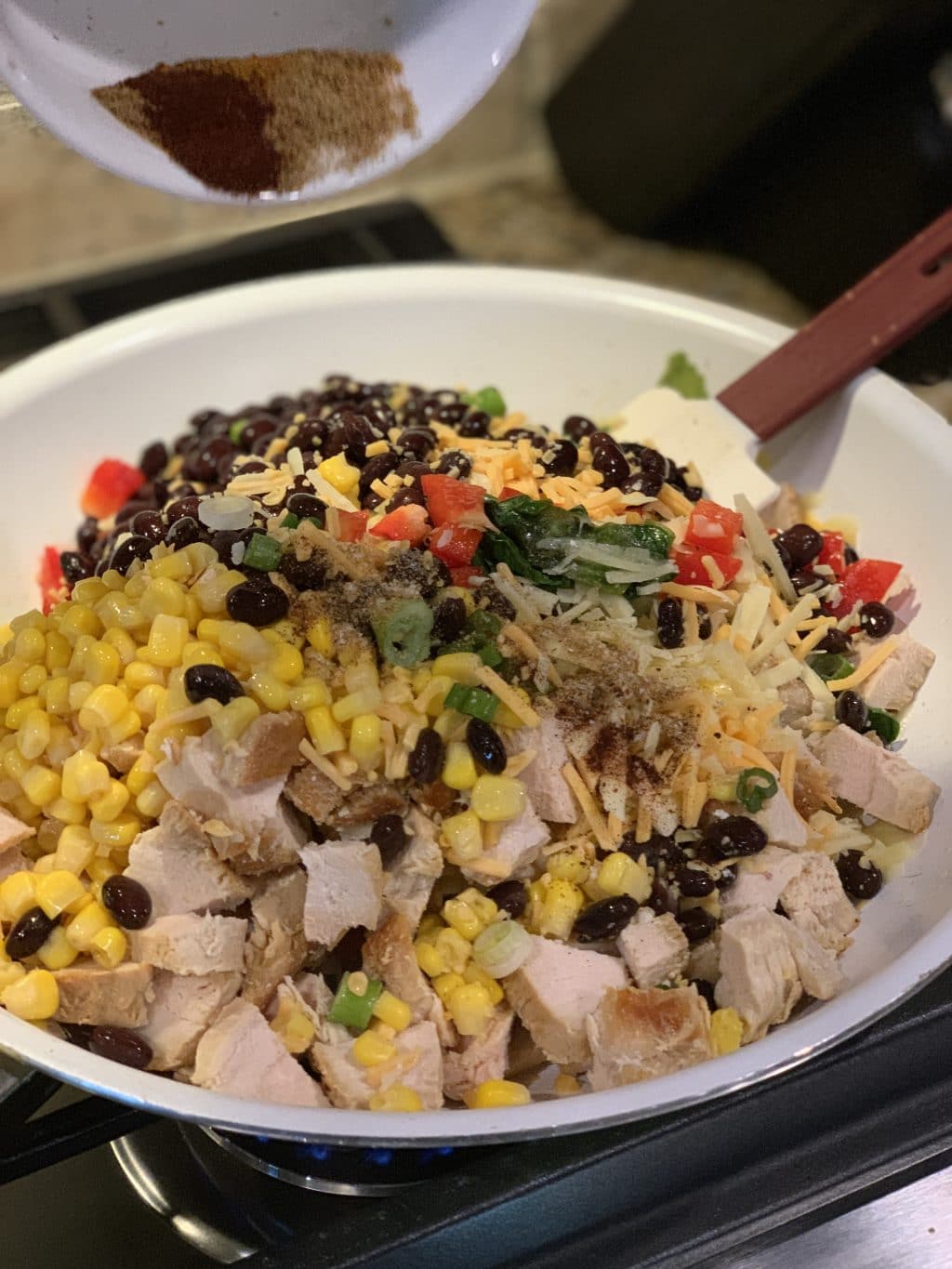 This recipe makes 8 eggrolls for me, on 8″ tortillas. I typically buy mine from Trader Joe's, but Target has organic ones and the Siete almond tortillas are actually really good, too. Divide the mixture into the center of the 8 tortillas, roll and place in a baking dish. You can bake these as long or as short as you'd like, since all the ingredients are cooked. I like the tortillas to get a little browned and crispy, so I cook them for 30 minutes.
Southwestern Eggroll Recipe:
4 chicken breasts, diced and sautéed in olive oil or butter
2 cups spinach, torn into smaller pieces
1 can black beans, drained
1 can corn, drained
2 cups shredded cheese (cheddar, or monterey jack if you like a kick!)
1/2 medium red pepper, chopped
1/2 tsp salt
1 tsp cumin
1 tsp chili powder
1/2 can diced jalapeños, drained (optional)
Avocado Dipping Sauce:
1/2 cup plain greek yogurt
1/2 avocado, mashed
2 Tbsp lime juice
1/4 tsp salt
1/2 tsp garlic powder
1 Tbsp milk (less or more to desired consistancy)
Cilantro to garnish
Instructions:
Preheat oven to 375 degrees. Sauté chicken (or chop pre-cooked chicken) in a large pan. Add in spinach and cook until wilted. Add all remaining ingredients and stir until cheese is melted. Divide mixture evenly into 8 tortillas. Fold the bottom half up to meet the top half, then pull back to make a pile of the filling. Fold in the sides, then roll all the way up. Place tortillas in baking dish, folded side down. Cook in preheated oven for 30 minutes or until browned. Serve cut at an angle or whole with avocado dipping sauce or salsa!

These southwestern eggrolls can be prepped in advance and cooked later that night. They also reheat well, so they make great leftovers! My whole family really enjoys this dish and I hope yours does too! Hover on the below image to pin it for later!