Well, everybody is doing it. Jumping on the Shutterfly bandwagon, because well, we're no fools! I know a good deal when I see one!
I usually order all my pics from Shutterfly because they are good prices and I've always been happy with the quality. I did our we just moved cards through them when we moved to California, but have yet to do any here. Sigh. 6 months is a bit long to wait, ya think?
This year, we will just be doing a joint Christmas/Just moved card.
These are the ones I have my heart set on.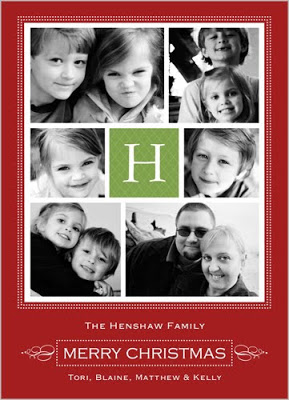 Shutterfly has all sorts of gift ideas like these
Calenders

I make a calender for my mom every Christmas. The past few years, I have done it through other places because I like to personalize the days. But wait! Shutterfly now has personalized dates that let you to add a photo and text to calendar days.
Yes!!!
I will be making her calender in the next few days and it will be from Shutterfly!

Aren't these
Address Labels
super cute? They would save tons of time, so I may just have to get these, too.
And these Gift Tags are adorbs! Talk about saving time. I spend forever writing and sticking those little tags on, only to smudge all the ink with my sweaty gift wrapping fingers. Bleh.
So get on over to Shutterfly and order your holiday goods now!
If you are a blogger and want to take place in Shutterfly's 50 free card program, go here!