This Collaboration was sponsored by Nordstrom and Shopping Links
How is it time for holiday shopping already? As someone who absolutely loves to shop, creating these gift guides is one of my favorite things to do. I love finding the perfect gift for people on my list and I love helping you find them, too! One of my favorite places to shop anytime, is Nordstrom. You probably see that I do link items there quite a bit. They have a fantastic selection, with unique gifts at all price points. A major plus for me, is that they offer free shipping and free returns all the time. It makes the shopping experience so easy! If I can order online and either have my stuff delivered, or do an easy curbside pickup (yes, they offer that!) I'm a happy mom.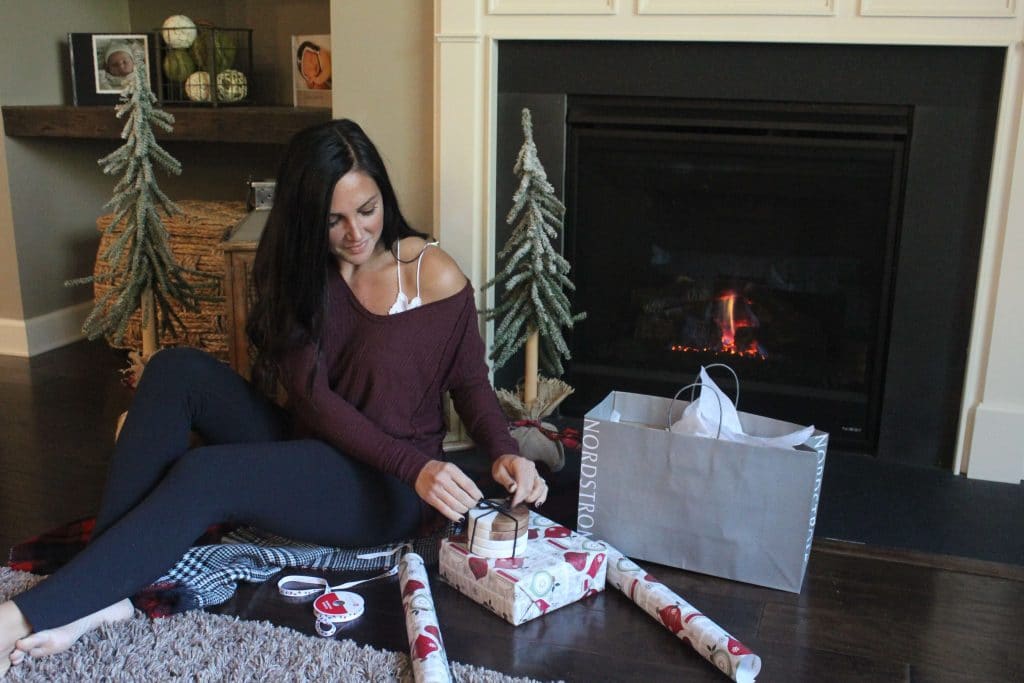 Thermal Sweater | Leggings | Bralette | Blanket Scarf | Coasters
This post is the ultimate holiday gift guide with Nordstrom, because it breaks down gifts for every category of people on your list. I, of course, have to encourage you to grab a little something for yourself, too! Make sure you read below each gift guide, as I have many of these items and can give you feedback on them!
For Her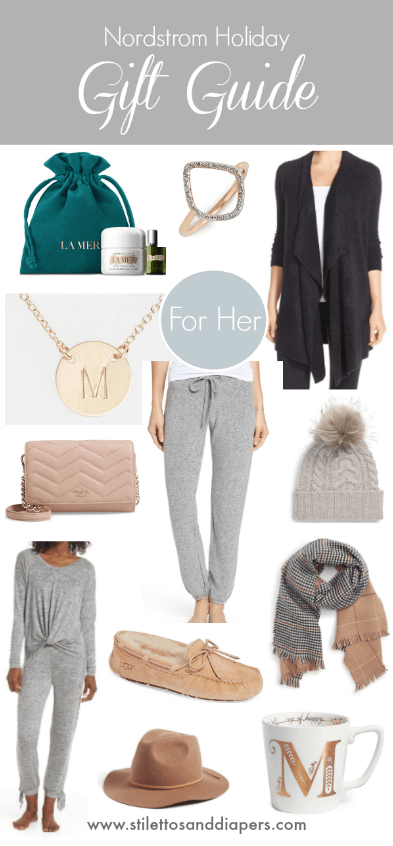 La Mer Set – I tried La Mer for the first time about a month ago and it's life changing skincare! 
Hoop Ring – I just think this ring is simple elegance. It's on my wish list! 
Cozy Cardigan – This cardigan is a total must have. Just check those reviews. They don't lie! 
Initial Necklace – You can't go wrong with a little personalization. This necklace is simple and perfect for daily wear. 
Comfy Joggers – These joggers are buttery and cozy. For your mom, sis or best friend to wear all winter. 
Crossbody Bag – Every mom needs a cross body bag. No hands is where it's at! 
Beanie – This cashmere beanie comes in 4 pretty colors and is great for the winter. 
PJ Set – This is the cutest set. No one would mind getting caught in the school drop off line in these! 
Slippers – Fur lined, highly rated and lots of colors available! 
Plaid Scarf – A scarf adds a ton to any outfit and this one is a steal at under $30. 
Wool Fedora – Some people say they aren't hat people. But, make sure you try one on! There's nothing better than giving the gift of not having to wash your hair! 
Monogram Mug – Coffee, tea or cocoa, a mug is always a no brainer gift. 
For Him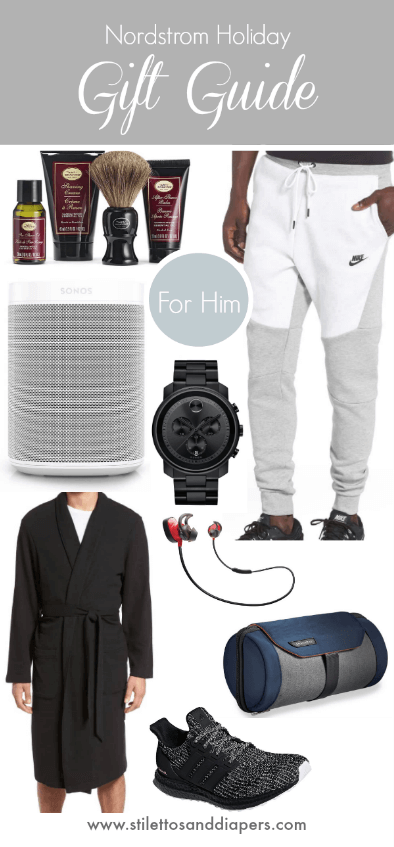 Shaving Kit – I believe this is the first real shaving kit I ever bought The Hubs. It smells amazing and he says it works great, too. 
Joggers – Joggers aren't just for the ladies. Your man will love lounging in this trendy pair. 
Sonos Speaker – It's on every gift guide I ever make, but this thing is amazing. This new one comes with Amazon Alexa and the whole family loves this gift! 
Watch – The Hubs loves watches. If you're looking for something a little higher end with amazing style, this is your winner. 
Wireless Headphones – Next month is our half marathon and The Hubs uses wireless headphones to train. They're way better than my corded ones! 
Robe – Another staple, not just for a woman. A robe makes you feel luxurious in your own bathroom. 
Toiletry Bag – I got this for The Hubs last year and he's put it to good use. It's space saving, but it hangs and has plenty of room.
Running Shoes – A good pair of shoes is useful and trendy. These Adidas ones are a great choice!
For The Hostess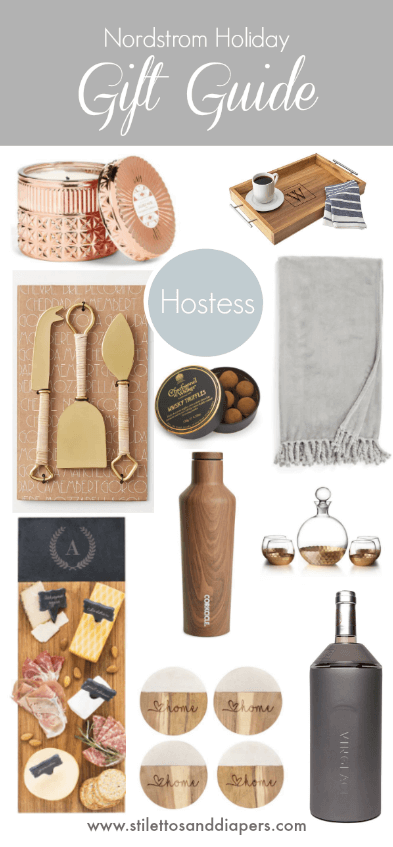 Capri Blue Candle – This smells amazing. The end. 
Monogram Tray – Can you tell I love some personalization in a gift? This is a perfect gift for a hostess! 
Cheese Knife Set – I use my cheese knife set about once a week. If you have some nice looking accessories, throwing together a last minute, pretty party is a breeze. 
Chocolate Truffle Tin – A little something sweet that would be a great gift with a bottle of wine. 
Throw Blanket – I live under a blanket and I think a lot of people do in the winter! 
Water Bottle – If you don't have one of these, they're great to have! Keeps your beverage ice cold all day! 
Decanter Set – This is such an elegant set that would look beautiful on a bar cart. 
Cheese Board – Along with those cheese knives, a cheese board is a staple in our house and should be for any entertainer! 
Marble and Wood Coasters – We finally got these pretty marble and wood coasters after too long with ugly ones. They make a big difference. 
Wine Chiller – If you're wine chilled for hours, while you have it sitting out to serve your guests. 
For The Kids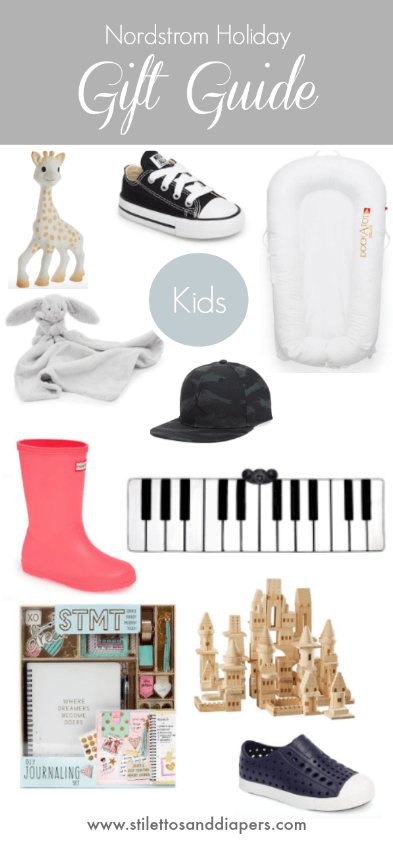 Sophie Teething Toy – All my boys used Sophie and she's such an adorable baby gift. 
Converse Sneakers – For the little girl or boy you're buying for, these come in tons of sizes and colors. 
Doc-A-Tot – This was a lifesaver for my little one and is a perfect gift for an expecting mother. 
Jellycat Bunny Soother – Most babies I know have "lovies". This brand is especially soft and a must buy.
Jumpman Hat – My 7 and 10 year olds are all about the Jumpman gear. A hat is a great choice if you aren't sure the size of clothing to buy. 
Hunter Boots – A classic for ladies and the kiddos, too! 
Piano Dance Mat – This brings back memories of time at FAO Schwartz in New York City. 
Journaling Set – Give the teenager in your life the gift of writing and creativity in this pretty set! 
Wooden Building Block Set – This is such a simple set, and so pretty. Kids can build for hours with this! 
Native Shoes – My boys live in these in the summer! Great for dirt or water and so easy to clean.
Under $100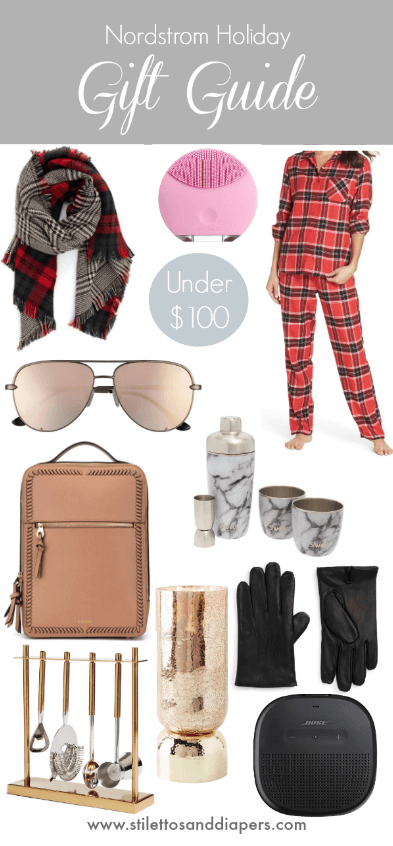 Blanket Scarf – I got this scarf last year and it's warm and adorable.
Mini Cleanser – This is a gentle cleansing brush that leaves you with a brighter complexion.
PJ Set – These are cozy and come in 4 different cute plaids. 
Sunglasses – This very popular brand of sunnies is trendy and surprisingly affordable. 
Laptop Bag – This is a chic bag that can hang off your luggage or be worn as a backpack.
Shaker Set – Cocktails never tasted better than they do in this marble shaker set. A great addition to any bar!
Leather Gloves – For some they're a fashion statement and others they're a necessity. Either way, gloves make a great gift. 
Bar Tool Set – Another chic bar item, this tool set will thrill your friends or family members. 
Decorative Candle – Candles don't come much prettier than this. Such an appropriate holiday look, too. 
Bluetooth Speaker – Use by the pool, the boat or the firepit, a bluetooth speaker is essential. This one is well rated and a great deal.
I hope you enjoyed this ultimate holiday gift guide with Nordstrom! These are pieces that I truly love and I think you will too. If you're going to shop at Nordstrom, make sure you sign up for they're loyalty program. You can earn shopping rewards as well as get exclusive access to products, events and more!