I knew I better have an amazing time at Blissdom when my 8hr 45 min trip drive took me 12hrs in this weather: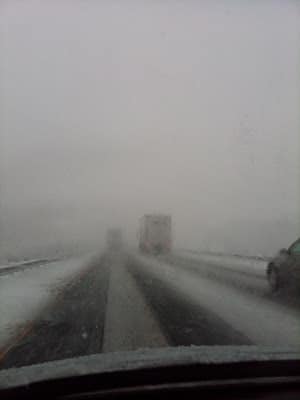 2 hours in, the hubs called and said the power went out and it stayed out for
40 hours.
He made pizza on the gas cooktop and cleaned poop that Coop spread on his crib.
Man, I owe him.
And hug out with the best roomies ever,
Natalie
,
Neely
and
Rachel
.
I was scared, excited and giddy when we walked into the ballroom.
It was filled with laptops, iPads, blackberrys, iPhones and some of the most amazing women
ever.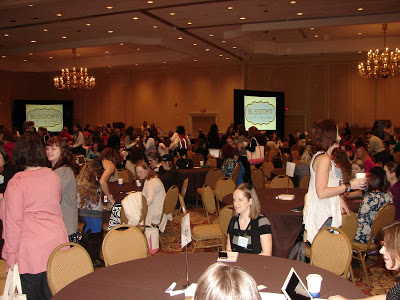 And then there were the sponsor booths. With food. And swag.
I tweeted about
Red Lobster
and their lobster bisque so much that "lobster" became one of my most frequently tweeted topics.
No joke.

ConAgra
was a big sponsor and they kept us snacking and did a couple yummy meals for us. Along with
Blue Bunny
and their addictive ice cream cones
(that I may or may not have eaten 5 of),
I am pretty positive I gained a few pounds.
Jockey
gave me some performance pants from their new sport line that make my booty do awesome things. If I was a single girl, I'd be wearing those suckers on a first date.
I won a new Roomba from
iRobot
and I am completely thrilled to not have to sweep all these hardwood floors! Once I get it in the mail, I will tell you all about it!
Then there were the wonderful women who make Blissdom happen.
Alli Worthington
,
Barbara Jones
,
Paula Bruno
, and
Megan Jordan
who planned this entire conference and still found time to put on an inspiring Wizard of Oz skit.
I will have more post this week with pics of some of the fun things we did
(like dancing until the wee hours and being in a FLASH MOB)
and lots of the fabulous things I learned. I came away excited, inspired and with many new friends. I highly recommend you all get yourselves to Nashville for Blissdom 12!