Can you tell Summer is kicking my booty with a weekend wrap up on Wednesday? I still can't believe it's mid July and there are so many things I want to do in Summer. My push to go berry picking isn't really intriguing my kids either, so that might be a solo endeavor for me! Michigan this time of year really is incredible. Cool mornings, sunny days and never too much heat. I've walked a lot of morning miles and spent an unbelievable about of time on the baseball sidelines, much like our last weekend.
Let's start with Wednesday; The Hubs birthday! We went to breakfast to start the day, then out to the beach in Saugatuck. It's one of the cutest beach towns ever with plenty of sand and space. I'll never get over how clear or ocean-like the lake is! Dinner was, of course, The Hubs pick. I was pretty excited because it was at one of my favorite Grand Rapids spots, Condado Taco.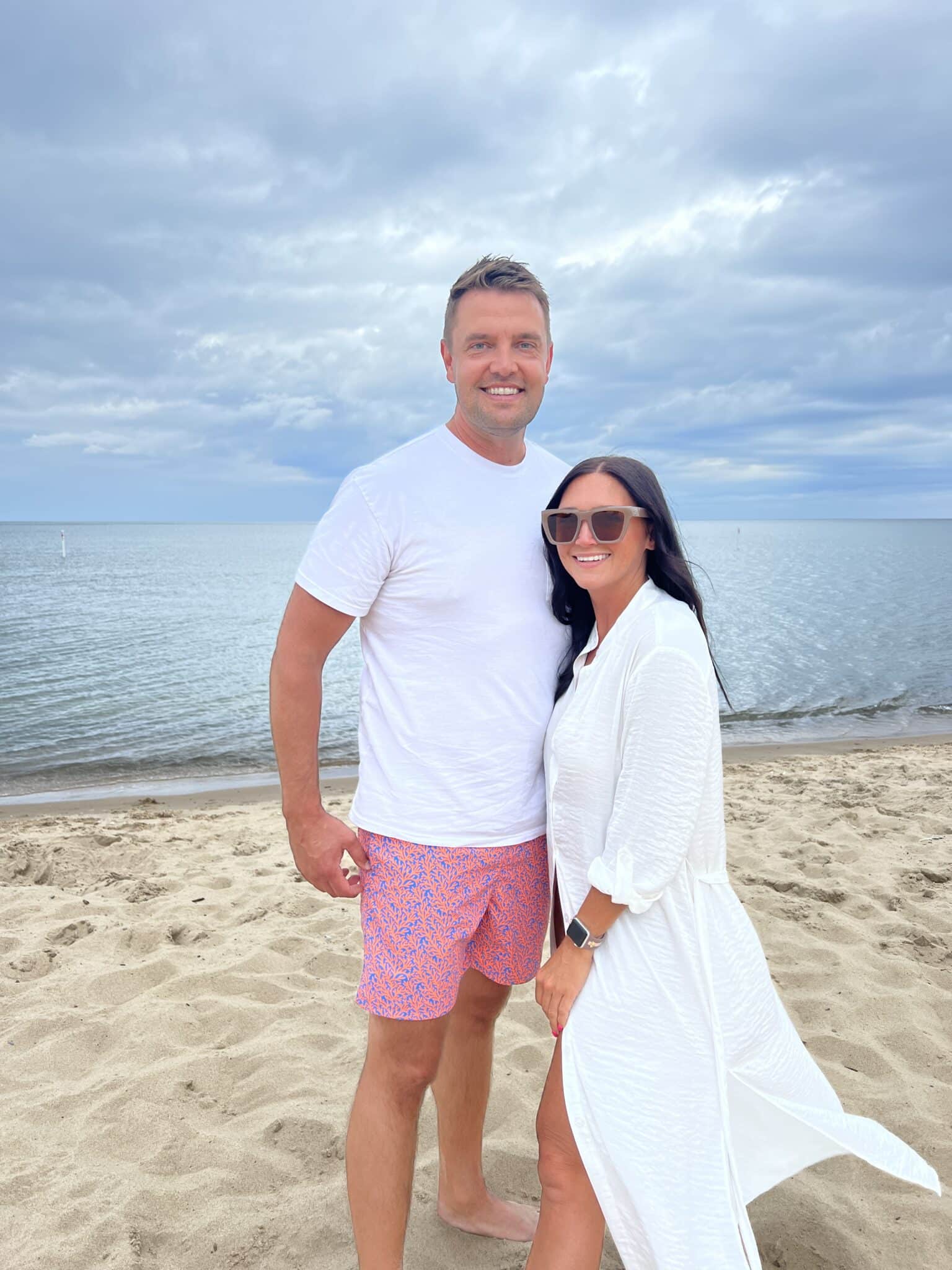 Wednesday was the one night off of baseball and we were back at it Thursday for Callan's All-Star game. It was stay in until you lose to win the district and after several wins, they also won their Thursday game!
Friday started a travel ball tournament for Callan. It was in the prettiest suburb of Grand Rapids and we were able to walk to coffee and grab lunch before the game. Also started the weekend of tree climbing for Lincoln! Friday night, we got back in time to walk to our local brewery with drinks with a couple friends. Pretty insane that we were able to fit it in, but we were happy for a break from baseball!
Saturday, we had bad weather that cancelled games for Callan's travel tournament, but they were still on for his All-Star game and Cooper's games. Y'all keeping track of all of this is making me a crazy person! I ran into the store to stock-up on some essentials. When you're at the park all day, you need food! I get lots of the packaged stuff from Good & Gather, bagged pickles, deli meat and subs and uncrustables. We go healthy on the baseball weekends! 😜
Callan's All-Star journey came to an end that night in a 1 run game. They played so well and ended up 3rd in the district!
Sunday morning started super early. I dropped off Callan and his teammate and went for a sunrise walk while they warmed up. I grabbed coffee and enjoyed the cool morning by the river. After that, we were off north to see Cooper's games for his last tournament. I love his uniforms! We got home in time to stop into our new neighbors housewarming party. They put a basketball court in their basement and my boys are loving it!
By sunset, Callan was all of us! He has 1 more tournament this weekend and then it's time to enjoy summer vacations!