I totally lived my best life celebrating my baby sister's wedding week! I went down to Ohio with the boys the Monday before the wedding to help prep with ALL.THE.THINGS. We worked a ton, but had so much fun doing it all!
We stayed with my big sister, who has kids mine all get along with. The cousins had a blast together, staying up late, watching movies and swimming!
We wasted no time Tuesday going grocery shopping at starting sauce and meatballs for the Friday welcome dinner. I offered to make my Mother-In-Laws lasagna for 50 people and it was a hit! Thankfully I had some help! My sister flew in from Thailand for the wedding and we really enjoyed all the little things since we were together.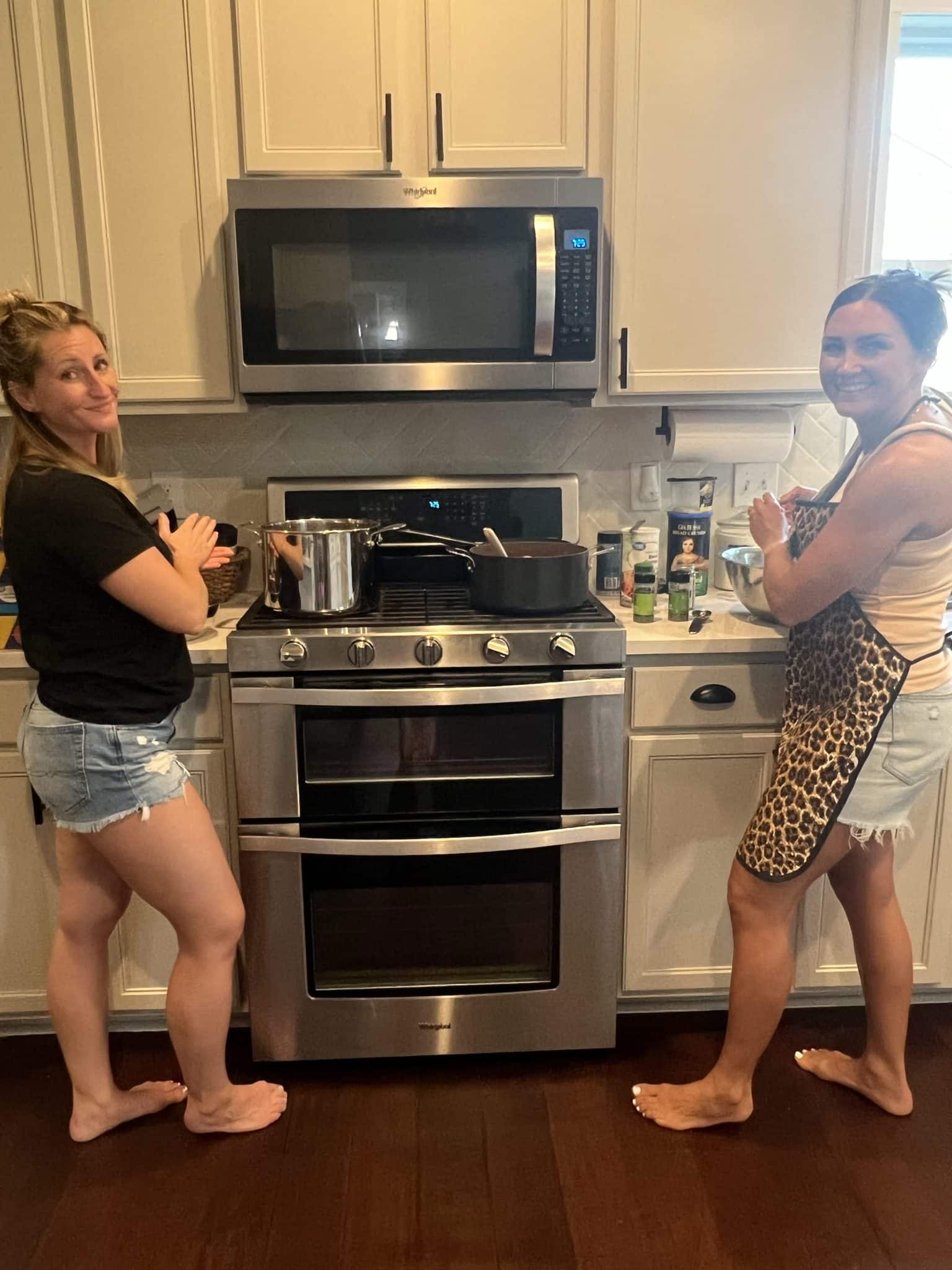 Wednesday we all went for pedicures and it was my worst one ever haha. At least we had fun! I left with my oldest sister, Casey, to go check out Shelby's (the bride!) new house. They bought a fixer upper and had done so much work to it! But, there was furniture everywhere, bathtubs that needed re-caulking, kitchen that needed a deep clean and me and my big sis were up to the task! We spent a few house getting her house ready for her friends to come up for the wedding and it looked so great!
That night, we all got together with my whole family, aunt, uncle, and my parents friends to celebrate my dad's retirement! What a fun night to honor my dad and what he has accomplished in his career. Now he's off to dabble in real estate with my sister!
Thursday morning, we had a bridesmaid brunch complete with nails, lashes and all the girly things to prep for wedding day. It was so much fun and I'm still enjoying the lashes my sis gave me! That night was our joint bachelor/bachelorette party and that was a total BLAST. Thankfully, The Hubs got in town just in time for all the fun. There was margaritas, karaoke, dancing and plenty of silly celebrating the bride and groom.
Friday! Things were getting real by Friday. We got up early and went to the gorgeous venue to set everything up. I was so impressed with how much work my sister did in the planning the decor. Everything was perfect and a true reflection of her and her hubby. The mirror in the bridal suite was a good photo op for me and my niece!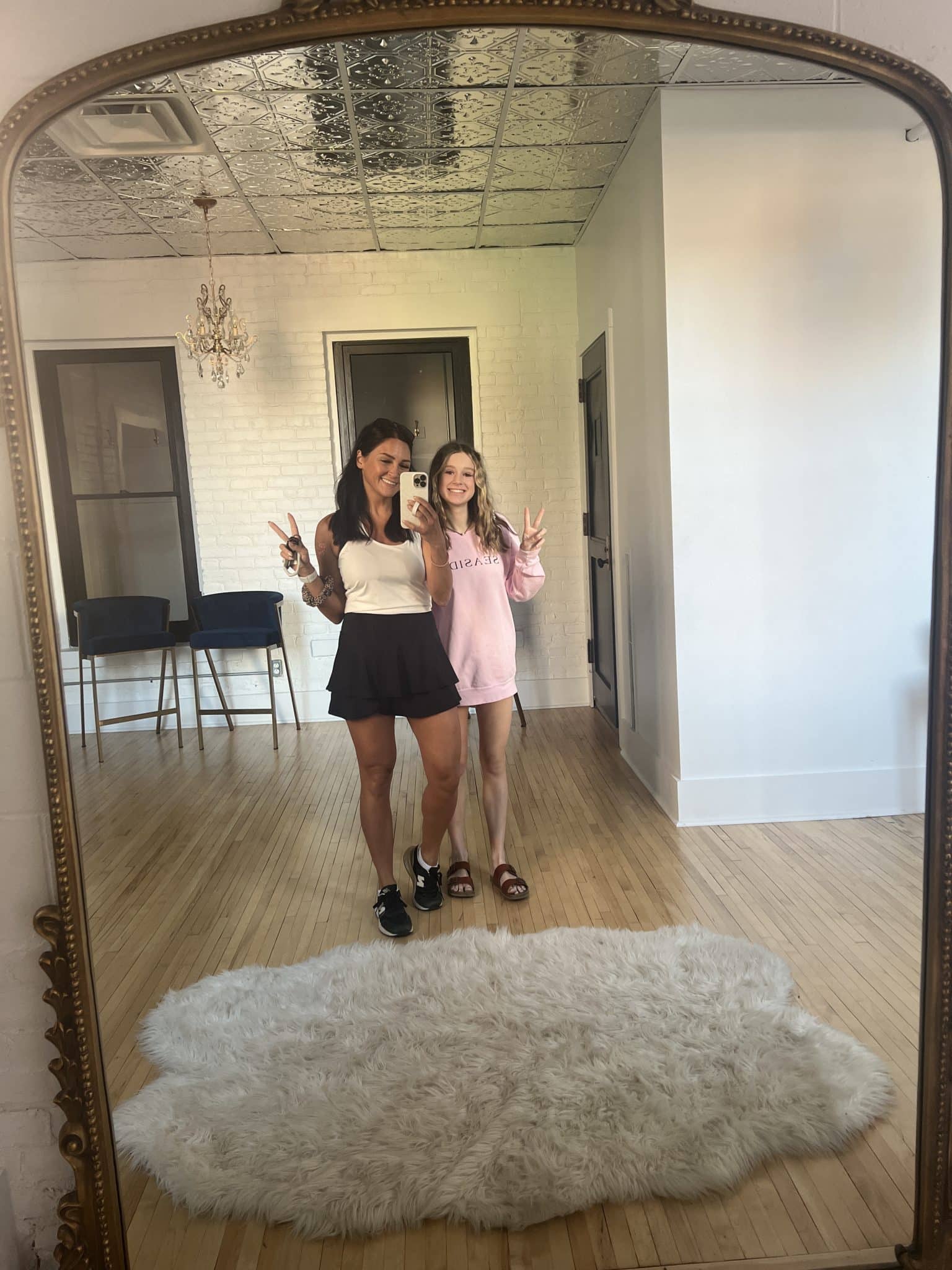 The wedding decor was very boho and I loved the color scheme. Part of the favors were glasses that she thrifted over the last few months. People could pick their own, drink out of it all night and then take it home. I have a great cowboy boot in my collection now!
Friday night was the welcome reception/rehearsal dinner. The lasagna turned out great and it was a nice night catching up with all of the out of town guests.
Saturday was wedding day! I feel like I totally lived my wedding day, which was 17 years ago, again. It was an absolute blast!
My sis, the queen of thrifting, thrifted all of us shirts and monogrammed them. They were so cute to wear while we got ready.
My sister's dress started giving her total grief before she walked down the aisle. We ran to a dress store to buy new straps, sticky tape and a sewing kit and luckily, she recovered from her near passing out and got her butt down the aisle!
And now here's a dump of my favorite pics of the wedding itself. It was a total dream!
The morning after, we met the whole family and out of town guests for a brunch. It was nice to actually be able to chat and visit with people outside of the wedding itself. I never left the dance floor, so didn't get to talk many people!
After that, we were off to New York! The week was busy, tiring and totally heart filling. I loved my time with my family and can't wait until my little brother is ready to tie the knot so I can help with the wedding fun again!