Who doesn't love fondue?
Velata is fun fondue. My interpretation? Fondue with out having to
keep the candles burning. Or the messy clean-up that is hardened chocolate. Scentsy has taken the complicated fondue making process and made it easy!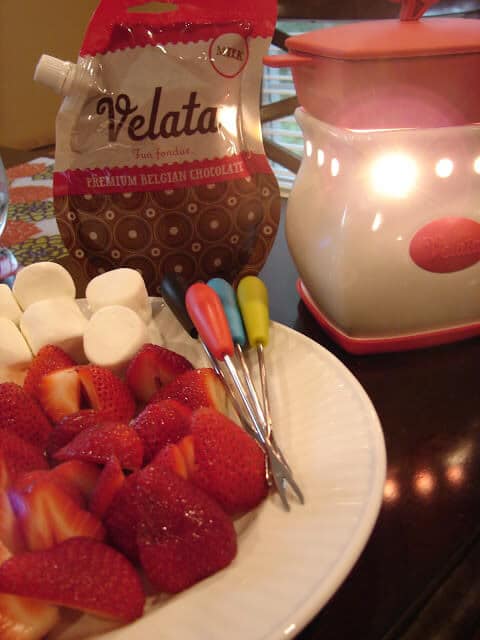 The Velata line includes 3 different styles of plug-in burners with adjustable light bulbs. I turned mine on and it was instantly ready for chocolate.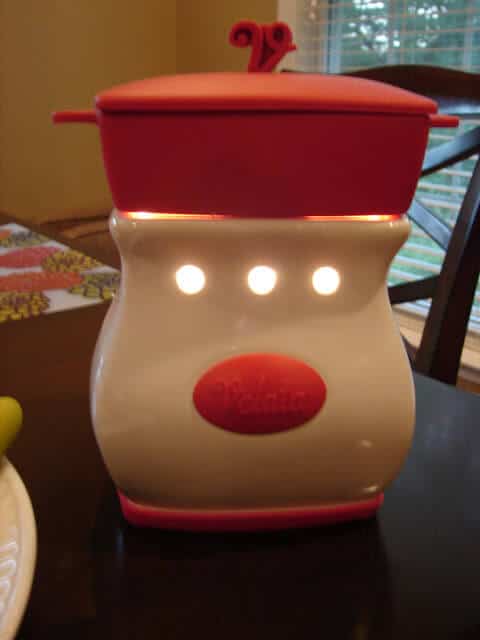 The pre-made, easy to pour, premium Belgium chocolate comes in Milk, Caramel Milk, Dark or White Chocolate flavors. I ordered Milk Chocolate and it was seriously good.
Because getting everything ready for dipping is such a fast and easy process, it makes fondue something that can be fun for any day, not just a special occasion.
And a certain 4 year old loves anything he can dip.
As you can see, the warming bowl is plenty big for family dunking.
I love that the bowl is silicone. I have a few baking pans of that material and nothing sticks. We went off for bedtime after we finished out melty-chocolate good time. When I came down later, the chocolate residue was hardened, but popped right out of the bowl making even clean-up easy.
I chose the red color to match my other kitchen gadgets, but the Velata line comes in a huge selection of fun colors. Blue Razz, Clementine and Key Lime are my other faves.
This warmer made for a perfect family dessert. It would also be so much fun at a party, especially since you don't have to worry about monitoring the candles or burning the chocolate!
Ashley is giving all Stilettos and Diapers readers an awesome special deal! Contact her at s[email protected] to find out the specials for both Velata and Scentsy products!
I received a Velata warmer and a bag of chocolate from Ashley-Independent Velata Consultant to review. All thoughts and opinions are mine.