This is a sponsored post, but all opinions are my own.
Mornings are pretty crazy at our house. Getting 2 kids up and out the door to school by 7:15am is no easy task! I've always been concerned about my boys protein intake and want them to have a good breakfast before they leave the house. While frozen waffles are easy, I want them to have more nutrients to power their growing minds. We have a few easy kid breakfasts that are our go-tos, that might help you in the mornings, as well!
Parfaits
This is Callan's personal favorite. They're not hard to whip up in the morning, but layer greek yogurt, honey and fruit in a mason jar and you shave some time off your morning routine. When he's ready to eat, Cal sprinkles Cascadian Farm Oat and Honey over the top and digs in.
Cheese Sticks
These are a favorite of mine, because of the protein and calcium. I often grab one on the way out the door for my 2 year old to eat while we take the big boys to school.
Trail Mix
I'm not sure what it is about little packaged things, but my boys like the homemade ones as much as the store bought. I make these ahead of time and keep them in a basket to grab and go. The current favorite includes cashews, Annie's Organic Cocoa Bunnies and Annie's Cinnabunnies Cereal, freeze dried strawberries and yogurt covered raisins. The possibilities are endless with trail mix! I suggest giving your child some options and making up the baggies together over the weekend!
Cereal
This one is a no brainer, really, but also one I didn't used to offer my kids. I wasn't sure they were getting enough nutrients from it, but am now assured they are. They love the Annie's line of cereal, which makes me happy. No artificial colors and flavors are a big deal for me and adding in milk gives them plenty of protein.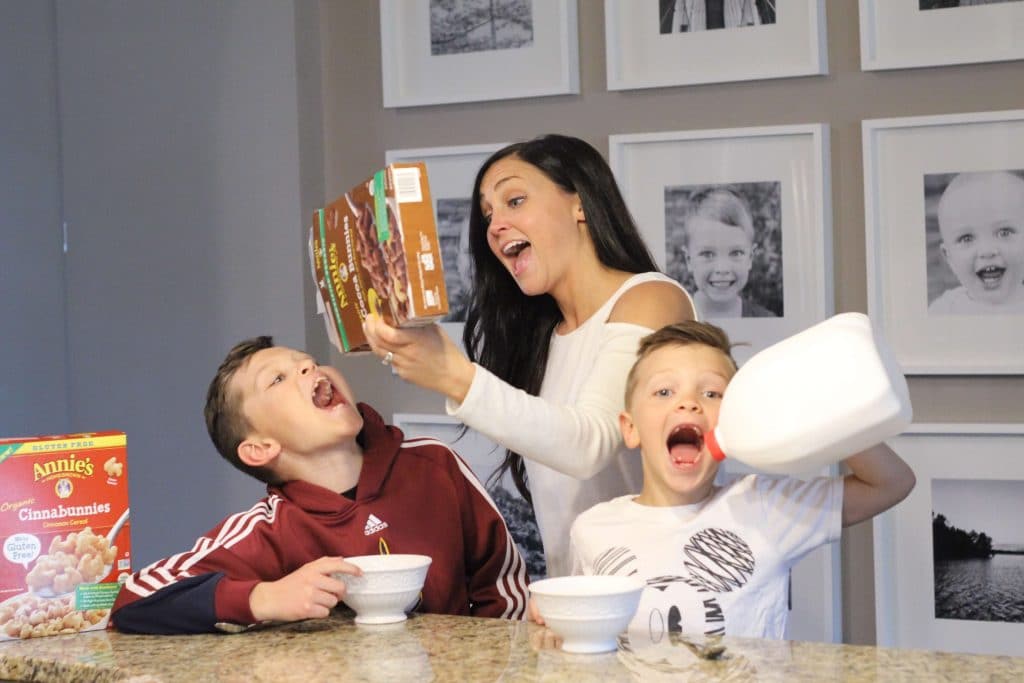 Egg Muffins
My boys do get picky if I try to sneak too many veggies into their egg muffins, but these are super easy to make and can be stored in the refrigerator for several days. If you want to get crazy, make a huge batch and freeze them until you're ready to eat them! (I also make a version wrapped in prosciutto, which surprisingly, my kids love!)
Feeding little ones is a full time job, so I hope that this post helps your morning go a bit smoother. You might even be able to grab yourself a cup of coffee with the time you save!
You can get the Cascadian Farm and Annie's products I use at Walmart, which will give you the best bang for your buck. And we all know we need a great deal if we're feeding little ones!