Problem: You're invited to a party or to someone's house for dinner and need something to bring, fast! I've got you covered.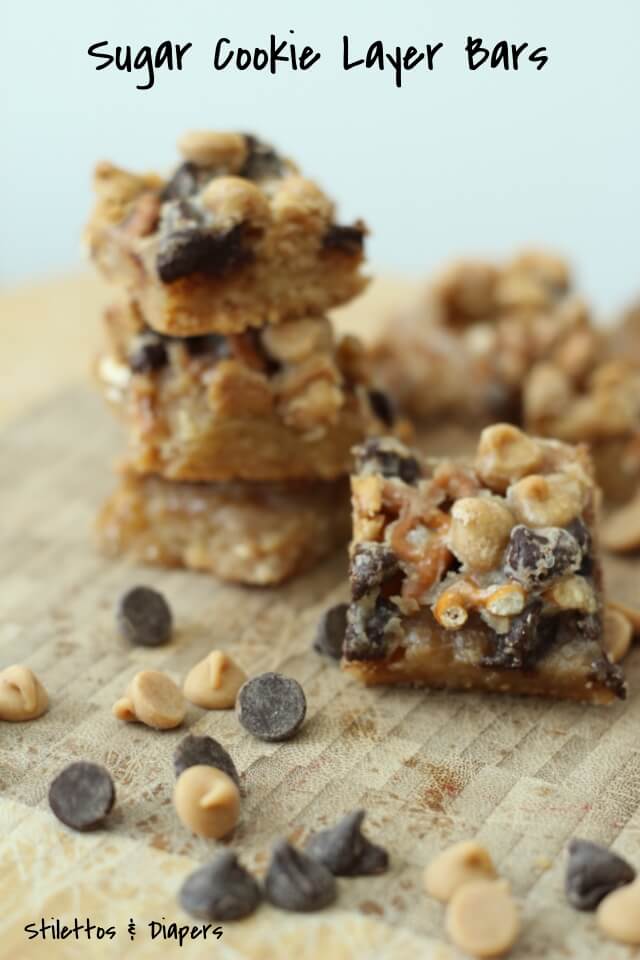 This past week, it was ladies night in our neighborhood. I glanced through the fridge in hope of finding an unopened container of hummus, but no such luck. I can't, in good conscience, bring anything that has been opened as my 2 year old is a habitual double dipper.


I almost always have a pack or 2 of sugar cookie mix, since little ones around here want to decorate them for every occasion. So, I decided to throw a bunch of yummy stuff together and see what happened. Well, they were delicious, the ladies devoured the tray full and the remainder that I left here were gone the next day.


So make them on your next bring a dish emergency and your guest will thank you.


Ingredients:


Crust:
1 package sugar cookie mix
1 stick butter
1 egg


Topping:
1 cup chocolate chips
1 cup peanut butter chips (I'm trying butterscotch next time!)
1 cup crushed pretzels


Caramel Sauce: (The Pioneer Woman's recipe)
1 cup brown sugar
1/2 stick butter
1/2 cup heavy cream or half and half
1 Tbsp vanilla


Directions:


Preheat oven to 375 degrees. Make the sugar cookie mix with butter and egg. Line an 8.5″ x 11″ pan with wax paper and press cookie mix into it. Bake 15 minutes, until just browned. Leave the oven on.


While baking, make the caramel sauce. Put all ingredients into a small saucepan over low to medium heat. Stir and let it get all bubbly for a few minutes. It will start to thicken a little bit.


When you pull the cookies out of the oven, sprinkle with chips and pretzels, then pour caramel sauce over the whole thing. Place back in the oven for 5 minutes.


Allow to cool on the counter for at least 10 minutes, letting the caramel set a bit. Then, you can lift the entire bar out by the waxed paper and put in the refrigerator to chill the rest of the way. Once cooled completely, cut into squares and serve.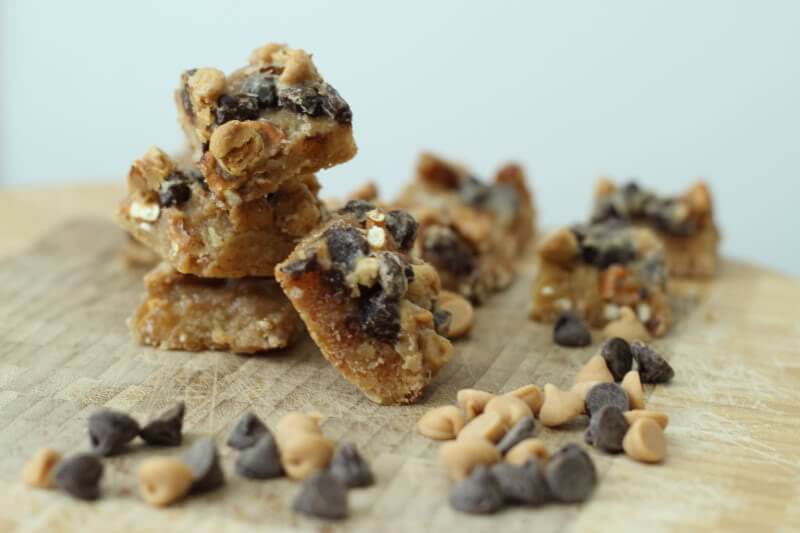 Store in an airtight container in the refrigerator.