Want to continue with the healthy eating you had in January? Try my February clean eating meal plan! Family friendly and quick meals that are healthy! Scroll to the bottom for a printable menu!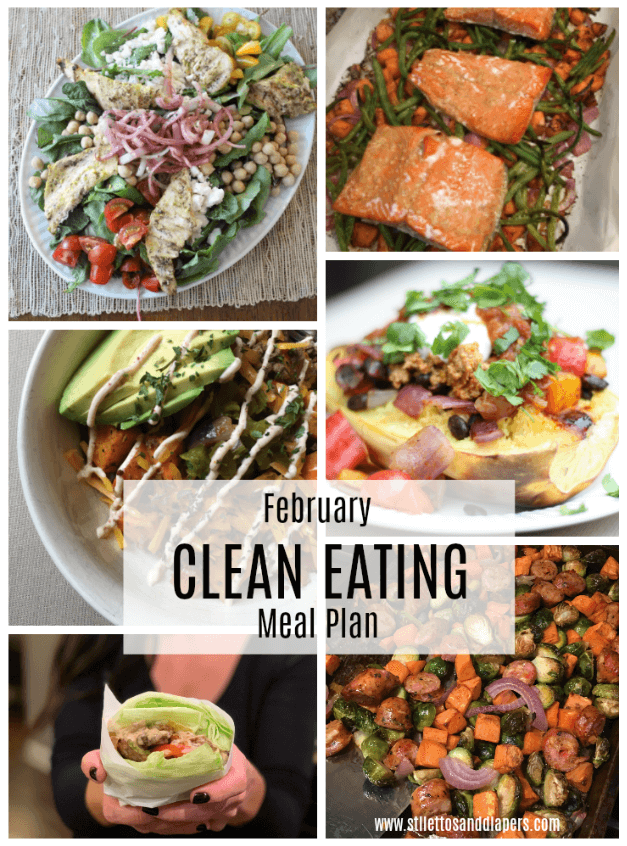 Way back when (
circa 2012/13
) I was a clean eating machine. We were very good with eating whole, real foods and very little junk. But then a big move to North Carolina, living in an apartment without our stuff and being stressed over home building took a toll. We kinda tried, but then ate all the things. I got pregnant with Lincoln and all sense of healthy cooking gave way to every craving. At 6 months postpartum, we did our first round of Whole30 and that literally changed our way of thinking about food. The only problem, is that it's very difficult to maintain. It's been 3 years now of Whole30-ing about 80% of the time, with stretches of the actual program. Let me just say,
I'm tired of the same old food.
I feel like my body has stopped any forward progress, so it's time to CHANGE. IT. UP. The Hubs and I decided that we would go back to just clean eating for awhile, so I made a February clean eating meal plan.
What is clean eating?
Clean eating involves eating natural, non processed foods. Shopping the perimeter of the store is a good way to do this. If you can't pronounce an ingredient on the list, it's more than likely not clean! Because this is more of a lifestyle and not a diet, it's a well rounded way to lose weight and change your eating habits. My Whole Healthy Pinterest board is full of great recipes if you need more inspiration!
Foods to eat:
Vegetables
Fruit
Meat (organic is best)
Whole grains (brown rice, quinoa, whole wheat, oatmeal, sprouted wheat bread)
Beans/Legumes
Healthy fats
This one is on the fence: Dairy. Some people say yes and some say no. I will be doing organic dairy like greek yogurt and cottage cheese, but keeping cheese to a minimum. I also make sure I'm getting full fat dairy as the low fat ones are more processed. There are a few meals with cheese in them on my meal plan, but it can often be excluded, if desired.
Foods to avoid:
Sugar
Processed foods (a good rule of thumb is less than 5 ingredients) 
Refined carbohydrates (like white bread and cereals)
Chemicals and coloring
February Clean Eating Meal Plan
2/1 – Lettuce Wrapped Double Burgers
2/2 – Out (prepare yourselves!)
2/3 – Super Bowl! Homemade Pizza (Try my from scratch crust)
2/4 – Stuffed Peppers (I will use a mix of brown and cauliflower rice)
2/5 – Spinach Stuffed Chicken, Roasted Sweet Potatoes, Green Beans
2/6 – Roasted Veggies and Couscous (posting this recipe on Instastories next week until I get the recipe posted)
2/7 – Herb Crusted Salmon, Roasted Brussel Sprouts (you can throw this all on the same sheetpan!)
2/8 – Spinach, Artichoke and Chicken Penne (I use whole grain or red lentil pasta, replace half the milk with chicken stock and use fresh spinach)
2/9 – Sweet Potato Chili
2/10 – Salad with Grilled Chicken and Marinated Onions
2/11 – Spicy Lemon Chicken with Spinach Couscous (I do the chicken breasts whole)
2/12 – Spaghetti Squash Taco Boats
2/13 – Crab Cakes over Wilted Spinach
2/14 – Valentine's Day! Grilled Filet, Mashed Potatoes, Green Beans
2/15 – Spaghetti Squash Enchilada Casserole (will be posting this recipe!)
2/16 – Balsamic Glazed Steak Rolls, salad
2/17 – Sheetpan Fajitas
2/18 – Sweet Potato Taco Skillet
2/19 – Crockpot Lemon Thyme Chicken
2/20 – Meatloaf, Mashed Potatoes, Roasted Brussel Sprouts
2/21 – Sheetpan Salmon and Veggies
2/22 – Carnitas Bowls
2/23 – Hawaiian Grilled Chicken Packets
2/24 – Crockpot Pot Roast with Potatoes and Carrots
2/25 – Chicken Marsala over Brown Rice (I add in peppers and onions)
2/26 – Breakfast for Dinner – eggs, bacon, homemade sausage, roasted potatoes
2/27 – Sheetpan Sausage Bake
2/28 – Chicken Fried Cauliflower Rice (Trader Joe's makes a frozen cauliflower fried rice that you can just add chicken to!)
Feel free to save the below menu to your computer or phone for easy reference. Most of the recipes are pinned on my Pinterest Whole Healthy board, so follow along there to make it easier to find recipes!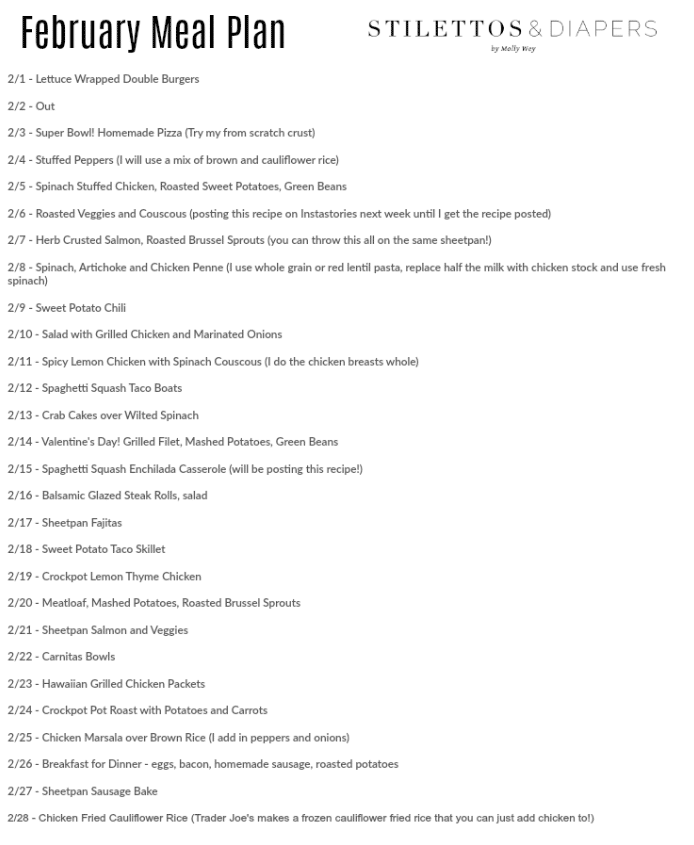 Hope you enjoy this meal plan! Can't wait to see what you think of the new mix up in recipes.
Thanks for reading!
xo
Molly