I am pretty certain as I felt my first ever urge (like in all my life) to throw things away, that I am nesting. Now, I am only just about 14 weeks, but I can't get enough of that fun walk out to the trash can or over to the give away pile. No joke people, I've never enjoyed that before.
So, I cleaned out Cooper's closet. Got rid of an entire Rubbermaid bucket full of clothes and replaced them all neatly with his new 4T (eek!) ones.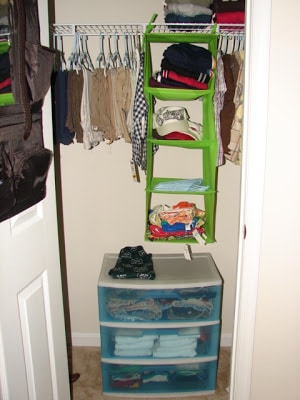 Then it was off to this horrible closet in the mudroom. It is right when you walk in from the garage, so its a complete dumping ground. I threw out 2 trash bags full of bags out of this one closet.
Hi, I'm Molly and I hoard shopping bags.
I replaced those bags with a shoe rack for the "big people" shoes and a hanging shoe holder for Cooper's little shoes. I kept the light spring coats and all my aprons in there, too.
I also cleaned out the coat closet that now holds all the winter coats, vacuum cleaner and toilet paper for the down stairs bathroom. Its remarkably empty and beautiful.
We also decided to redo our flower beds. The builders put lots of holly bushes in the front beds, which Cooper soon discovered had "berries" on them. Fun times.
We ripped out everything and planted white azaleas, knockout roses, boxwoods and hostas. The tree in the corner is a bradford pear which is my fave. We had one at every house I lived in growing up.
I am a sucker for black mulch, too. Is that weird? Haha.
And since I have 3 hostas that are almost 1 year old, (I DIDN'T KILL THEM!!) I decided to try my hand at gardening. I have tomatoes, peppers and cucumbers sprouting in the kitchen and I am about to transplant them to a little garden plot hubs dug out for me. I am going to add herbs and we planted 2 pear trees. I am pretty sure it will be a flipping wonder if they all live much less produce fruit, but I feel super domestic!
Anyone else going spring cleaning crazy?