Coop's closet. Wow. What is not in there? Before we had a baby, it was the guest closet. It only held linens, Hub's suits and my wedding dress. After baby? Much different story. I am actually embarrassed to show you the before picture. Really. It is awful. Every time we have guest, I freak that they are going to see in the closet. I have been putting tons of stuff in there since Coop was born. As he outgrows things, I put them in the closet. Baby swing, bathtub, bumbo, carseat…you name it. Why? Not sure. We have a garage that is extra deep for storage. That is another cleaning post though. Ugg.
My sister has 2 boys and sent me home last week with tons of clothes for the summer. When I went to put them away, I realized there was no more room and decided that enough was enough. Okay, I can do it, I can do it, I can do it. Fine, here it is!
*

cring

*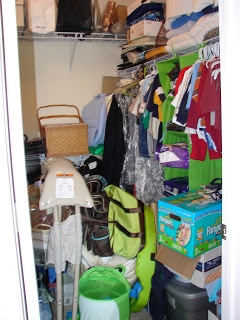 Befores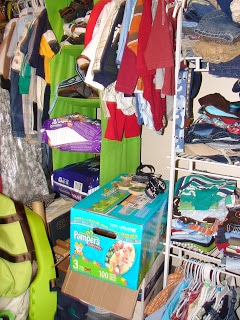 Lots of new clothes.
And duh, duh, duh, duuuh…after!
Yay! I didn't do anything creative. Just reorganized and put all those baby things in the garage. It is hard to tell from the pics, but that floor that was full is now completely empty. I can finally walk all the way to the back! It took forever and a day. Next is the garage. Yuck.