I said I'd never do it. I'd never be the Mom in a mini-van. The stereotypical soccer-mom vehicle. But look what I drove a couple weeks ago.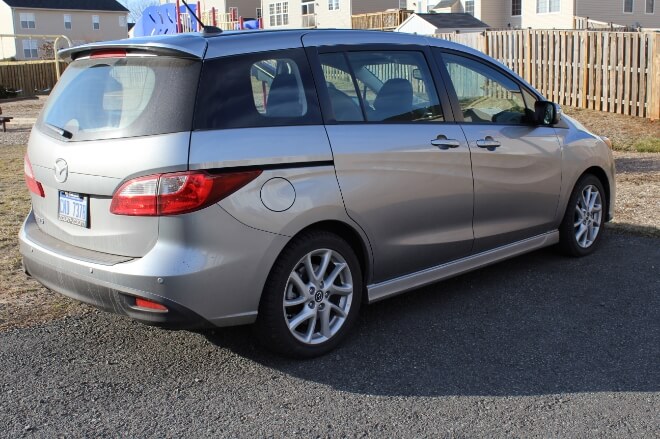 I love my huge SUV. The one that I have to literally climb into that makes me feel like I'm safe on the road. But guess what? Lifting a 45lb almost 5 year old and a 30lb 15 month old up into it?


Challenging, to say the least.


So you might imagine that these doors? They gave Momma's back a much needed break. If there was one reason for me to buy a minivan, it would be those doors. The ones that open twice as wide as as a car and that don't slam into the side of my garage when I open them. (Wait, no hubs, I totally didn't make all those marks with my SUV door…)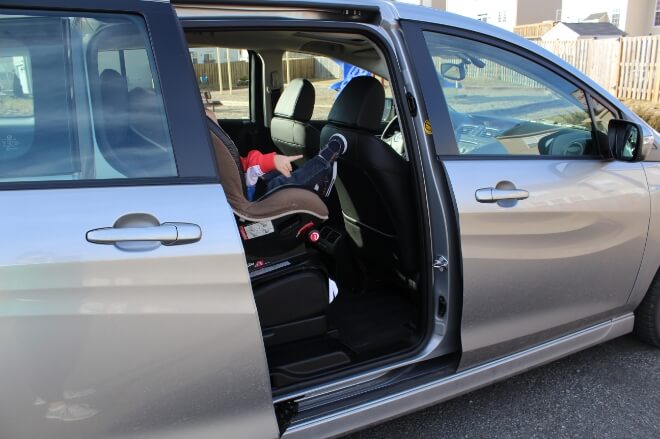 I got the opportunity to drive the new 2013 Mazda 5 for 1 week. I put all my mom stuff in it and used it just like I would mine. Biggest difference? HOLY GAS MILAGE. I got right at 24 MPG around town, verses the 13 I get in mine. You know how much of a difference that is in my shopping budget?!


This minivan is made to feel more like a car. It felt much more similar to my hubs 5 passenger sedan than my 7 passenger SUV. It was a smooth drive and it could get up and go pretty easily.


And it's blogger friendly with a little space for your iPhone right in the dash.


Another feature I loved, was the sliding second row captains chairs. I don't have that in my car, and often wish I did.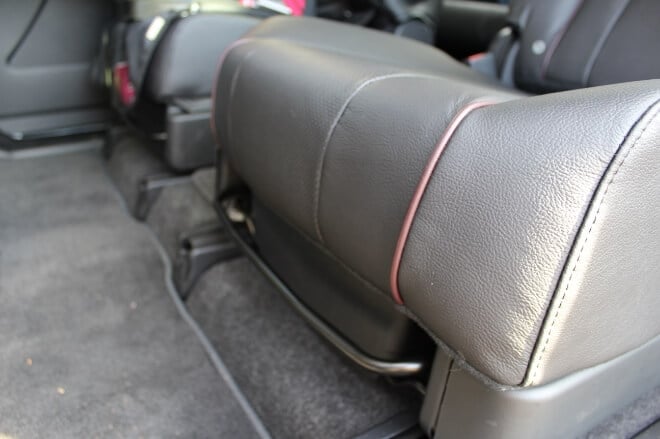 The seats also recline pretty far, which was really nice for a napping 5 year old!


It's hard to tell in this picture, but that little space above the air vents was a very nice feature. It had the time, temperature, radio station, etc, so you don't have to look way down while driving. It was basically just lower than the road, making it much safer to glance down.


My only issue with this car, was the space in the back row and storage area. It wasn't bad in the storage department. Not much smaller than mine, actually. But, the last row had hardly any leg room. My almost 5 year old fit back there fine, but an adult would be pretty snug. Especially when the hubs (who's 6'3″) was in the front row, then we moved the middle seat back, making it very close to the last row.


The last row does fold down very easily, creating a good bit of flat storage. You could just put half the seat down for larger items, like my double jogging stroller, and still have room for 1 passenger.


Overall, I enjoyed driving this minivan. Although, I do prefer to call it a swagger wagon. Being lower to the ground was so convenient with the kids and those doors kinda won me over.


For someone with 1-2 kids, not really needing to carry people around in the back row, but needing storage, I think it's an excellent choice. I'd say it's the crossover of minivans. Not a full size one that will fit the entire soccer team and their gear, but with considerably more space than a sedan. Putting strollers, pack-n-plays and all the stuff necessary to travel with kids in the back would be much easier than in a trunk, or a SUV that sits much higher off the ground.


With a starting price at $19,940, I would consider it a good buy as well. And don't forget all that gas milage savings! If you're in the market for a minivan or SUV, I suggest taking it for a test drive. It just may be the perfect fit for you!





I was given the Mazda5 to test drive for 1 week in exchange for my honest opinion. I was in no other way compensated.