Y'all, I talked about our upcoming Supper Club a ton and am so excited to tell you all about it! What started as a random idea, thrown out during a bonfire one night, turned into a ton of fun. I started the hosting last weekend and it was an amazing time! I love great food, cooking and hosting, so Supper Club is the perfect thing for me. I do feel like in such a fast paced life, sitting down and enjoying good food with friends isn't that common. Let's bring it back!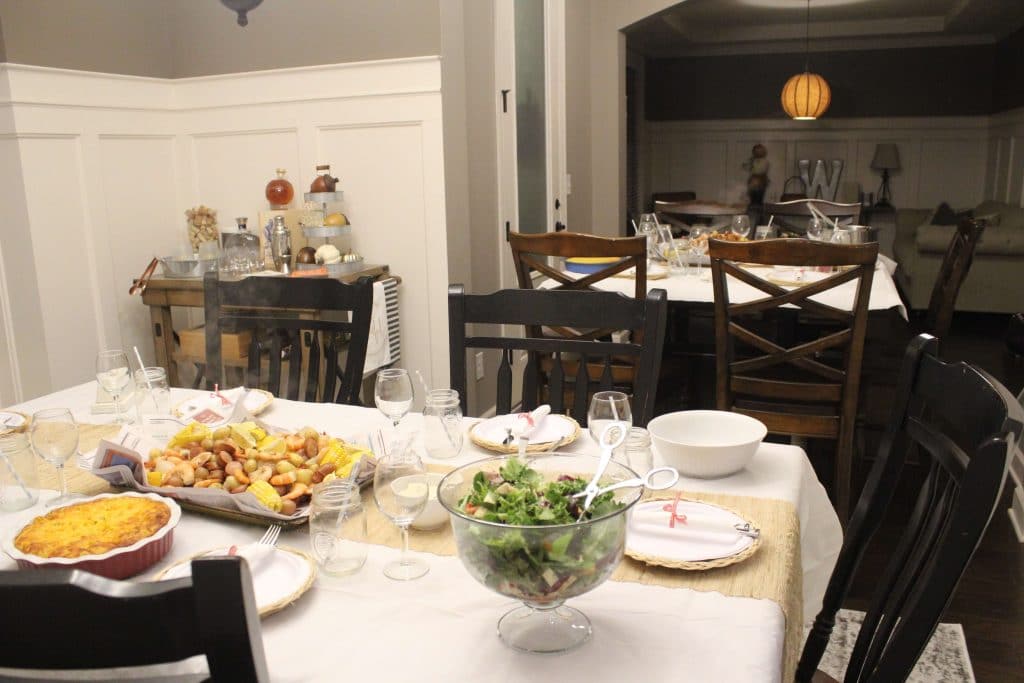 Our Supper Club Rules
1 couple hosts each month, chooses the theme and provides the main course, sides and a drink pairing.
2 couples bring an appetizer
2 couples bring a dessert
1 couple brings a signature drink
Our September Supper Club Menu
(I went with a southern theme, since I am a Georgia girl!)
Low Country Boil – Shrimp, Spicy Sausage, Corn, Potatoes and Onion
Turnip Greens
Salad
Cornbread
My southern theme lent itself well to super casual style. I did paper plates on the little wicker trays like my mom always used growing up, mason jars for water and a little checkered ribbon around the silverware. One Hope sent some of their new Vintner collection for us to sip along with dinner, too!
You could have the host do everything, you could have everyone bring something different and do more of a small plates dinner, or you could split it up similar to how we did. There aren't hard and fast rules, but you need to establish something before you begin, so that it's fair and easy. If you decide to do a theme, you can tell your guests, or let it be a surprise! Limiting the amount of people was really hard for us, but you do have to be careful about how many people you can reasonably fit at the table and serve. My silverware drawer and glass cabinet were completely empty!
We decided to stick with a later start time, so everyone could get their kids to sleep before we started. This means a late dinner, but it also means a dinner you get to sit throughout! (All the mommas rejoice!) You can't really go wrong with friends and food, right?
How to start a Supper Club
Grab your friends – keep it limited to how many can fit in your house.
Establish your "rules" – who brings what food, who provides drinks, etc.
Make a schedule – We opted for Friday nights, because that works best for everyone, then we all picked the month that we wanted.
Host picks a theme – the possibilities are endless here!
Supper on!
I hope our fun Supper Club plans encourages you to get a group of friends and start one of your own!