Forever 21 has long been one of my favorite spots for trendy clothing at great prices. While their pieces cater toward the younger crowd, I've noticed in the past couple of years that their selection has increased for mom/gals in their 30s. When I saw today that they have free shipping on any order through tomorrow, I figured it would be a great time to give you all my pointers for shopping at this sometimes overwhelming store.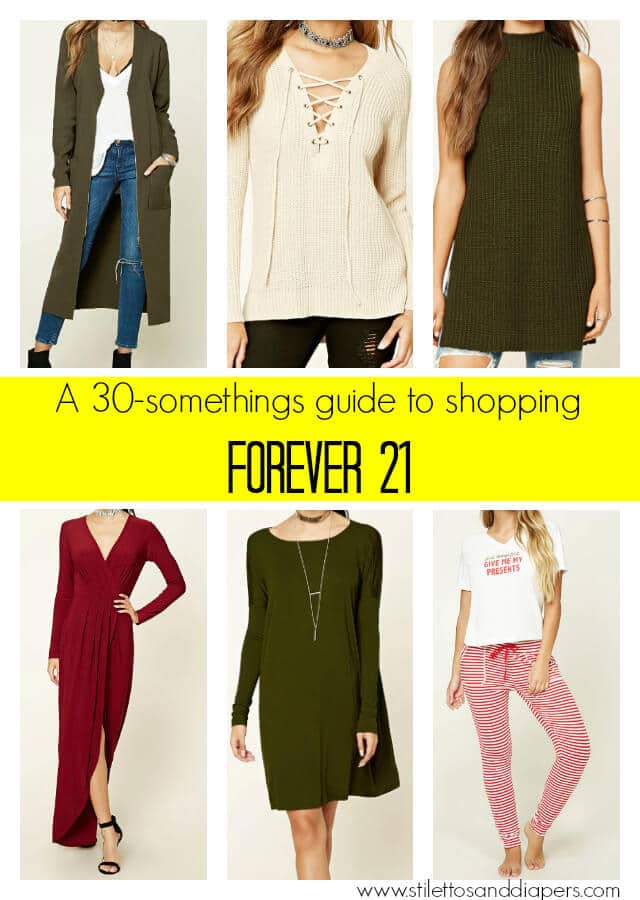 1. Shop Online


I love going into a store, feeling the clothes and trying them on. But, F21 can be so chaotic and their clothing is sorted in a way that it's hard for me to find another size or color that I want. So online it is. They have free shipping at $50 everyday and you can always return in store if you want.
2. Measure


Below the item description is the models size and the measurement of the clothing. It helps to keep in mind that most of their models are over 5'9″, so if you're shorter than that, the item will automatically be longer on you. I'm only 5'2″, so it's easy for me to get away wearing a lot of their dresses and shorts. Length is probably this biggest factor, so get out your measuring tape and hold the overall length of say a dress up to you. That will give you a good idea of what will come in the mail.


3. Shop Contemporary


The contemporary line, Love21, is a bit longer and more true to size. It's made for "real girls", in my opinion and is always the spot I check out first.


4. Be Picky


While I love a good deal, I only will buy certain things from Forever 21. I used to think their basic jeans were great, until I got some really great jeans, and any shoes I've tried there are miserably uncomfortable. Some things are just worth paying more for, ya know? What I do buy are tops and sweaters, pajamas (these make a great $10 gift!), leggings and workout pants and some dresses (just got this one and love it). The fall and winter are really the best time to shop here as sweaters and leggings are typically way easier to fit right than sundresses and shorts.


Here are some of my favorites right now! Make sure you use code OHHHSHIP through tomorrow for free shipping on any order!







Happy Monday, y'all!