Happy Monday! It's been a couple of months since I posted my last monthly meal plan. This blog has always ebbed and flowed with my daily life and I guess it's just going to keep on doing that! Monthly planning is overwhelming on the months that are more flexible. This is a more quiet time in our lives before the madness of spring sports. In the Spring, monthly planning will be the only way to go! But for now, I'm going to try some weekly planning and see how that goes. I did a 1 week trial last week and it worked well, so I'm giving it another go this week and sharing it with you! Prepare for some cozy crockpot meals over the next couple of months, but I'm really working hard on simple, healthy, yet kid friendly meals! We had a family meeting last night and all decided on the meals for the week. This helps SO MUCH in getting your kids to eat their dinner!
This Week's Family Friendly Meal Plan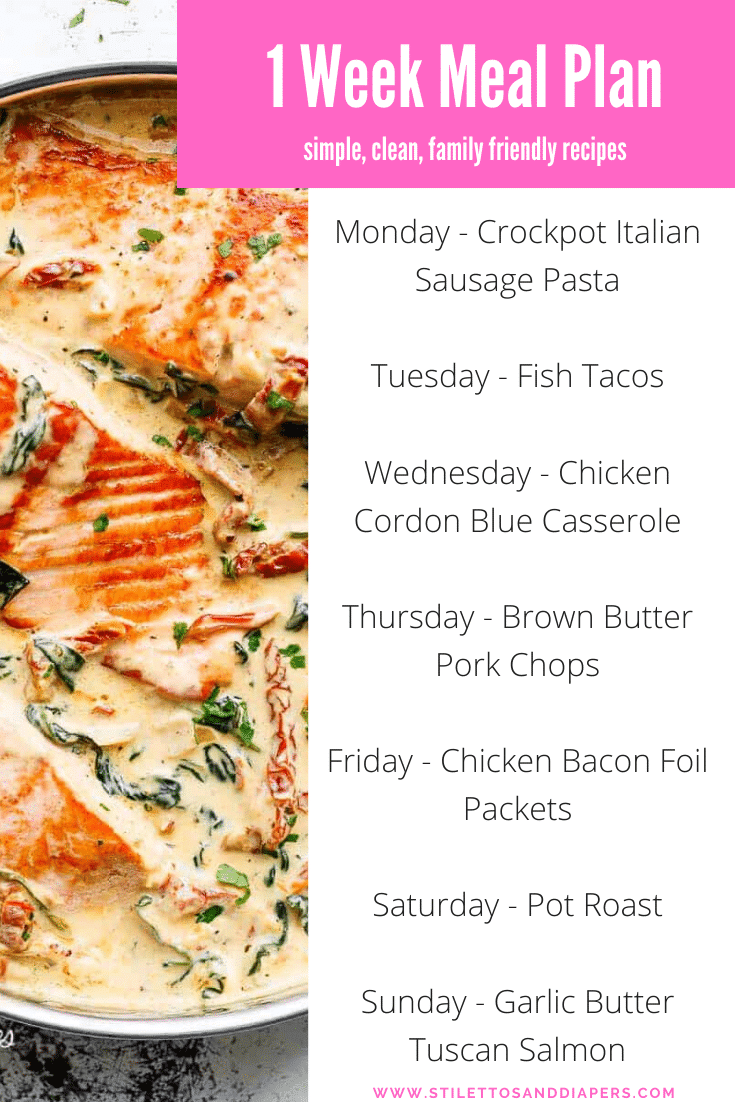 This one is made in an instapot, but I don't have one of those. I'm just using the crockpot and cooking it for longer. I use the Banza chickpea pasta and the boys literally cannot tell the difference! It's packed full of protein!
The boys picked this! I do half of the fish without as much of the spicy seasoning and let everyone dress their tacos how they want.
You can use the rotisserie chicken this recipe calls for to make it super simple, or you can cut up raw chicken to layer in the bottom. Just make sure it's cooked through before serving.
I've made this once and it was a hit. I will serve these with roasted potatoes and brussel sprouts.
Because who doesn't love bacon, ranch flavor and a no mess meal?!
My parents are coming for the weekend and this is my dad's favorite meal! We also go to church on Saturday nights, so having a meal in the crockpot to eat when we get home is really easy.
My kids love salmon and this dish is really flavorful. I serve it over rice or cauliflower rice and a side salad.
What do you think? Prefer monthly plans, or are you good with weekly? Hope you all have a wonderful week!