I saw the end of this recipe on Rachael Ray's 30 minute meals then I tweaked it a bit. Its delish and healthy!
Orange-Balsamic Chicken with Kale
The Players

Heat olive oil in a skillet
Season chicken with salt, pepper and poultry seasoning and cook 5 minutes on each side.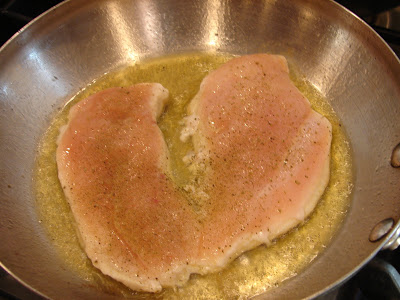 Make sure its cooked through and lightly browned. Drain off the oil.
Love the pretty bottles balsamic vinegar comes in.
Whisk orange marmalade, balsamic and chicken stock together in a small bowl.
Pour over chicken and let simmer for about 5 minutes.
Mmmh, kale. This is my new FAVORITE food. It is full of vitamins, minerals and cancer fighting properties.
So eat it.
Just pull the leafy part away from the stem and tear into bite size pieces.
Put it in a large pan and add about 1/4 cup water or chicken broth.
Cook until it shrinks down to about half the original size. About 5 minutes.
Put kale on a platter and put chicken on top. Pour a little sauce over the top of everything.
Recipe
2 tablespoons extra-virgin olive oil
4 chicken breasts
Salt and pepper
1 teaspoon poultry seasoning
1/3 cup orange marmalade
1/4 cup balsamic vinegar
1/2 cup chicken stock
1 lb fresh kale
I only used 2 chicken breast, so I cut the seasoning in half. Sill made the same amount of sauce to have enough for drizzles sake.

Happy weekend y'all!