I promised y'all that I wouldn't overwhelm you with Nordstrom Anniversary sale stuff. Honestly, I feel a little overwhelmed myself! But I did place a couple orders and I went to my local store yesterday to try some stuff on that I was on the fence about. Today the sale is open to the public and I just wanted to show you some of the pieces I love!
Spending tons of money on new clothes isn't my jam, so all of these items I'm showing you are under $100! If you want to see more, I'll be posting video of the stuff I bought online and tried on at home over on Instagram. I couldn't bring myself to record videos in the dressing room. I mean. How do people do that?! If you have any questions about fit, let me know!
(Side note. Some of these pieces are sold out. BUT. They often restock, so if you like something, check back!)
This is first because it's my favorite piece from the sale. It comes in a camo as well as a couple other colors and fits true to size.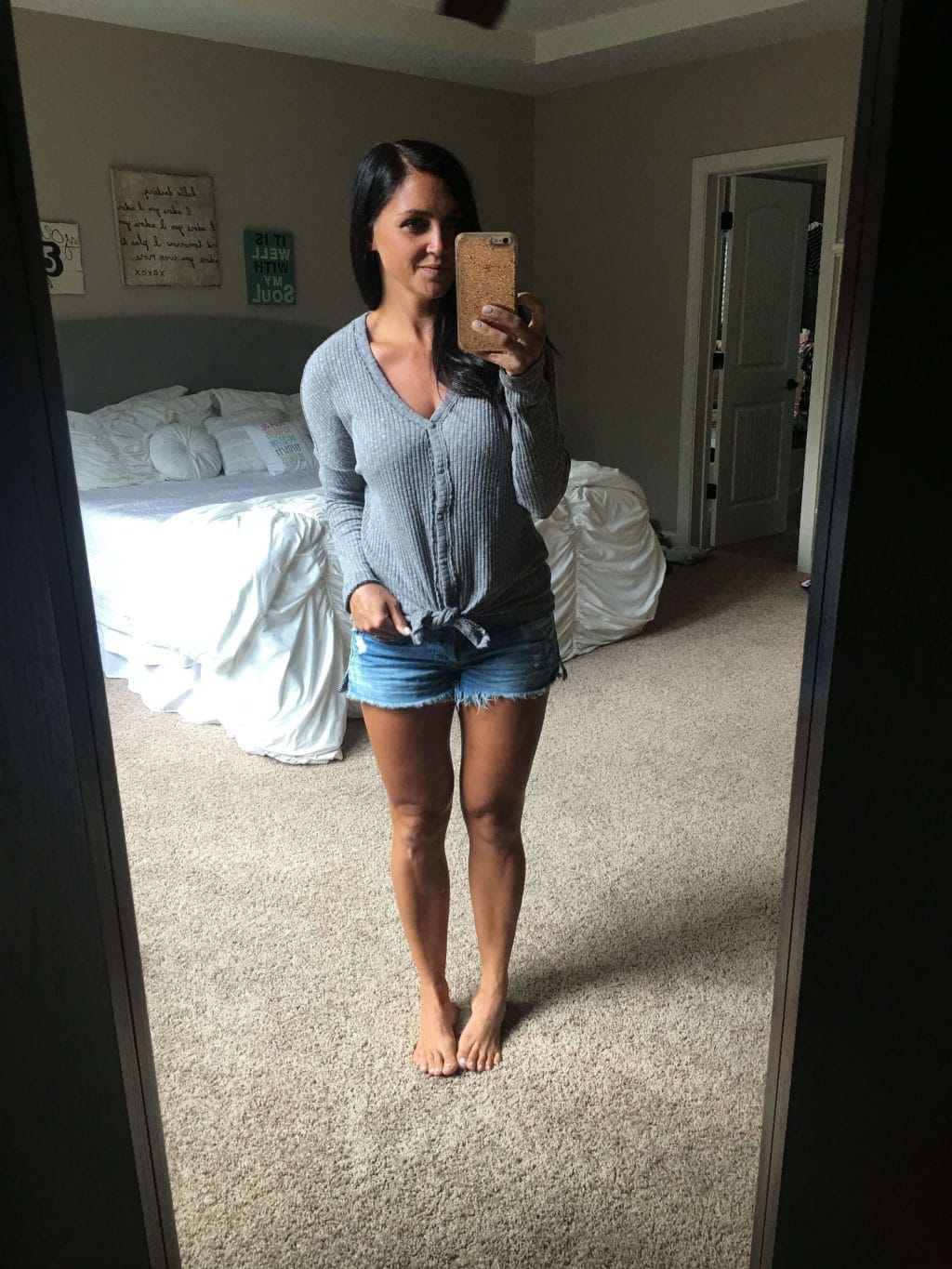 This cardigan is adorable, soft and cute tied in the front. It fits true to size and comes in a few colors.
This is such a great sweater! I ordered a medium because it was all they had in stock and it was way too big. I really hope it comes back in stock because I will reorder it!
Oh, mylanta. This is so, so good. I packed this one for the beach, even though I know it's going to be 90 degrees. I just want to wear it already! It fits true to size, comes in 5 colors and I love how the arms are fitted.
These are SO cute. They come in 4 colors and fit true to size. I love booties, but I much prefer the ease of a slide on! These are the perfect compromise.
This cardigan is #momiform to a tee. Jeans, a tank and cardigans like this are exactly what I spend my fall days in.
I feel like I could be a little more "dressed up" in workout gear with this cute tank! It comes in 3 colors, but I love the pink!
Okay, onto the stuff I tried on at the store! Some of them are just cuter than they were online, like this first top!
This is super oversized and absolutely adorable. If you're pregnant, you could absolutely fit your cute bump in this! It comes in 3 colors.
This one I knew I was bringing home from the second I put it on. I'm probably wearing it on our road trip now! I got a small and it's a touch oversized.
If you don't have these, grab them now. They are 100% the comfiest leggings in the world and the high waist does wonders for us moms! They fit true to size.
This is another one I threw in my suitcase for the beach! I have a small on in this picture, but ended up buying an XS because it was big on the shoulders. It comes in 5 cute colors!
This is the same one I ordered online in beige, just in a mustard color that I really love for fall!
This tee is under $12! It comes in a ton of colors and is a great staple. I have the black one and wear it all the time! It fits oversized, but I like that so I went with my normal small.
I love a few other things that I'm hoping come back in stock, like this tie front dress and this moto jacket. I also have my eye on these cute workout shorts and this luggage!

If you have any questions about these Nordstrom Anniversary sale pics, let me know! Hope you all have a wonderful weekend! Tomorrow, we're headed to 30A for the next couple of weeks! So looking forward to time with my little family!