With just 6 days until Christmas, it's total crunch time! If the man in your life is as hard to shop for as mine, you might still be scrambling. Well, here are some great gifts that are all approved by my hubby and will get to you with free 2 day shipping. If you don't have prime, get with it! Try Amazon Prime 30-Day Free Trial
and if you aren't in love, you can cancel it. But trust me, you'll be addicted and it's worth it!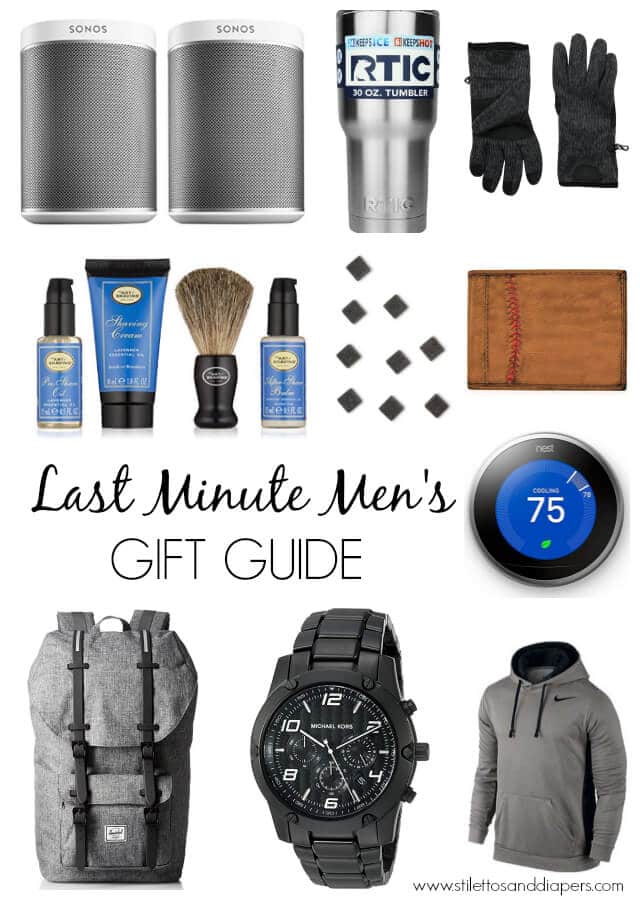 SONOS Starter Set – We have and love this! Any music loving guy would love to have this under the tree!


Tumbler – Wether he's a water, coffee, or soda kind of guy, bringing your own drink saves you money and this one will keep your beverage hot or cold for way longer.
Touchscreen Gloves – I have a pair of touchscreen gloves and they make life so much easier in the winter. Instead of your man's fingers freezing, grab him a pair, too!
Art of Shaving Set – The Hubs actually asked for this after trying some samples. It's a nice kit to start off with and they have great larger kits as well.
Drink Cooling Stones – These are just fun. Instead of diluting your cocktail, you can use these cooling stones that you keep in the freezer. They're especially great for scotch or bourbon on the rocks.
Baseball Wallet – If your hubby, boyfriend or dad is as big of a baseball fan as my hubby is, this is the perfect wallet to update his current one.
Nest Cooling System – Have a tech loving man? Let him spend Christmas day programming your house to this cool system. You can control your heat and air with an app from wherever you are.


Herschel Backpack – I think this backpack is super cool looking. It would be perfect for a student, as a briefcase if his job isn't too dressed up, or as a weekend bag.
Michael Kors Watch – My Hubby has quite the watch collection and is always up for adding to it. I love Michael Kors designs and they always have something different and unique.
Nike Hoodie – Give him a new hoodie to throw on after the presents are all unwrapped. You can't go wrong with Nike, in my opinion!


I have to get some packages shipped and finish up a couple errands today before break officially starts tomorrow. I can't wait to have all my boys home for a couple weeks!