This low carb, quick and easy, Spaghetti Squash Enchilada Casserole is a weeknight dinner that's sure to please the whole family!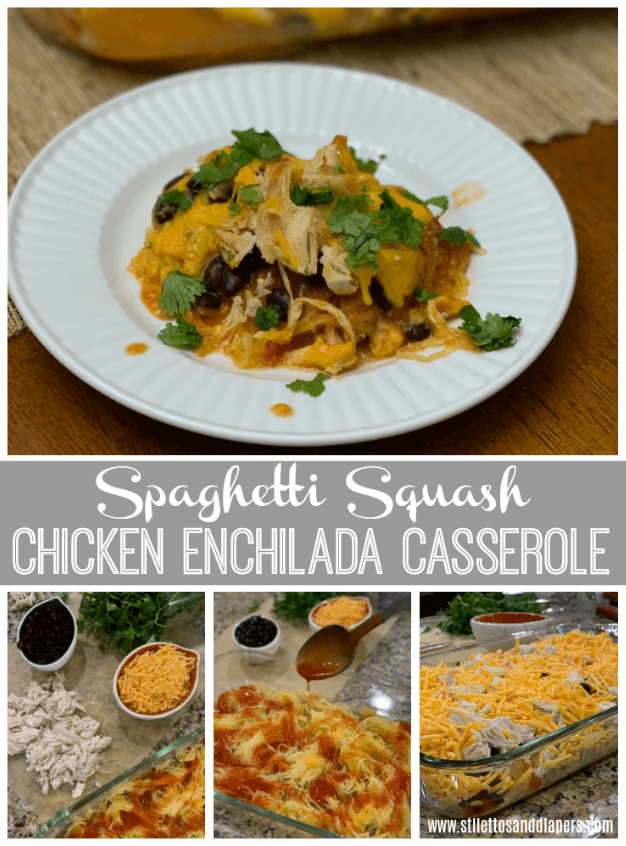 One of God's greatest gifts to a mom, is a 1 pot meal. More specifically, a meal that you can make, shove in the oven and leave to help with homework, fold laundry, shower for the first time of the day, drink wine, or all of the above at once. Because we all know mom's can do that! Bonus points for a meal that is good for you and that kids don't complain about. Think this just isn't possible? Think again. Spaghetti Squash Enchilada Casserole (and the kid friendly partner) is a great weeknight meal that will please your whole family!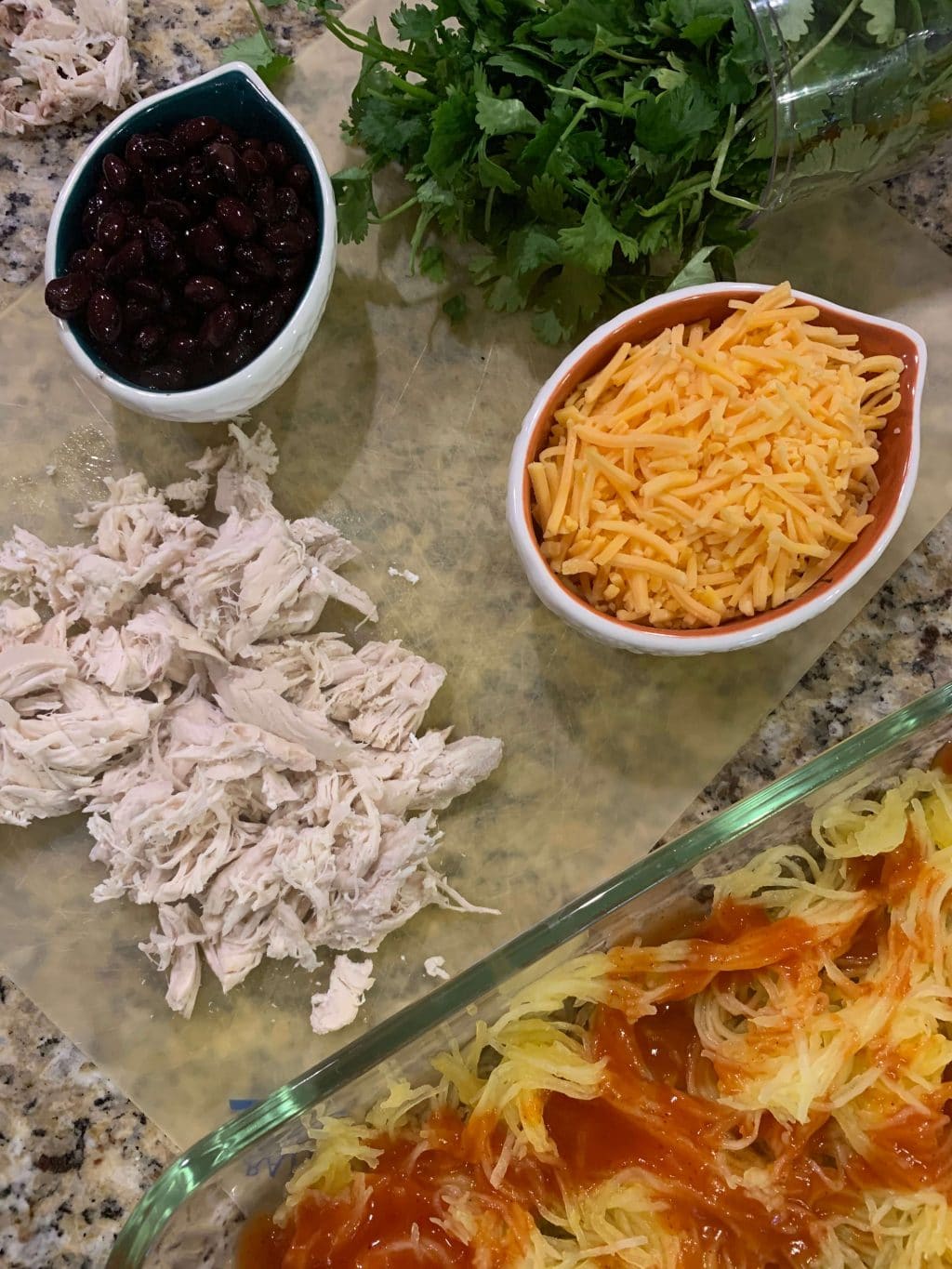 Spaghetti squash is one of those things that I honestly love and can eat it right out of the rind. This recipe doesn't leave much room to taste the spaghetti squash at all, with all the flavor going on, so make your squash haters try it! I prefer to cook my spaghetti squash in the oven, but the microwave does a great job if you're in a hurry. I poke the whole thing multiple times with a fork and throw it in a small pan with a little water. It takes about 10 minutes and it's ready to slice lengthwise and scrape out.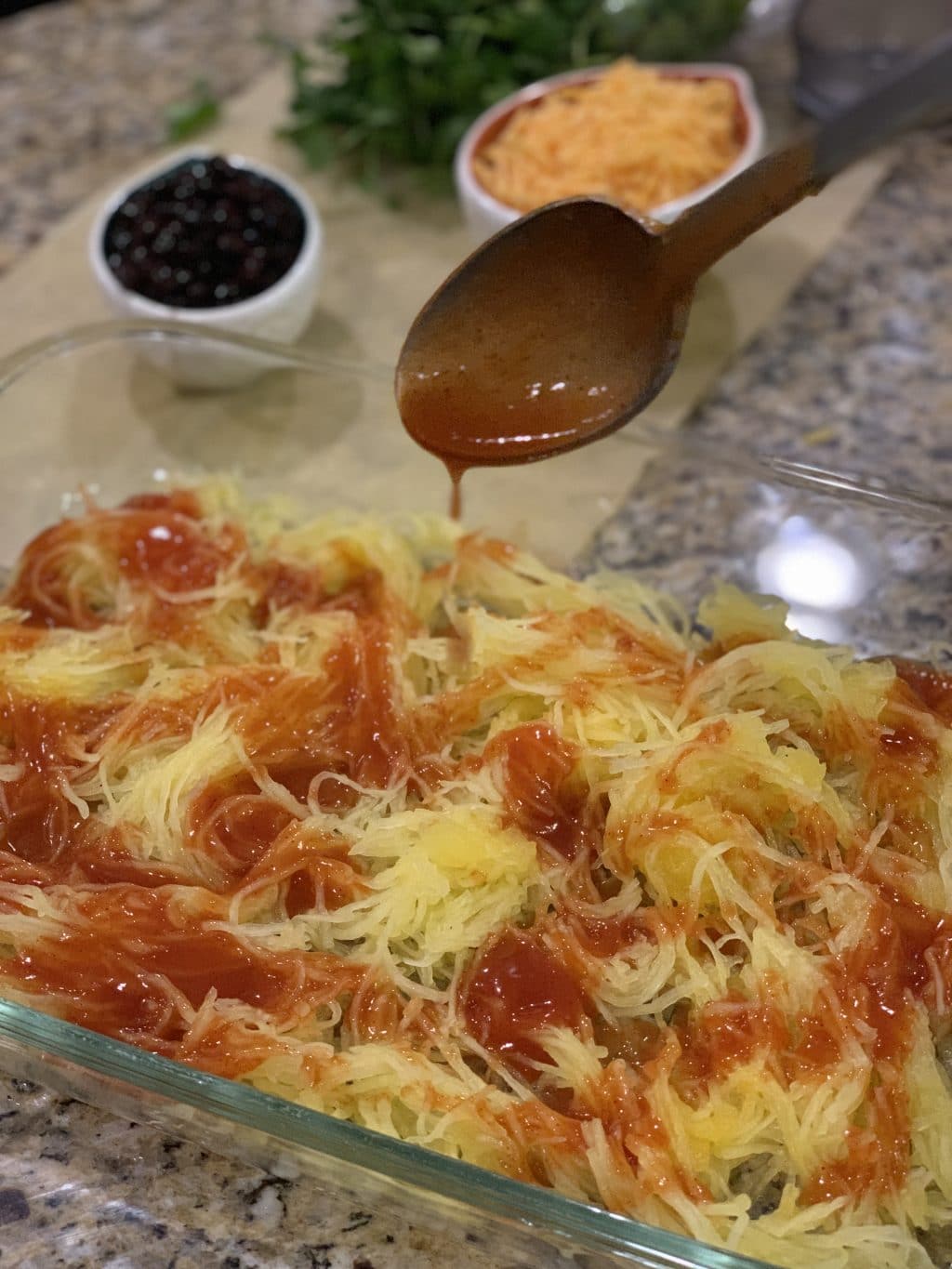 If you've never made enchilada sauce, you should give it a shot. It really isn't difficult at all and I love this clean and simple recipe. If you buy a can, that's totally fine, too. This recipe takes about 16 ounces of sauce. And let's talk cheese a minute. I say 2 cups. If you want to get a little crazy with the cheese, go for it. If I'm going to eat cheese, I want it done right!
Last recipe tip? Make it easy on yourself and make it kid friendly. My kids don't dig spaghetti squash. So, I take a few tortillas, put some of the chicken, black beans and cheese in them and roll them up. If you cover them, they can cook the same amount of time as the casserole and make a nice, crispy burrito for your little ones. Win, win.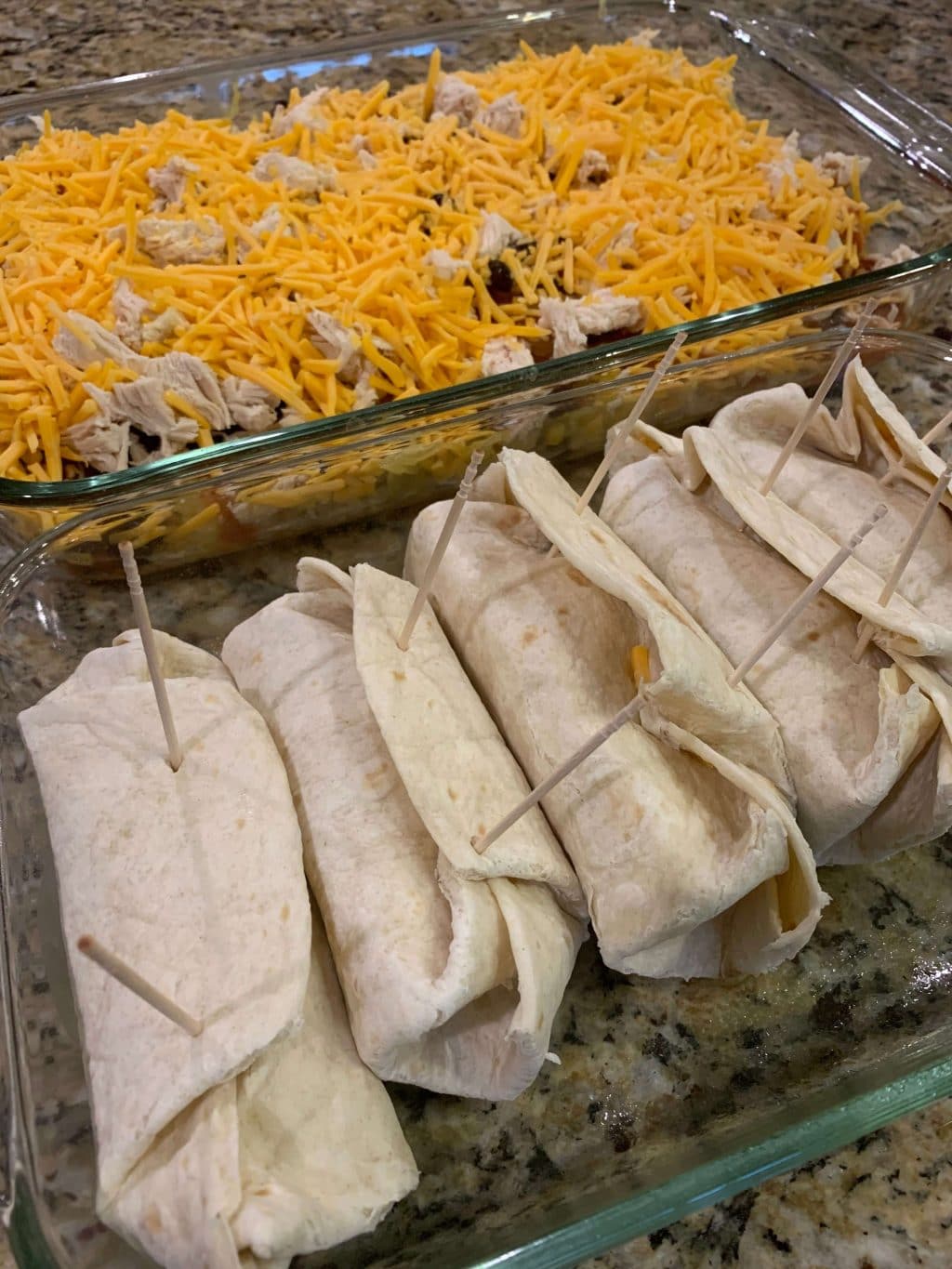 I hope you enjoy this simple, spaghetti squash enchilada casserole as much as we do! It's a great way to cut back on the carbs and calories and pump up the fiber in your diet!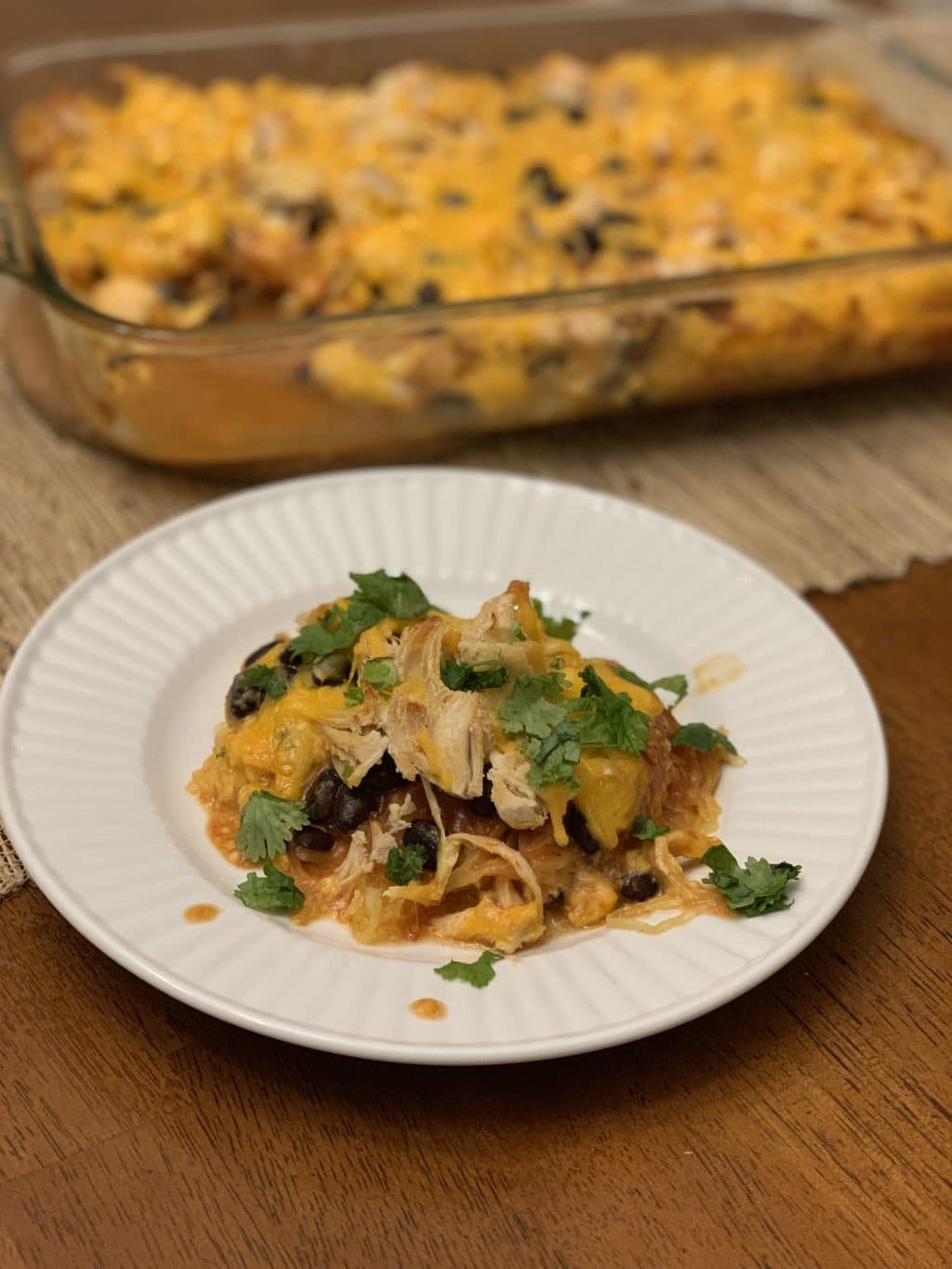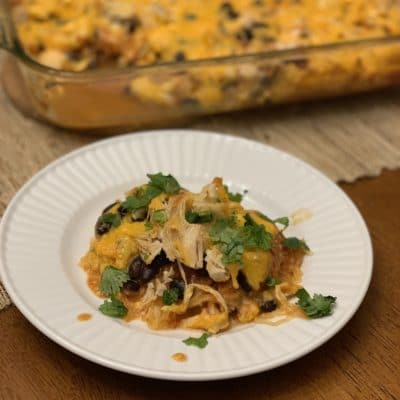 Spaghetti Squash Enchilada Casserole
Ingredients
1

medium

Spaghetti Squash

2

cups

Cheddar Cheese, shredded

1

can

Black Beans, drained

4

Chicken Breasts

1

can (16oz)

Enchilada Sauce (or make your own)

1/2 - 1

can

Jalapeno Peppers, diced
Instructions
Preheat oven to 400 degrees.

Cook spaghetti squash until soft. (This can be done in the microwave or the oven) While cooking, boil chicken until cooked through and shred with a fork.

Cut squash lengthwise, remove seeds and scrape squash from the skin with a fork. Place half of the spaghetti squash in a 9x13" pan. Top with half the black beans, half the chicken, half the enchilada sauce, half the jalapenos (if desired) and half the cheese. Repeat layering with remaining ingredients. Bake for 30 minutes until bubbly and slightly browned on top. Let sit for 5 minutes before serving. Top with cilantro, if desired.