Before Christmas, there was a whole lot of fun, festive things happening around here! We went last week on the Polar Express Train. It was so much fun! The tickets sell out fast and are released in JULY here, so if you're interested in going, check your train stations early next year!
We got a family picture with Santa there, mostly because I wanted Lincoln in the picture and he was asleep in the carrier. It didn't hurt that they were all wearing matching jammies and my shirt just happened to coordinate! How legit is that Santa, though?
Lincoln decided that he loves the glow of the lights. I got some sweet relief for my back while he has napped in his Mamaroo by the tree.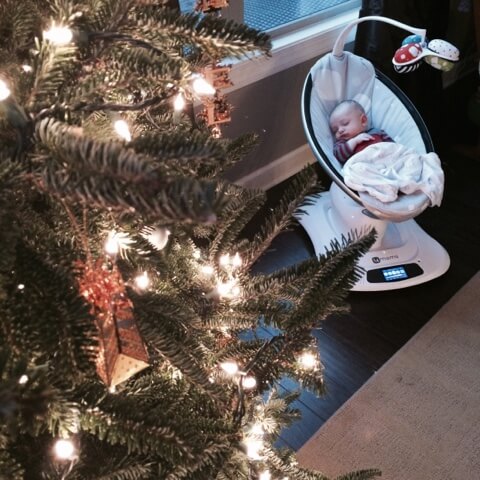 He also started sitting up in his little bumbo chair over the past couple weeks and LOVES looking at the toys! His Christmas presents are both missing batteries, so he'll be really happy once I get out and get some today.
We've done a couple nights of light driving. These were from the Zoo and are really good. We usually go to McAdenville, NC, which is Christmastown USA. It is gorgeous and really amazing, but since it's really crowded, it takes awhile and Lincoln hates the car, soo…no.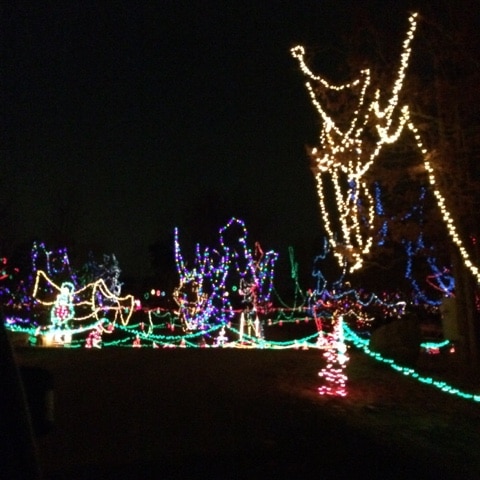 There were gingerbread houses and trains created, of course! Along with all sorts of yummy sweet treats.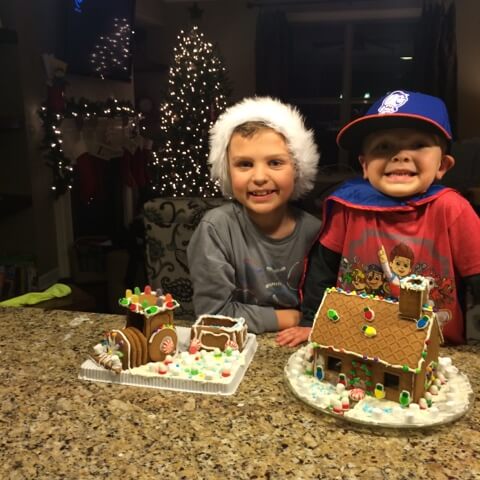 I wore my Walmart shirt a couple of times. I never saw this movie until I met The Hubs, but it's one of my faves now! (After While You Were Sleeping, of course!)
On Christmas Eve, there were quite a few gifts under our tree, which made for even more stuff for Lincoln to look at. I've mentioned never taking the tree down to The Hubs more than once…
We spent some time with friends on Christmas Eve, where Cooper tried his hand at hover boarding. I feel like this is giving me a glimpse into his teenage years, making me nervous for his safety! Haha.
Last but not least, this Christmas season is brought to you by lots and lots of coffee. In cute mugs, of course!
Lincoln has been in a bit of a sleep regression and I've been trying to get so much stuff done that I'm tired! He did give me 4 straight hours last night, which were magical. I'm looking forward to this week of not much on the to-do list, but still having my boys home with me! We'll be celebrating Christmas again tomorrow with my Sis-in-law and her family when they stop here on the way home from NY. My boys are so excited to be seeing their cousins!
I've still yet to get the pictures of our actual Christmas off the camera. I only took several hundred. Ha. Hope you all had a wonderful Christmas with those near and dear to you!