Happy Friday! I share a lot of what we eat on Instagram, but it doesn't always find it's way over here on the blog. There have been recent food favorites that I've made that got a lot of direct messages about, so I want to break them down here!
Caramel Apple Mimosa
This is probably the most delicious thing I've had lately and it's so fall perfect. All you do is roll your glass in caramel (the ice cream topping kind), fill your glass with champagne, then top with apple cider. This is the perfect girls brunch drink!
Family Homemade Pizza Night
We love family pizza night around here and the crust I make is so easy. It's actually the same dough that I use for my homemade cinnamon rolls! It's the most versatile dough and last week, the kids even made some garlic knots out of it to go along with our pizza.
Sausage Gravy and Biscuits
My brother made this for us when we were in Ohio a couple weeks ago and the kids requested it once we got home. It's a really good weekend brunch comfort food! I made it one Sunday using this sausage gravy recipe and it was delicious. Far easier than I thought it was, too!
Smoothie Bowls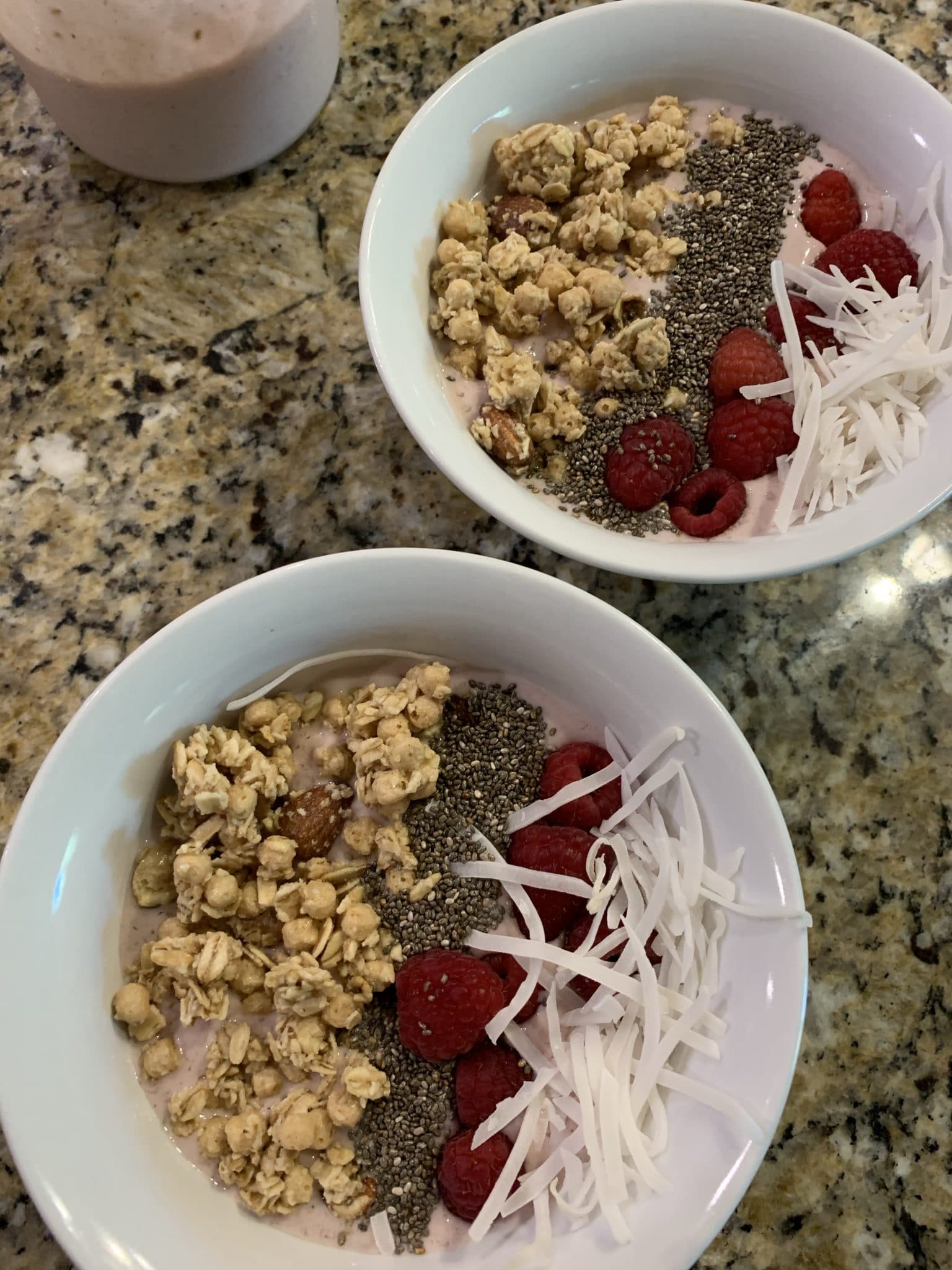 I don't know if your kids are home or not, but having mine home has made me get pretty creative with the breakfast and lunch options around here. I don't want them eating junk, but it's exhausting making a huge meal for breakfast every day! I've been making protein shakes quite a bit lately, but needed to mix it up, so smoothie bowls it is! Blend frozen banana, plain greek yogurt, berries and protein powder in the blender. Pour into a bowl and top with granola, chia seeds, coconut flakes, berries and anything else you like! The kids think they're really fun to make their own and it adds good variety to breakfast.
Instant Pot Pork Tenderloin
I've been trying to clean out the freezers lately and had a pork tenderloin that needed to be cooked. I found this instant pot pork tenderloin recipe and decided to give it a shot. It turned out soooo good! You use the sauce in the pot to make a gravy and the whole family really loved it. The Trader Joes chickpea and lentil risoni was the perfect side dish!
Chili Stuff
I'm not sure this is an official name, but it's what my family called it my whole life. Chili isn't my kids favorite, but The Hubs and I love it and it's great for leftovers. The "chili stuff" is more kid friendly, in my opinion. The chili is served over rice with your choices of cheese, sour cream and Fritos. I also had several questions about my chili…not to disappoint, but it's super basic. I just use the package of chili seasoning, ground turkey, 3 cans of beans (chili, kidney and white) and 3 cans of crushed tomatoes. The grown ups add more spice afterwards!
Virtual Cooking Class
This was our second virtual cooking/cocktail class that The Hubs work has set up and they are SO MUCH FUN! It's all the comfort of being at home, but so fun to cook and sip a cocktail together like a date! We made Croque Monsieur Swirls, which were basically gruyere cheese and prosciutto wrapped in puffed pastry and so good! Cocktail Courier sent us the kit for this Blackberry Bramble and they were delish. If you want to try this recipe, you won't regret it!
Mix all ingredients except blackberry syrup in a shaker with ice. Shake and strain into ice filled glass. Drizzle blackberry syrup over the back of a spoon into the glass for a pretty effect and garnish with lemon.
Happy weekend, y'all!