I thought I had a bump last week, but hello hugeness, its week 13! I feel like I'm big way up high, too, which seems weird to me. Or maybe I'm just growing another mammoth child.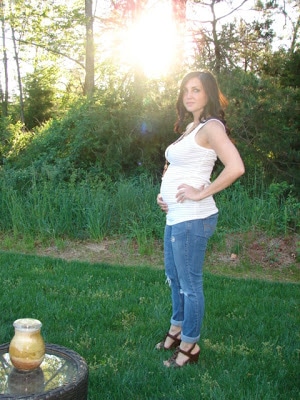 Clothes are making me crazy. I'm in between pants, so these stretchy jeans have become my go-to.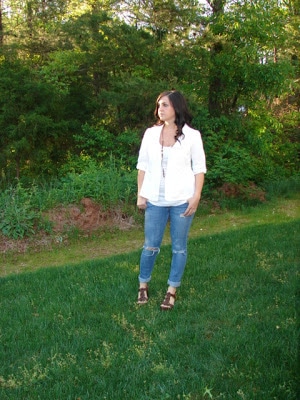 I did almost kill myself walking down the street in these 4″ heels, so I may need to lay off the big heels as I get, well, severely uncoordinated.
Hubs took these pics on my way out to neighborhood bunco night yesterday. It was there that my new neighbor told me I shouldn't be the first one to introduce myself to the new neighbors. Apparently, me being 26 and wearing a cute skirt and knee high boots made her feel like I was hoity-toity or something. After boo-hooing to the hubs a bit, I decided I like the way I dress, I love being a young momma and I'll keep going 'round with cinnamon buns as soon as I see a moving truck pull in!
My sweet little man, aka Buzz Lightyear wanted to be in a pic too. He makes me so happy!
Outfit Deets:
Jeans – Macy's {Levis}
Tank – Old Navy Maternity (hard to tell in these pics, but it has gold pinstripes)
Jacket – Target (Little girls department. If you wear a womens small, don't forget to shop size14-16 in girls!)
Shoes – Target
Necklace and Ring – F21