When Cooper told me he wanted a Teenage Mutant Ninja Turtle party, I about cried. I love party planning, I love cute themes and I love throwing a memorable party. This was the time I knew was coming, when my children would no longer allow me to throw them the theme party I gently encouraged them to choose.
I searched and searched party stores and online, but didn't find much. I decided he would have the plates and banner we found at Target and hope the rest made him happy. Little did I know, that it would turn out to be quite an awesome party. Turtles and all.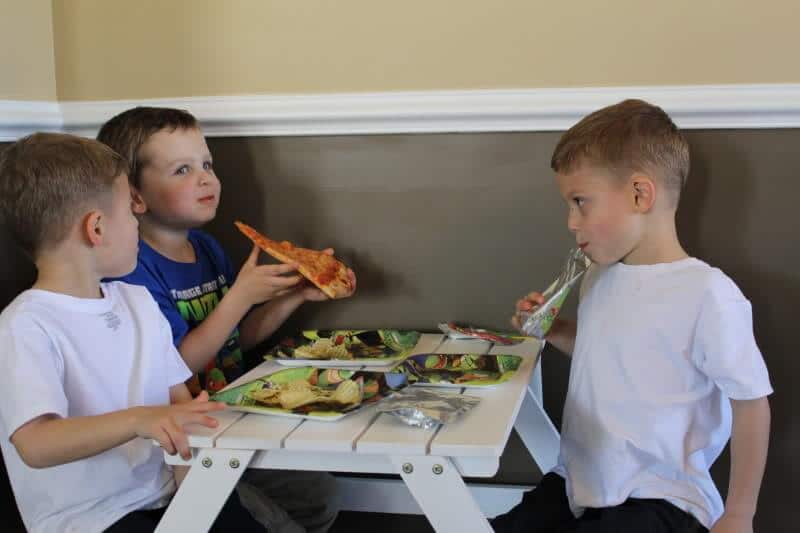 This face? Was the absolute best part! He was over the moon to wear his Teenage Mutant Ninja Turtle shirt and adored the cake his Auntie Whit made him.
Cowabunga Dudes!
It was a small party with a couple of his best little friends and family.
Cooper really, really wanted a piñata. I searched the world over and couldn't find one that looked anything like a Ninja Turtle and my local party store said they weren't getting the Turtle party goods until the fall. Then some piñatas hanging from the ceiling caught my eye. They had party plates on the front in all different themes. I bought one, took the Cars plate off and added a Ninja Turtle plate that I had found at Target. Problem solved!

Well, then we couldn't figure out where to hang it and ended up with the hubs and my brother holding it on a stick.
I think one of the favorite things at the party was the awesome bounce house we rented! We got it from Bruno's Bounce House located in Northern Virginia. They deliver all over NOVA and were so awesome to work with. We even got a popcorn popper that we set up on the front porch. They were both huge hits. Obviously.
Everyone from Grandma to Aunties to the babies loved it. And we don't even need to talk about how much the Birthday Boy and his Daddy loved it. They were in it the entire time!


Only 3 more days and my big baby will officially be 5!